Affiliate Marketing Keyword Research: Guide for Beginner (2023)
Affiliate marketing gives brands a chance to push their products into many places. Moreover, it also allows individuals to make money from promoting products. One of the significant parts of the affiliate marketing process is keyword research. This contains finding potential customers and the best keywords to catch their interest. In this post, Dynu In Media will share how to do affiliate marketing keyword research and the tools to execute it. Let's read it together!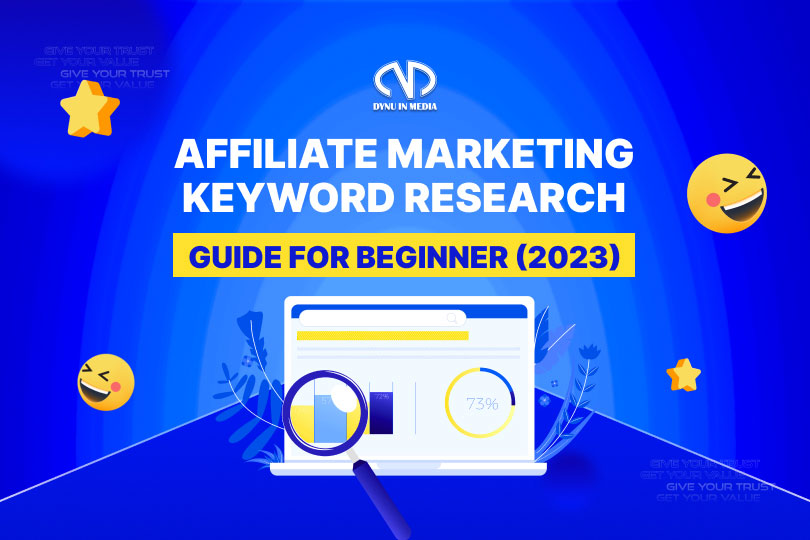 What is Keyword Research For Affiliate Marketing?
First, let's get to know what keyword research is. Keyword research is searching for keywords that your target audience often uses to find the product you are trying to sell.
If you have a good you are affiliate, for example, customized phone cases, you will want to look for suitable keywords to target. You can use some phrases, like customized phone cases and personalized phone cases for iPhones.
The Importance of Keywords for Affiliate Marketing
You have heard that keywords are very important for Affiliate Marketing. So why do people say that?
Firstly, keyword research predicts audiences' intentions. Affiliates parse popular keywords to connect audiences to products and inform their decision.
Secondly, keywords let visitors click on your site. Good keyword research can lead to better traction, more conversions, and more money.
Your site tends to increase its ranks if you have keyword-rich and engaging content. This can get you more traction and a better opportunity for visitors to purchase via your affiliate links.
Let's confront it, how many audiences really click on the second or third page of Google search results? If you are not on the first page, creating traffic can be difficult.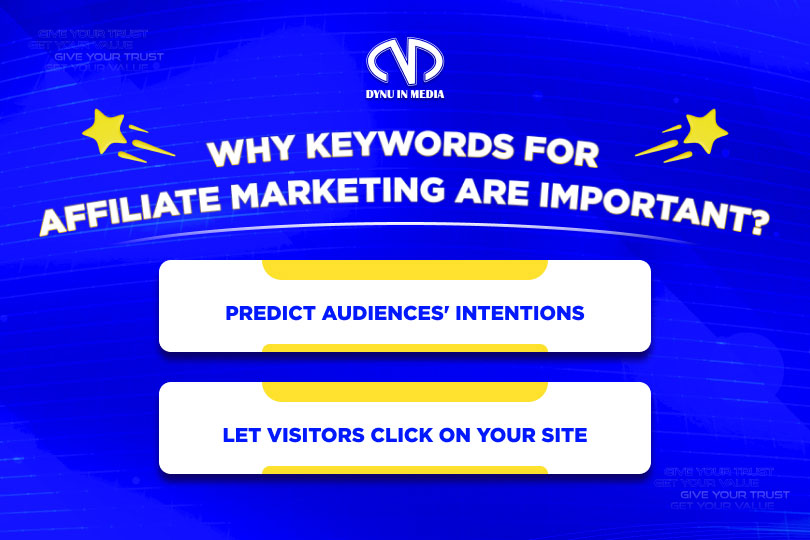 How To Do Keyword Research for Affiliate Marketing
Step 1: Choose a Specific Niche Focus
First, you need to finalize a niche and design a website.
For instance, you have chosen the "pet" niche, and your next step is searching affiliates networks like Dynu in Media to find particular pet products you want to promote in your content. You can sign up for Dynu in Media's affiliate marketing program and start your journey in a few clicks!
Why should you choose Dynu In Media? The answer is here:
Various offers with a high payout.
24/7 support.
Hi-Tech platforms.
Accept and send offers to all GEOs.
Visual real-time report.
So, what are you waiting for? Let's become a partner with Dynu In Media from now to generate high revenue!
Step 2: Use a Keyword Research Tool
One of the primary factors to consider when you pick keywords is the search intent of your audiences (e.g., the purpose behind a specific Google search).
For affiliate marketing, your customers' ideal search intent should be to purchase something, with the occasional informational (ultimate guide or how-to) thrown in. You can refer to some instances of commercial/ transactional keywords:
Tuition at Tulane University.
Best party planners near me.
Affordable tap dancing shoes.
Toshiba vs. Asus laptops.
Step 3: Conduct Keyword Analysis
Conducting keyword analysis helps you better understand how your competitors use keywords.
All you need to do is list your top 5 to 10 competitors. Then, take note of their Google ranking and the keyword density on the page you compete against. Keyword density lets you know how often the text uses the keyword. Yoast has a plugin that scans the post and shows the keyword density.
After having the competitor information, you can look at this and ask yourself:
Do you use too few or too many keywords?
Does it have a familiar amount of text?
What are the leading keywords your competitors rank well for?
Step 4: Write, Optimize, and Publish Articles
Depending on these keywords, 80% of your content will be automatically transactional, and the other 20% informational. Note that informational blogs will seldom generate any sales as the posts are directed to more generalized customers than purchasers.
When writing posts for your website, you need to follow SEO best practices from Google and publish them as soon as possible for Google to crawl and index them. Once articles have been indexed, you can rank for targeted keywords, though it will take time.
If your page ranks for valuable keywords, customers will start purchasing from your affiliate links, and you will earn money!
5 Best Keyword Research Tools For Affiliate Marketing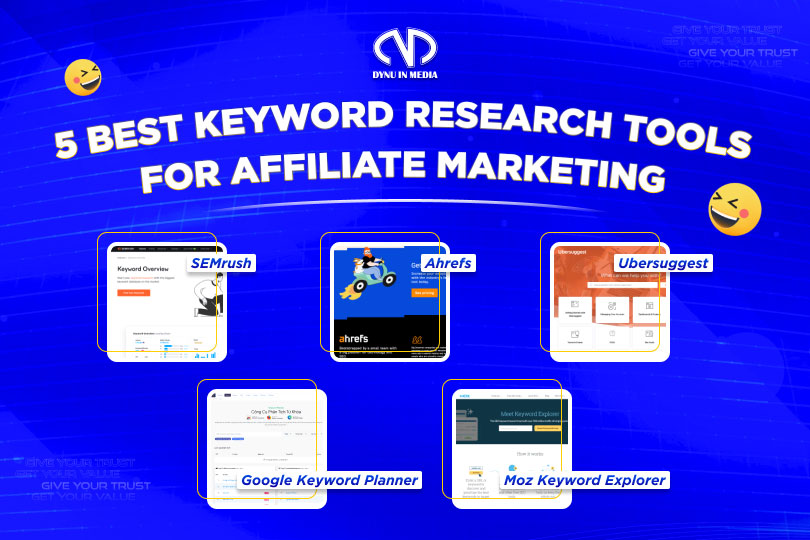 Here are some best keyword research tools for affiliate marketing, as follows:
SEMrush
SEMrush is an all-in-one tool suite for bettering online visibility and exploring marketing insights. Many businesses, big and small, use SEMrush. So why is this SEO tool used popularly? Here are the answers:
On-page SEO audits.
Some tools to better your content's power and reach.
Detailed analysis of any keyword, from search volume to historical data about the popularity of the keyword and competition on the keyword.
Analyzing keywords used and the domain's backlink profile.
Analyzing the audience and traffic of your competitors' websites.
SEMrush provides pricing plans:
Pro plan: $119.95/ month.
Guru plan: $229.95/ month.
Business plan: $449.95/ month.
Ahrefs
Ahrefs is one of the most powerful SEO platforms, with everything you may need to make your content and website rank as highly as possible. Here are Ahrefs' main features you can refer to:
Indicating the estimated number of clicks on the keyword.
Exact keyword difficulty score measurement.
Keyword research for 10 search engines.
Detailed SERP history for keywords.
Updated backlinks popularity graph every day.
Ahrefs also has pricing and plans, as below:
Lite plan: $99 per month.
Standard plan: $199 per month.
Advanced plan: $399 per month.
Enterprise plan: $999 per month.
Google Keyword Planner
This tool is created to help marketers compare keyword popularity at a specific time and indicate the number of mobile searches per keyword. Moreover, it also explores the main keywords competitors use and has average searches dived on devices used every month.
For pricing, Google Keyword Planner is totally free. You just create a Google Ads account and use the Keyword Planner tool via it.
Ubersuggest
Ubersuggest helps you create content and keyword ideas to better and expand your content marketing strategy. Some main features of Ubersuggest you should know:
Top SEO pages.
Top-performing content for specific keywords.
Indicating device search volume, the age range of each searcher in a particular keyword, and the search type.
Backlink building tool.
Competitor domain overview.
Ubersuggest has a free and paid version. You can refer to its pricing plans if you want to purchase it:
Individual plan: $29/ month.
Business plan: $49/ month.
Enterprise plan: $99/ month.
Moz Keyword Explorer
Moz Keyword Explorer has a free version, available from a browser add-on or on their website, and paid all-in-one SEO solution. Here are the main features of Moz Keyword Explorer, as follows:
Question phrases search and long-tail keywords.
Easy to create and save keyword lists.
Detailed SERP analysis breakdown.
Moz's organic CTR and Priority score metrics.
Moz Keyword Explorer provides 4 paid monthly plans:
Standard plan: $99 per month.
Medium plan: $179 per month.
Large plan: $299 per month.
Premium plan: $599 per month.
Conclusion
Dynu In Media has shared knowledge about affiliate marketing keyword research. To target more niche customers, you should use a mix of phrase-match keywords and long-tail keywords. Moreover, you use various keyword-targeting techniques to find some work more than others. Hope you will succeed in the future!