Top 15 Affiliate Marketing Trends for 2023
Affiliate marketing is a fast-growing industry with noticeable changes in recent years. When we move into 2023, staying up-to-date with the newest trends is necessary to succeed in this field. In this blog, Dynu in Media will explore the top 15 affiliate marketing trends for 2023. Keep reading it and choose the right one for your recent business.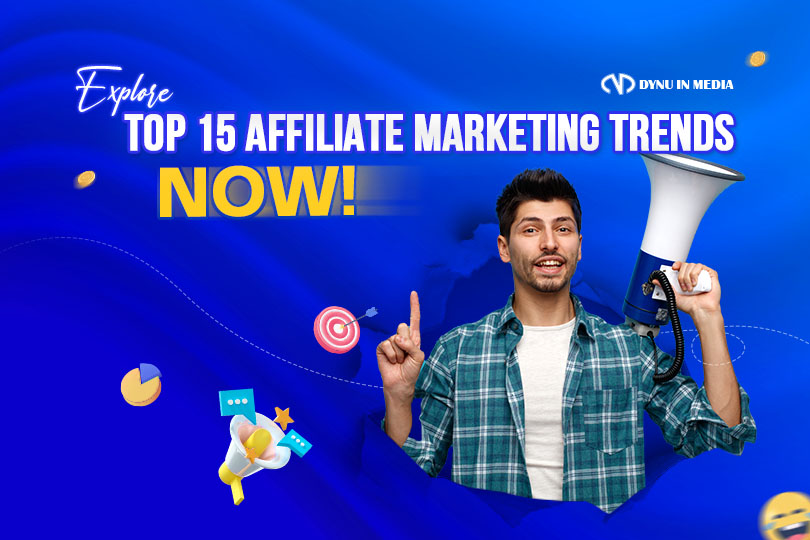 What Are the Top Affiliate Marketing Trends for 2023?
More Influencer Partnerships, Especially Nano And Micro-Influencers
According to Influencer Marketing Hub, influencer marketing has developed to become a 16 billion-dollar industry in 2022 and will continue to grove in the following year. Why? As influencers can add immense value to brands. They create unique content and increase organic traffic to your blog or website. In addition, they can spread awareness of your service or goods via social media networks.
Nano-influencers often have from 500 to 10,000 social media followers, while micro-influencers usually have between 10,000 and 25,000 followers.
Micro and nano-influencers are everywhere; however, they're mainly on Instagram Reels and TikTok. With the two revolutionary platforms, creators can approach a more extensive global audience beyond their current followers and friends.
Increase In Affiliate Marketing Spending
Trends suggest that affiliate marketing will be a mainstream and instrumental strategy for small-scale and medium to large-scale businesses. The overall spend in the market may be $8.2 billion in the USA, given that all brands have an affiliate marketing program executed.
If you are trying to navigate where to put the resources, take the suggestion from mentioned trends. There is still a robust market for influencers, and you might want to get ahead of moving out from third-party cookies to collect audience insights. Video content for affiliate promotions is extremely popular among online users; thus, these may be the best avenues to spend time and money on.
Metaverse Affiliate Marketing
Many brands will start to delve more into the metaverse.
The metaverse is a network of various digital 3D worlds that are integrated together and can be approached via virtual reality. This new world provides a new world of chances for advertisers, businesses, and marketers.
It opens potential new markets for brands whose goods may not be attractive to a larger audience in the real world. However, in the virtual world, they can approach new customers.
Seo Affiliates, Video, Podcast With Long-Tail Search
Some reasons brands should increase concentrate on video, SEO, and podcast affiliates with long-tail search.
Video: This is one of the most preferred content for users and one of the quickest-growing trends for affiliate marketers to leap on board with. YouTube introduced shorts in 2021, and more social media channels pushing video content over images, working with video affiliates over more generic affiliate kinds will develop.
SEO: Advertisers will concentrate on using long-tail search; therefore, they'll have a healthy mix of content affiliates. Moreover, quality content is an important part of selling, and making sure that you have affiliates with high-ranking articles will assist you in driving sales.
Podcast: With podcasting, the potential returns are high, and they're successful because users want to listen to this content. Setting an advertisement in the middle of a podcast, coupon, or text link is an effective way to drive sales.
Virtual Shopping
As known, virtual shopping is developing in various directions. One is live stream shopping, which will be more popular in 2023 on channels like YouTube, Twitch, etc. During live streams, influencers offer discount codes to drive sales to affiliates. This is really a rising trend to notice this year for affiliates and affiliate marketers.
More Brands Shows Personality To Drive Revenue
Brands that emphasize who they are and what they stand for will become a significant part of marketing in 2023. Users don't only want to hear about a brand's goods. 87% of users say they switch from one brand to another if the other is related to a good cause.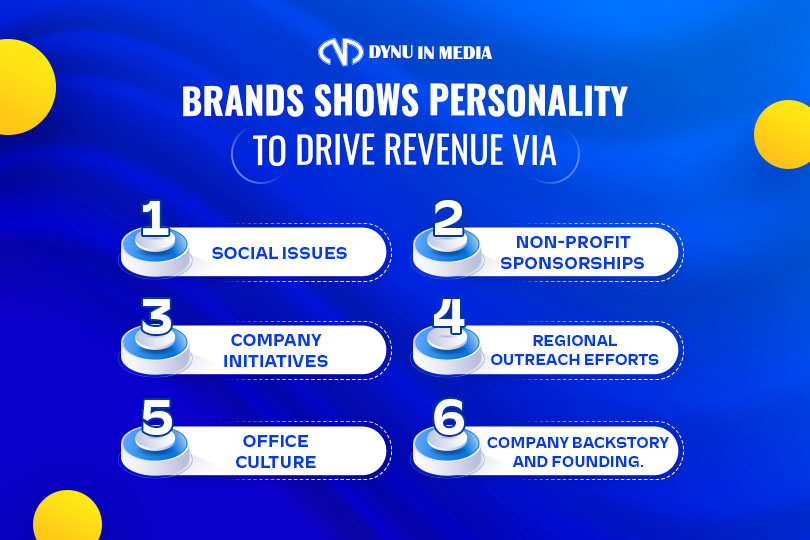 Giving a wonderful customer experience begins with giving them a good feeling about who they're purchasing from and where they spend their money will help drive revenue.
Here is some great brand-related content for affiliate marketing, including:
Social Issues (i.e., Black Lives Matter).
Non-profit sponsorships.
Company initiatives.
Regional outreach efforts (i.e., volunteering at Food Banks).
Office culture (i.e., paid paternity leave).
Company backstory and founding.
Affiliate Programs In The Second-Hand Market 
Second-hand clothing is seeing an increase from customers looking to decrease their environmental impact, and many brands are looking to jump on to customer sentiment.
In 2022, one survey indicated that 46% of Tiktok users in the USA who use the app often tended to purchase from online second-hand stores, vs customers who didn't use Tiktok saying they wouldn't be fond of shopping from a second-hand store at all.
Thus, brands will begin to create affiliate programs, particularly for their second-hand markets, because it becomes more and more popular with customers.
Cross-Device Tracking
Affiliate marketers need to prioritize mobile users in the next year. Statistics indicate that 62% of smartphone users have purchased at least one product via their device. Since more people use their phones to shop online, you need to consider leveraging cross-device tracking.
Cross-device tracking can bring relevant, customized, targeted ads to a particular consumer base. It determines the best channels for converting potential consumers to actual clients. By utilizing cross-device tracking, affiliate marketers may observe a purchaser's experience from beginning to finish.
If you are short of this insight, you will find it challenging to understand the consumers' thought processes and behavior.
Brands Will Go More Data-Driven Than Before
Brands need campaigns that deliver results; therefore, they will concentrate on the data that drives results in their influencer, referral campaigns, and affiliate.
The performance will be measured in terms of return on actual sales and investment, and brands will concentrate on optimizing the results utilizing data to drive more sales and success.
This will lead businesses to become more strategic with what content their partners create, who they work with, and how they're remunerated.
Error and trial will be an important part of their strategy until they've found the appropriate mix to get the return on investment and revenue they're looking for.
More Community-Based Affiliate Marketing
Online communities can be found everywhere, and typically they have more engaged users. People are always looking for authentic communities that offer value for them. Medium, Quora, Reddit, Facebook Groups, Mighty networks, etc., will give you a new way to share affiliate promotions and content.
These platforms above tend to be more niche-focused, with communities set around a typical interest; therefore, you have a better opportunity to approach your target audience.
This is a great chance to set your brand at the center of the conversation. And affiliates will offer links and reviews of your goods. Or it could help you find high-qualified affiliates to participate in your program. Either way, you can prompt curiosity and establish brand awareness.
Blog Link Building Approaches Will Be Diversified
Your affiliate marketing blog can take links using different ways. A good beginning point is to produce valuable and informative content that is involved in your chosen keywords.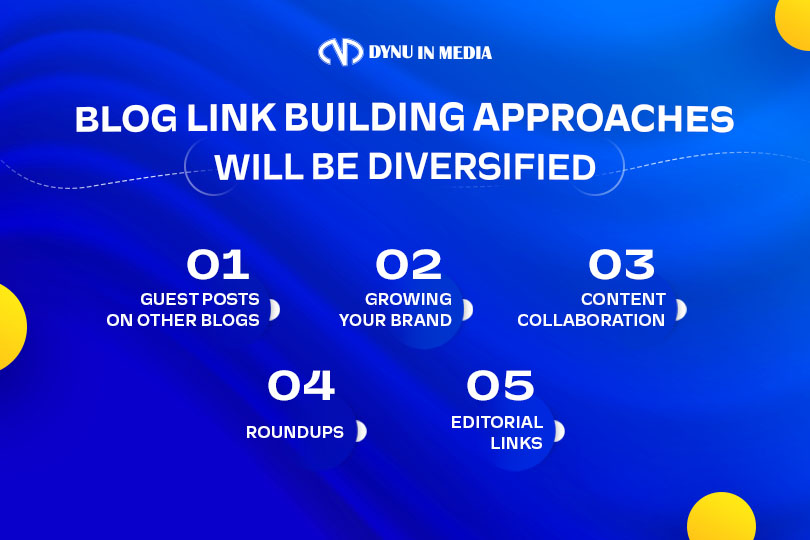 But, you can not solely rely on organic links. You can try getting backlinks to your site instead via:
Guest posts on other blogs
Guest posts increase your domain rating via quality backlinks and show your brand as a niche authority. When writing guest posts for other blogs, you indicate your expertise in the niche. Follow best practices to make sure that you can drive high traffic back to your page.
Growing your brand
In many ways, your brand represents you. Your brand starts as a thought, and then it is shown externally. Other marketers will connect with you because your brand grows.
A frequent blog schedule is one of the easiest ways to build your brand. Constant blogging brings more attention to your service or good.
Content collaboration 
The quid pro quo mentality is fundamental to content collaborations. You can expect a reciprocal link if linking to others' articles.
Here is a tip for content collaboration:
Identify possible content contributors in your niche. After making a content plan, set the roles individuals will play. Make sure that you and your partners are aligned regarding your niches and goals.
Roundups
Commenting on roundups still creates backlinks. The upside is that you can get important connections without linking to anyone's site.
Customers prefer to link to authoritative sites; therefore, having a high domain rating is opportune. It will help if you have several past experiences with the subjects you are discussing.
Editorial links
Editorial links are the most valuable and sought-after since they are freely given by sites without expecting anything in return. And they do not just occur. You must offer value to gain these links. Your content needs to be relevant, authoritative, and engaging before other websites link to it.
Loyalty Marketing As Part Of The Affiliate Marketing Mix
Loyalty marketing is a way of marketing that concentrates solely on retaining your existing customer base and ensuring that they're as satisfied as they can be.
The easiest shape of loyalty marketing is to provide a loyalty program. Loyalty programs target high-value users and reward them for returning and rebuying your business.
Moreover, via loyalty programs, you can collect valuable insights about your customer base that can help you to create a personalized shopping experience.
Loyalty marketing will become part of the affiliate marketing mix to stimulate buyers to keep returning. Incentives will be allocated to shoppers easily using the same tech as your affiliate marketing software.
Dunking (Third-Party) Cookies
More websites are witnessed to have embraced the collapse of cookies and the development of alternative ad technologies, such as contextual targeting. It is an advanced form of marketing that helps advertisers to choose from an array of sponsored content to be shown on the user's screen depending on the content they view.
By understanding customer behavior, websites can bring highly targeted ads with great accuracy. This reach ensures that ads are relevant to visitors, increasing the likelihood of clicking through and purchasing.
Moreover, this technology assists in protecting customer privacy because it doesn't collect any individual data.
More Diverse Affiliates For Advertisers Than Ever Before
Advertisers can work with various affiliate types; however, every year, innovation gives advertisers more selections to diversify their revenue. The following year will be no exception.
Whether that is innovations with AI affiliates, new staff, or groundbreaking apps, it will provide advertisers more chances to grow their affiliate marketing business and approach new audiences.
One tip you can refer to diversify affiliates for advertisers:
You set a goal to recruit new affiliates. Find affiliates different from those you work with on the affiliate marketing campaigns.
Crypto and NFT join the game
Cryptocurrencies have been since approximately 2009. Since then, they have expanded and built their presence. The field provides some of the most competitive commission rates and referral programs with large profit potential. You can promote particular crypto or a platform and assist in approaching a wider audience.
In contrast, NFTs are a beginner in the crypto industry. They have stormed in, although, and there are some platforms for trading NFTs and establishing affiliate programs around the promotion of platforms.
Frequently Asked Questions
What is the #1 affiliate marketing trend I should adopt?
It is vital to create goals and KPIs so that you know how successful you are at adopting a trend. You can track your metrics and activities and decide whether you were successful. If so, good job! If not, reviewing your activities and finding how to improve is essential.
How do I successfully get in on a trend?
That depends on you and your business. We know it might be pretty hard to adopt all trends at once; therefore, selecting one that you believe you can excel at may be better.
Maybe you already create great content; thus, why don't you make more video content? Or you want to expand your audience, so why don't you try partnering with another affiliate marketer?
One tip to get in on a trend successfully: Select one or two trends you can concentrate on, and once you use them successfully, move on to another one.
How do I find affiliate networks for me?
There are hundreds of affiliate networks waiting for you to get in on! If you want to join an affiliate network with a high payout, Dynu in Media is the start candidate to be considered. Moreover, we provide flexible, secure payment and bonuses for partners.
If you are in affiliate marketing, you are in a great field with more promise throughout the year. Ensure you understand these affiliate marketing trends and consider how to capitalize on them. If not, don't worry; find a good network to join and start your business right away. Among these affiliate networks, Dynu in Media is the perfect option. As becoming our partner, you will receive top conversion offers and a real-time visual report. Moreover, we are willing to help you 24/7 as needed.