How to Improve CTR (Click Through Rate) in 18 Ways?
If you are looking for the answer to this question: How to improve CTR (Click Through Rate)? You have come to the right place! From optimizing headlines to crafting compelling meta descriptions, Dynu In Media will show you how to make sure your content grabs attention. Get ready to take your CTR to the next level!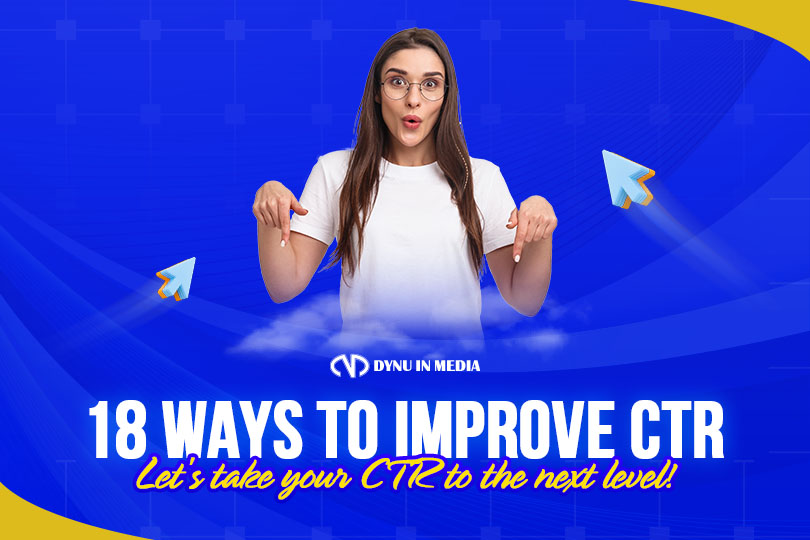 What Is Click Through Rate (CTR)?
Let's come up with the definition of Click Through Rate (CTR). The CTR is the ratio of the number of times a link or CTA was actually clicked to the number of times it was displayed. (aka the number of impressions).
Consider this formula for calculating the CTR:
Click-through rate (CTR) = (clicks / impressions) x 100
For instance, a 5% CTR is achieved when 100 people see an online ad, and 5 of them click to learn more about the product.
A click in Google Ads occurs when a user interacts with your ad after seeing it on the search engine results page (SERP). In other words, CTR measures how many people who saw your ad actually clicked through to its final destination (whether that's a website, app store, or lead form).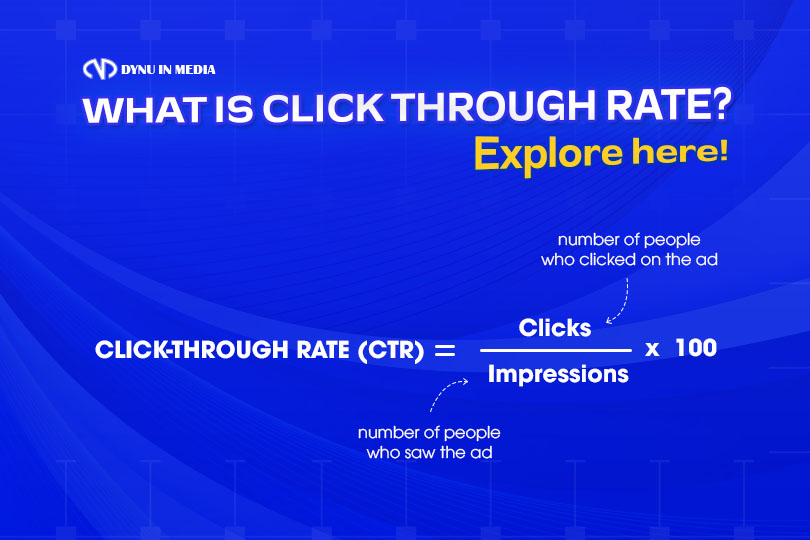 Why Should You Care About Your CTR?
Is CTR really important? Here is why you should care about your CTR in affiliate marketing. CTR is an essential indicator since it teaches you about your audience and what they respond to. If your CTR is poor, it could mean that you aren't reaching your intended audience or that you aren't communicating effectively with them.
What is A Good CTR?
If you want to know what a good click-through rate is for your company, one place to check is at the averages for your industry. You must first get familiar with current benchmarks and industry averages to improve your CTR and advance your company's objectives.
How to Improve Click Through Rate (CTR) in 18 Ways?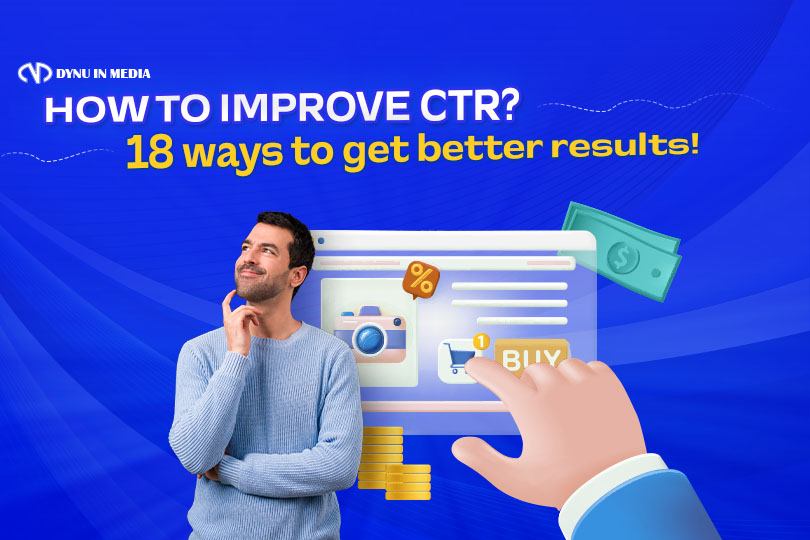 Here are 18 ways to help you improve your click through rate (CTR). Check out below:
Use effective meta descriptions: 
One proven tactic for increasing organic clickthrough rate is to write engaging meta descriptions. What follows your title tag in search engine results pages are called "snippets." In addition to explaining the content of your website, a good meta description should entice readers to click through to your post.
Simplify title format: 
You should properly structure your title tag, as it will also be featured in search engine results. Keeping things basic is the most effective strategy.
Keep in mind that individuals tend to quickly scan search results in search of the most relevant result. Simple titles that tell readers exactly what they're clicking on will get greater attention.
A/B Test headline
The headline is your first chance to get readers to click. Since it's vital, ensure it resonates with your target audience.
After optimizing your headline, share your content on social media to test it. After a few days, alter your headline and republish. Share the new content on social media and wait the same number of days as you did for the original post to compare engagement rates.
The most engaging headline should be used. If you have a significant social media following, this A/B test performs well.
Use Google Ads to preview
Ad previews may be customized for organic CTR on mobile and desktop with alternate titles. This is a terrific approach to testing different ideas and coming up with new material.
Optimize site speed
With Google ranking Page Experience and Web Core Vitals, site speed is more critical than ever.
If your website is slow, consumers will click on your link and leave, hurting your organic CTR. To put it in context, mobile site speed raises bounce rates by 32%. 32% of your traffic can be lost due to a 3-second page load delay. You'll lose organic CTR.
Use Yoast preview
Yoast, another WordPress SEO plugin, helps boost organic CTR. Preview your SERP snippet before publishing. You can then implement the suggestions.
This will show whether any keywords are missing or your sample makes sense. No worries about cross-platform searches—it works on mobile too.
Use the Listicle format
Lists take less cognitive effort. To boost organic clicks, include them in your content plan. Make sure your headline and title tag incorporates numbers. Users will see an easy-to-read listicle after clicking.
Listicles increase your chances of appearing in featured snippets, which boosts organic CTR.
Use descriptive URLs
Include your term in your URL naturally. This will emphasize your post's main topic, proving its relevance.
Shortening your URL is another optimization technique. It looks better and is more appealing. It will attract more clicks.
Create posts with imagines
Including relevant images in your text is a great approach to increase interaction. They are necessary for the highlighted snippets and other infoboxes on the search engine results pages (SERPs).
Use long-tail keyword
Use long-tail keywords in headings and title tags to increase organic CTR. Because they're descriptive, long-tail keywords match search intent.
When consumers see a detailed long-tail term relevant to what they're looking for, they're motivated to click on your URL because they know your post will include the information they need.
Implement structured data
Another way to improve your CTR is to use structured data. This is because search engine algorithms easily understand structured data. Use Schema.org to convert your material into search engine-friendly code. They'll get rich, interactive search results.
Localize your content
Bear in mind that localized content benefits SMEs and in-person service businesses.
Localized content targets your audience and attracts high-intent clients who are already searching online for your products or services.
Identify CTR winners and losers
Calculating page winners and losers is crucial to improve organic CTR. This shows which pages, titles, and content kinds are performing well and poorly.
You can use Google Analytics to help you provide this data effortlessly.
Utilize rich snippets
Rich snippets are another approach to get website clicks. These search results include data. Therefore, you can increase organic CTR with rich snippets.
The only ways to show those reviews and ratings in search results are by activating a rich snippet plugin or manually coding it. Ratings, for instance, help users determine whether to click on your URL.
Use high-converting landing pages
Landing pages are crucial to digital marketing because they attract traffic if designed effectively. Make sure your landing pages do that:
The landing page anatomy includes a clear title, high-quality graphics, well-produced videos, persuasive writing, and calls to action.
Optimize for UX—load the landing page quickly and make it easy to read.
All of them may boost click-through rates and conversions.
Breadcrumb navigation is meant to improve user experience. This causes your website to rank higher and increase organic CTR.
Breadcrumb navigation is not an option for your website. It must be part of your strategy to succeed.
Use heatmaps
Understanding where customers click on your website is a smart method to maximize site usage. Checking where most users leave off is also good. This is crucial for identifying website areas for improvement.
Search engines think your material is valuable when users spend more time on your website and click on other pages. If your bounce rate is large, search engines will rank your website lower because they think your material is unhelpful.
Use Google analytics reports
Google Analytics provides the data to increase organic search results and landing page conversion rates. This improves calls-to-action and quality scores.
Your Analytics Dashboard can show you how Google's AI and people view your site's pages if you know what to search for. You may then optimize them for engagement and rank.
How To Find What Pages Should Be Optimized For CTR?
Log in to Google Search Console, choose your search property, and then navigate to the Performance > search results report to see which page to optimize CTR for. It's crucial that you write down the following points:
Last three months will be the default date range. This is OK, but adjust the length to match site volume and seasonality.
Pick only "total impressions," average CTR," and "average position" scorecards.
Click " +" with "New" to add filters to narrow down your target country and content topic.
Click the three lines in the top-right corner of your search console table to segment your data by "position smaller than 6" and "CTR smaller than (insert your average CTR here).
Think about your business goals and the list of questions. You're looking for a brand-relevant trend or term.
Is A High CTR Good Or Bad?
So, is a high CTR good or bad for your business? Firstly, high CTR benefits any business, indicating a greater interest in its website. Since your rankings will improve with your brand's visibility, your brand's visibility will also increase.
Conversely, CTR just reveals the proportion of viewers who click rather than the full number of conversions. (e.g., made a purchase or signed up for your newsletter). The cost per conversion (CPC) for an internet ad can be very costly despite its high CTR.
It's time to make your content stand out and improve click-through rates with our easy-to-follow tips! Dynu In Media hopes that you have never asked this question again: How to improve CTR? Let's boost your click-through rate and engagement now! Finally, we wish you success!