15+ Free & Affordable Affiliate Tracking Software
If you are an affiliate marketer and want to better your return on investment and create better-quality leads, it is vital to have the best affiliate tracking software tucked away in your digital marketing arsenal. In this blog, Dynu in Media will share the 15+ best and most popular tools. Keep reading and choose the suitable one for your business.
What Is Affiliate Marketing Tracking Software?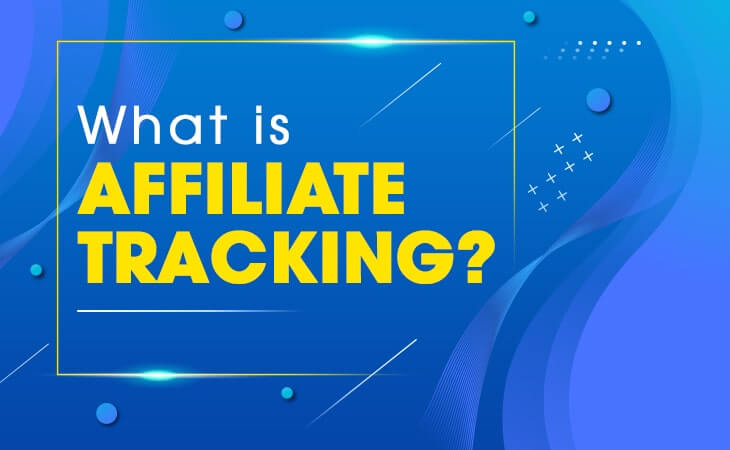 First, let's learn about affiliate marketing tracking software. This software tracks the conversions and traffic and aids you in organizing the performance of your platform and partnership.
To understand it quickly, you need to track the traffic from influencers, bloggers, or others to see if the partnership contributes to your business.
Thanks to the following features, the software becomes one of the most precise tracking tools:
Affiliate tracking code and link generation;
Fraud Detection;
Tracking affiliate performance (clicks, conversions, traffic, lead generation).
Dashboard with analytics and reports;
Tracking sources of traffic;
How does affiliate marketing tracking work?
Affiliate tracking software is an essential tool in any affiliate marketer's as traffic and conversion as possible. Some people may use social media networks, while others may use landing pages or personal blogs.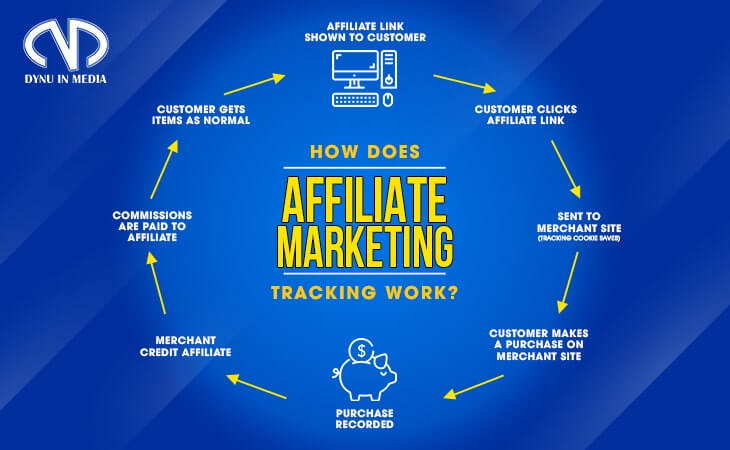 Affiliate monitoring software informs marketers and affiliates about the sources of the majority of their clicks and conversions. As a result, you'll know which marketing techniques are most effective and where you need to put in more effort.
Most affiliate networks have numerous tracking options that you can utilize to track various KPIs.
It will depend on what kind of business you are running. If you are selling physical goods on your affiliate campaigns, you need a fully integrated platform with CRM (customer relationship manager), and credit card processing.
So, what is the best affiliate tracking? What're considered to be the best affiliate tracking software? If you are promoting software/apps, then you need something like HasOffers or others below.
>>> Click here: The Best Traffic Sources For Affiliate Marketing
15+ Free & Affordable Affiliate Tracking Software
Here are 15+ free and affordable affiliate tracking software that helps you create a single link fast.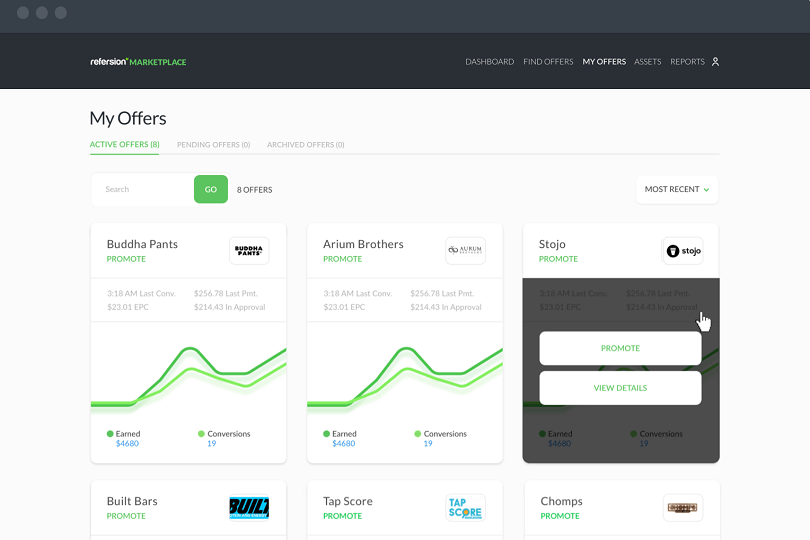 Refersion is often used for small e-commerce platforms that run an affiliate program. It's easy to use and install, with a maximum of six minutes to set up the software and run it.
While Refersion provides all the functionality you would expect from an affiliate tracking tool, some affiliates' sales reports are not tracked. This can be a deal breaker, particularly for affiliates who believe the best affiliate tracking software should track their sales.
Refersion's paid plans cost $89 per month, which is quite costly. The enterprise plan is custom-priced for each customer. Refersion provides a free 14-day trial.
HasOffers tracking software for affiliate marketers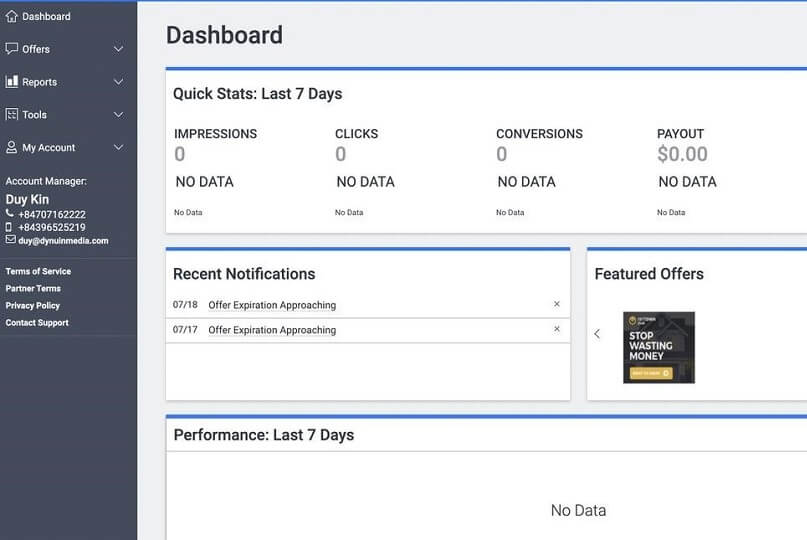 HasOffers is a solid platform: stable and reliable. They can track all of your performance channels and make sense of the potential attribution mess. It offers real-time tracking and cross-device attribution. The best thing about HasOffers is its fast and capable front-line support. Issues are solved quickly, and people there are very knowledgeable.
The cost is the issue that you are concerned about. That's excellent information for you 'It's a free trial'. To use the maximum functionality, you can choose a professional package with $279/month and enterprise $799/month.
Some of the top features of HasOffers include:
Smart Links.
Smart Targeting.
Fraud Prevention.
Multi-device Support.
Real-time Click Tracking.
Campaign Management.
Multi-level Referral Tracking.
Performance Analytics (Affiliate), etc.
Tapfiliate cloud-based affiliate management software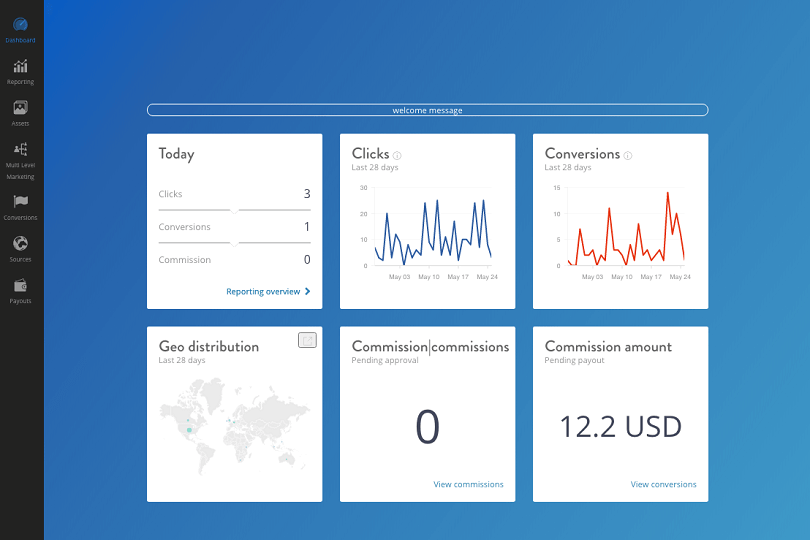 Tapfiliate is considered a good choice for businesses mainly administrating and making revenue on e-commerce SaaS platforms.
This tool's autopilot mode can automate sharing through social media, onboarding new affiliates, or drip campaigns.
Besides, Tapfiliate provides advanced reporting capabilities and tracking; however, most features are approachable only via the Pro plan, which costs $149/ month; and the essential plan costs $89 monthly.
LinkMink affiliate marketing tracking software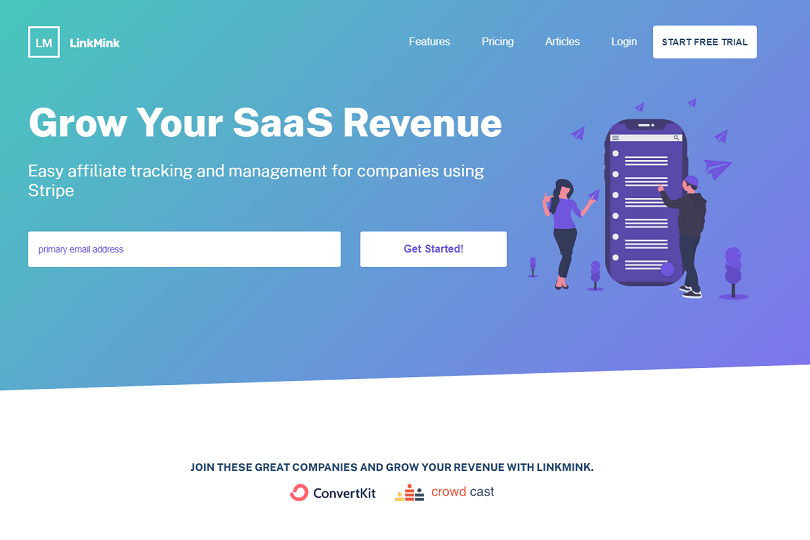 Like other tracking software for affiliate marketers, LinkMink is known as one of the best affiliate marketing tracking software, enabling you to generate and use your tracking link. Furthermore, it also helps you manage your revenue, commissions, refunds, monthly payouts, avoid risk, and many more.
For starters, the cost for LinkMink is $39, the growth package is $65, and the enterprise is $125 per month. You have a 14-day free trial for each plan. The growth package is popular. You may consider choosing one of them to be suitable for your business.
Some of the top features of LinkMink include:
Automatic Approvals.
Integrated Payouts.
Affiliate Dashboard.
Reliable Tracking, etc.
Anytrack affiliate tracking software
At the end of the list, Anytrack is the name that we talk about when it comes to optimizing your marketing campaigns. They are one of the best affiliate marketing trackers and link tracking software. This tool helps you set up, use, and follow your tracking link effectively. Besides, you can track data or reports on conversations, and the actions visitors take. Analytic and measurement of customer behavior, strategy and campaign development, and revenue growth are all derived from these.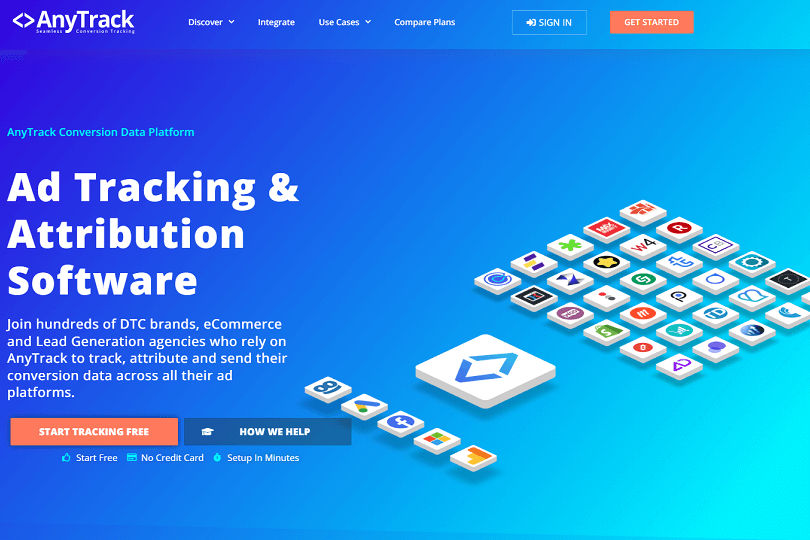 Any track's paid plans begin at a reasonable $50 per month. This includes three integrations, a 12-month data retention period, and Google Analytics, Facebook Pixel, and Bing integrations.
The Personal plan costs $150 per month and includes 500,000 sessions, support for ad networks, and unlimited integrations. The Advanced plan costs $300 per month and contains premium affiliate networks, webhooks, and the Facebook Conversion API.
Some of the top features of Anytrack include:
Connect with Google Analytics, Facebook Ads, etc.
Affiliate Network Tracking.
Google Analytics Goals.
Audience Building.
WebHooks, etc.
>> Click here: Top 10 affiliate marketing websites for beginners
LeadDyno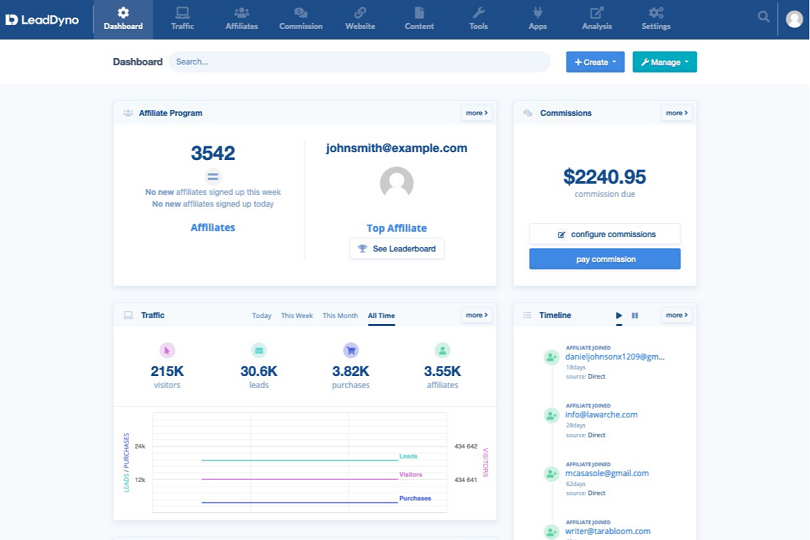 LeadDyno mainly focuses on affiliate program promotion and provides the most figure for promotional tools in an affiliate marketing software platform.
Moreover, this software allows brands to create promotional campaigns, such as newsletter and email campaigns, and share them on social media platforms.
It provides extensive reporting and tracking features that help brands to track and optimize their promotional campaigns. Besides, you get free 30 days for a trial, and then this tool costs $49 per month.
FirstPromoter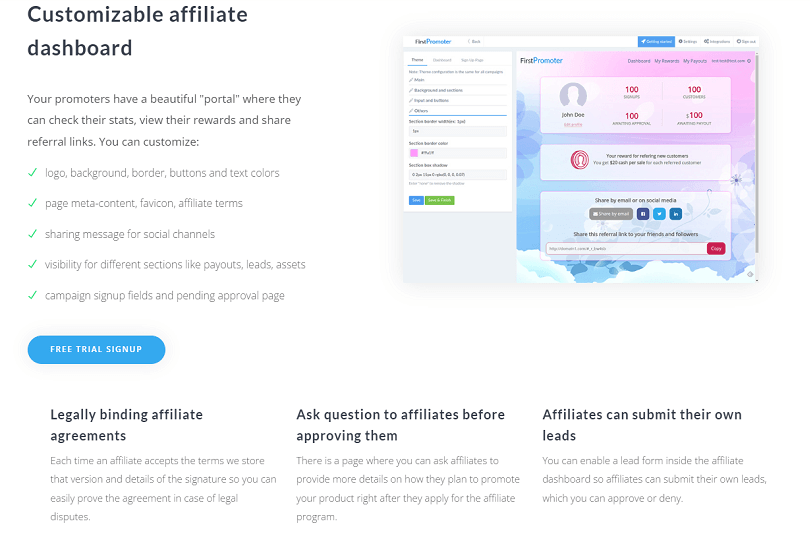 For affiliate tracking, particularly for SaaS companies, FirstPromoter is on our top list. An all-in-one software, Firstpromoter helps SaaS companies follow, control, and optimize referral-based marketing programs easily.
It also helps affiliates see their status and share the referral link from their private dashboard, while companies can pay for affiliates and their friends to singing up.
Here are some key features of FirstPromoter, as follows:
Set fixed or percentage commissions.
One-click automated payouts.
Create private campaigns to invite particular affiliates.
Scaleo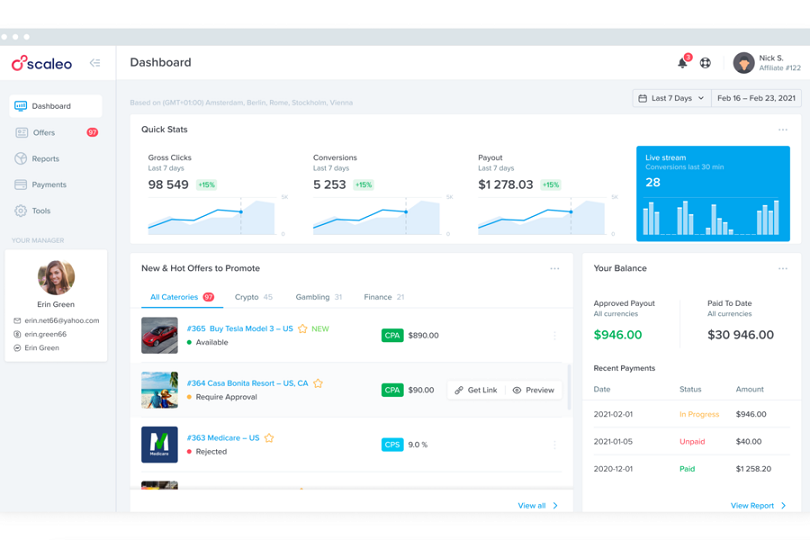 As known, Scaleo is a premium affiliate marketing tracking software that offers the most powerful tools for affiliate businesses. It provides a 14-day free trial, starting from $299 per month.
Affise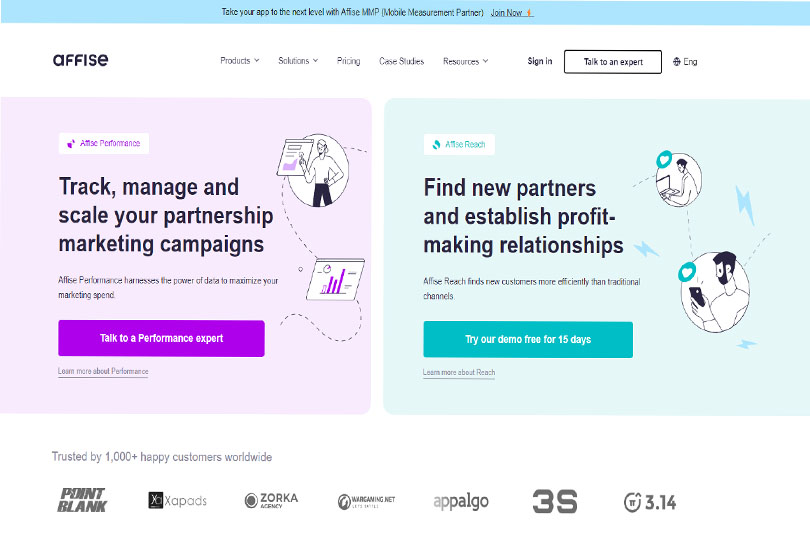 Affise is a good choice for agencies that control many affiliate networks on an Enterprise level. This software can be accessed through SaaS, web, or cloud and provides good third-party SaaS integration.
One outstanding feature of Affise is its smart targeting that helps audience targeting through criteria like device, geolocation, device connection speed, or language. It also provides reporting capabilities and robust tracking.
Affise starts at $499 per month and is better suitable for Enterprise-level agencies and brands.
Awin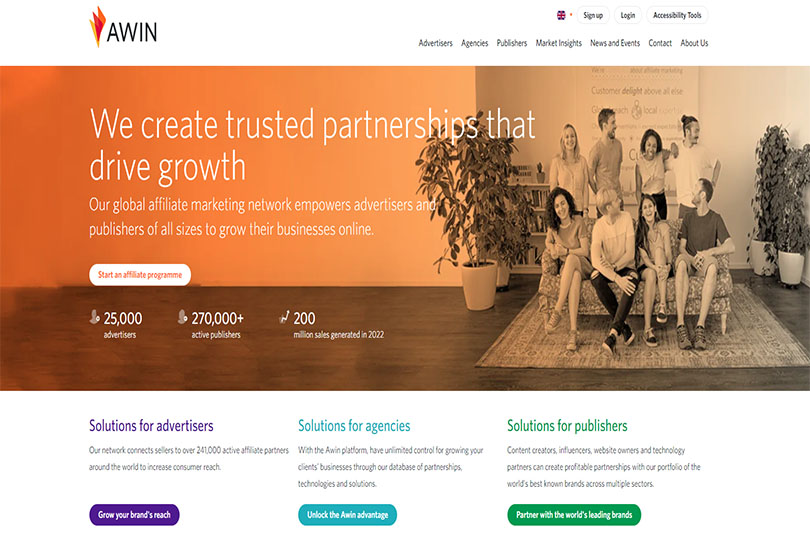 Awin affiliate tracking software features a handful of reporting and marketing features you would expect from such an extensive network.
Registration is free on this software, but its performance-based pricing model means there is no fixed monthly cost to enter the platform. Instead, all brands pay a predetermined cost-per-acquisition.
Cake
Cake is another affiliate marketing platform through SaaS, web, or cloud. This software partners with many partners to provide various streamlined and automated features, most considerably its live tracking and reporting capabilities that help brands to optimize their affiliate campaigns in real time.
Cake does not offer pricing on its website and requires a custom quote. Moreover, this software does not feature any pre-made promotional tools for marketers, which does not make it suitable for novice users starting with their affiliate programs.
TUNE
TUNE helps brands build, control, and grow their affiliate partner networks via its proprietary marketing technology.
This software provides customizable tools, payments, reporting, commissions, and real-time reporting and affiliate tracking like most other platforms.
Yet, it does not offer affiliate promotional tools like other platforms, and the price is $279 per month for the Professional plan and $799 monthly for the Enterprise plan.
Everflow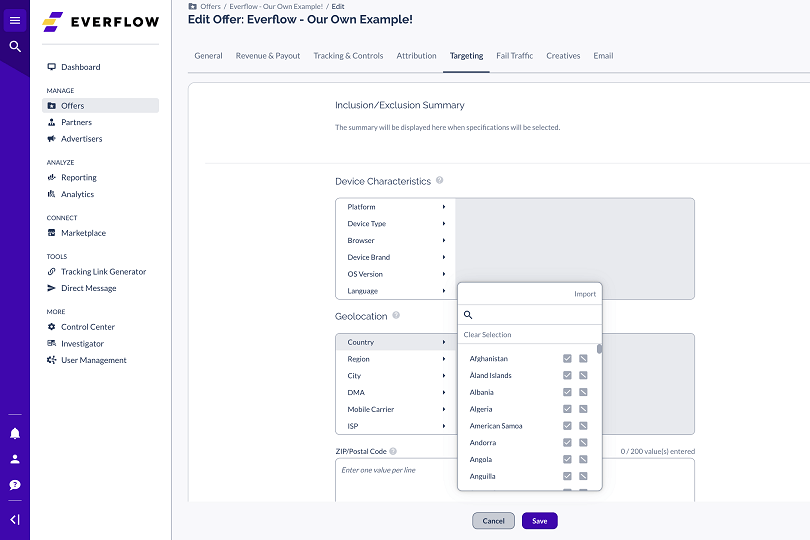 Everflow is a tracking and affiliate marketing software based on the Google Cloud Platform.
Here are some features of Everflow:
Performance analysis over time and across metrics.
Simple and intuitive user interface.
Fraud detection.
In-depth online and offline tracking.
Results analysis across dimensions.
Real-time analysis and reports.
The cost of Everflow is $750 per month. It is suitable for expert affiliate marketers and individuals set up to build an affiliate network.
Binom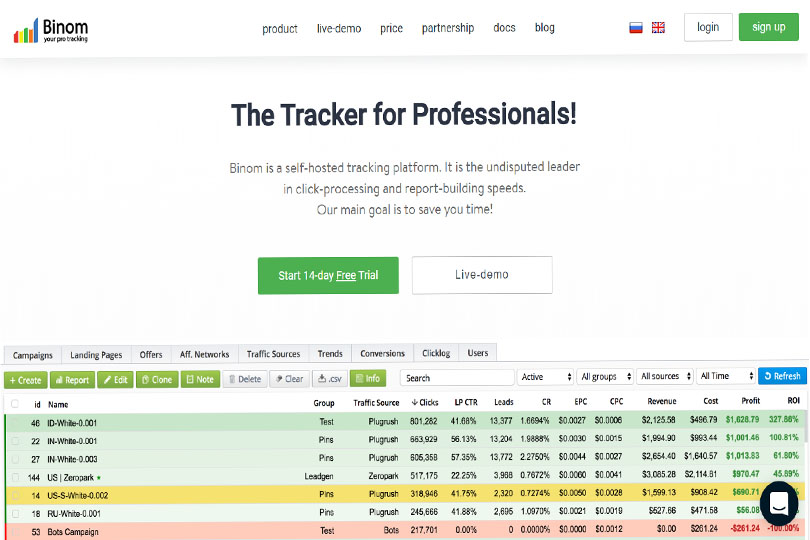 If accuracy and speed are your priorities for affiliate tracking, Binom is an excellent option. This software upholds revenue growth by the second, with a concentration on speeding up tracking processes and doing reports.
Here are the key features of Binom:
A/B testing for Direct and Landing pages.
Daily and hourly statistics.
Lifetime data retention.
Campaign and offer organization.
Unlimited domains.
5ms tracker processing speed.
For pricing, Binom provides a 14-day free trial; after that, you can proceed with monthly billing selections or an annual plan to save 30%. Both options provide free 24/7 customer help.
ClickMeter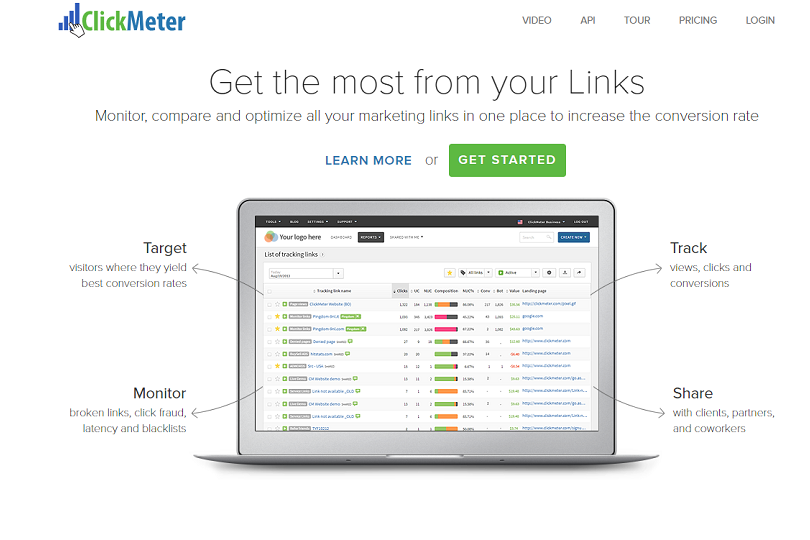 ClickMeter is an affiliate tracking and marketing software that allows publishers, agencies, advertisers, and affiliates to maximize their strategy and conversion rates.
Here are ClickMeter's main features:
A tailored platform for affiliate marketers
Quick and easy account setup
Protection of data privacy and identity
Automated fraud detection.
ClickMeter provides 3 monthly subscription plans. You will receive a 30-day money-back warranty if your plan choice doesn't meet your requirements. This software also offers customizable plans for your business goals as an affiliate marketer.
Post Affiliate Pro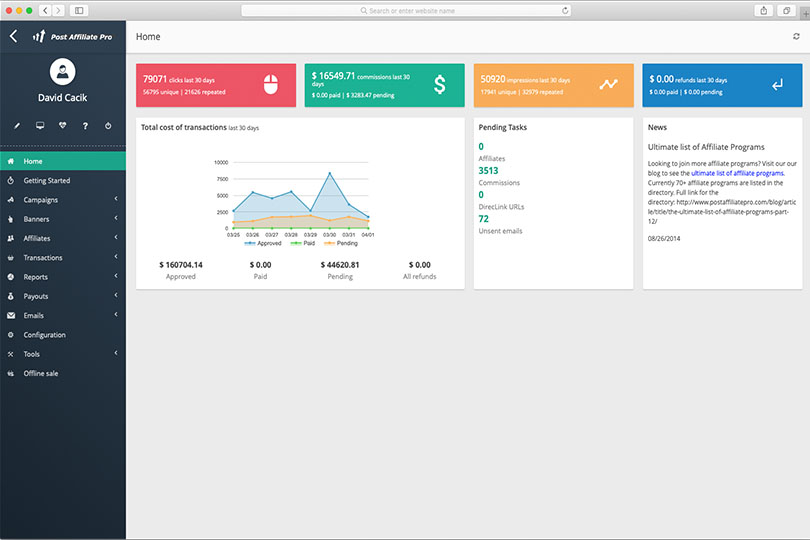 Post Affiliate Pro is a top choice of many e-commerce brands. On top of its advanced features and customizable user interface, you can use Post Affiliate Pro at a reasonable price.
Some main features of Post Affiliate Pro that you should know:
Real-time data analysis.
Round-the-clock customer help.
Accurate tracking and commission management.
More than 200 CMS and payout processes.
Customizable user interface.
Fraudulent transaction detection.
You can try the free Post Affiliate Pro trial for 14 days. This software provides two subscription plans: the Pro plan ($97 per month) and the Ultimate plan ($197 per month).
Voluum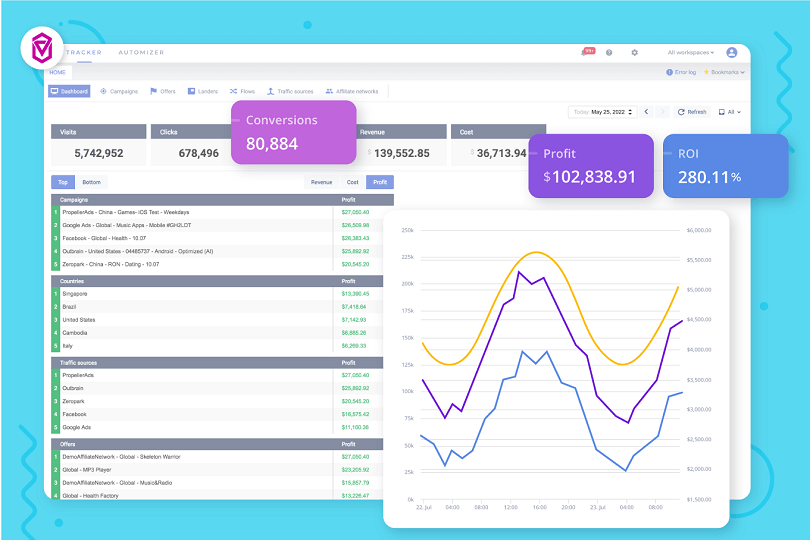 If you are looking for a tracker that is straightforward to navigate and highlights actionable data for effective affiliate marketing, Voluum is a good choice.
Here are some main features of Voluum, as follows:
Anti-Fraud Kit.
Easy tracking transfer.
Simple and smooth user interface.
Diverse and advanced tracking modes.
Multiple traffic sources.
Trend analysis tools.
Automated campaign optimization.
Voluum provides affiliate marketers 3 subscription plans:
Discover: Installed with the software's basic tracking feature; this plan helps 40 active campaigns and 3 months of data retention. It started from $89/ month.
Profit: This plan is perfect for affiliate marketers who want to grow their services. It offers AI help, automation, and 6 months of data retention. Its price is at $149/ month.
Scale: This plan is for seasoned affiliate marketers whose primary challenge is bots. The scale plan provides the Anti-Fraud kit, attached with chat help, AI support, and automation. Data retention is more than 12 months and costs $299/ month.
HitPath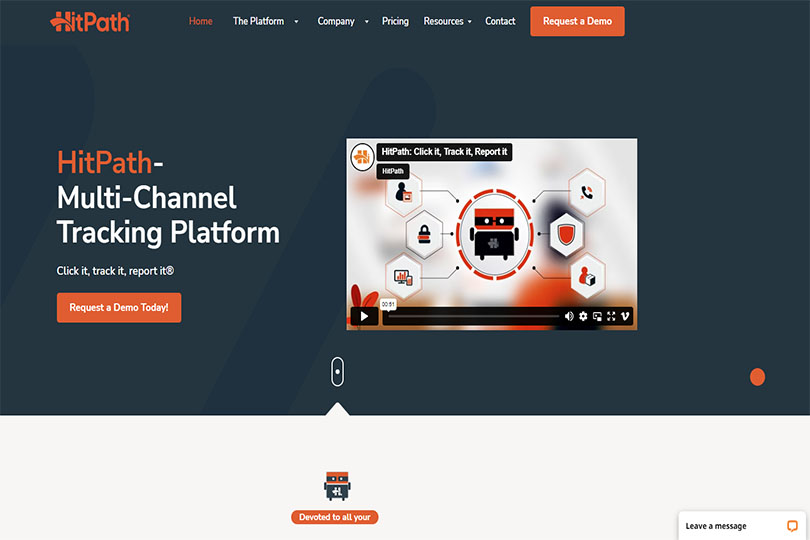 HitPath is used for advertisers, affiliate networks, and agencies, with all dashboards that cater to the particular user's needs and report accordingly.
With these features, such as accounting tools, campaign management, communication tools, affiliate management, etc., HitPath becomes a comprehensive affiliate marketing tracking software. Moreover, this software is free.
What To Consider For Choosing The Best Affiliate Tracking Software
Identify the type of tracking you need
Do you require basic reporting and analytics across many channels? Or do you need more in-depth data collection? Various software provides different levels of functionality; therefore, it's vital to understand your needs before choosing a solution.
Integration
Integrating your tracker with other services, such as email marketing and payouts, is vital for a seamless marketing strategy from beginning to end. Keep looking for affiliate tracking software with preset integrations, or customize your applications.
Fraud detection
Protecting yourself from suspicious traffic and bots aids you in keeping your affiliate links clear of fraudulent activity. If you want to secure your affiliate marketing career, suitable affiliate tracking software can offer measures to filter out bots. Necessarily, more protection is provided with more advanced subscription plans.
Customer support
Regardless of how complex or simple the software is, customer help is vital to guide you whenever you need expert support from the team. Newbie affiliate marketers benefit from real-time live customer help should an emergency happen while using the tracker. This also saves you from losing access to valuable data.
Every affiliate tracking software on the above list brings different benefits. A good way to go about is to try each of them for a week and see if it suits your needs. Dynu in Media hopes you find this blog helpful, and don't forget to follow us for the latest updates on the affiliate industry.