Top 50+ Highest Commission Affiliate Programs
Affiliate marketing is a popular way to earn money online. It is a process of earning a commission by promoting someone else's product or service. Dynu In Media will provide you top 50+ highest commission affiliate programs that publishers could consider.
What Is the Affiliate Commission?
Simply put, the affiliate commission is a particular amount of money affiliates earn if they make a conversion.
Affiliate commissions can vary based on these four paying models, including:
Pay-per-Click: the affiliate earns a commission whenever a visitor clicks on the affiliate link.
Pay-per-Action: the affiliate earns a commission whenever a visitor fills out a form or takes other actions.
Pay-per-Impression: the affiliate earns a commission whenever an ad banner is visible on the visitor's screen.
Pay-per-Sale: the affiliate earns a commission whenever the visitor makes a purchase.
Types Of Affiliate Commission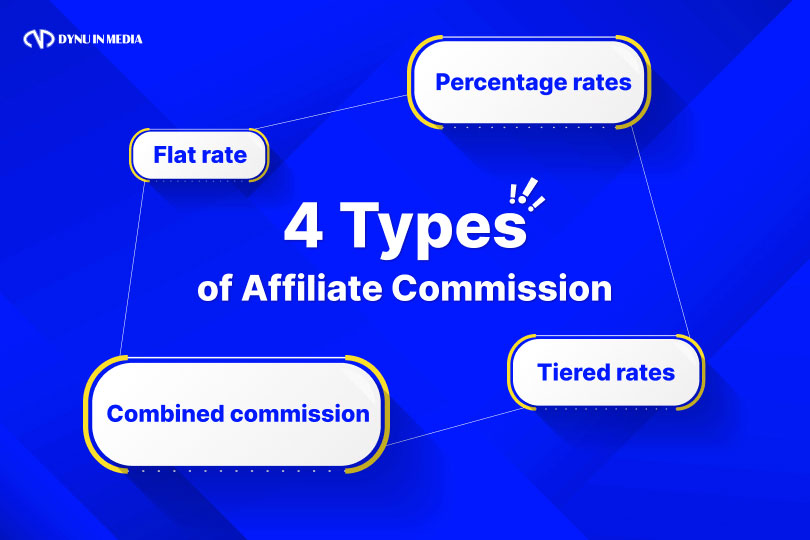 There are four types of affiliate commission:
Flat rates: the affiliate earns a fixed commission rate for every conversion, regardless of the sale value or any product's discounts. For example, the affiliate commission rate is $10 for an item that's currently on sale for $7, the affiliate still earns $10 per sale.
Percentage rates: the affiliate earns a percentage of every sale or the total order value. This type of affiliate commission is popular, especially for big-ticket items and well-known products. In addition, percentage rates draw a lot of interest from affiliates because it's flexible and comes mostly from sought-after products.
Combined commission: this affiliate commission type is a simple combination of the two above. That means the affiliate earns not only a flat rate for every sale but also a percentage of that sale if it comes from a high-quality lead. Of course, the definition of a "high-quality" lead varies based on different affiliate programs.
Tiered rates: affiliates earn more when they sell more. So, its goal is to motivate affiliates to make as many sales as possible. For example, the commission is 5% for 50-100 items sold while 10% for 101-200 items sold.
What Is A Good Affiliate Commission in 2023?
The average affiliate commission rate of 5-30% is generally considered to be good in 2023.
The commission rate depends on the product or service being sold. A good one should provide motivation for the affiliate marketer to promote your product or service. But it's not so high that it eats into your profit margin.
If you're a start-up business, start from the low side and increase your commission rates over time — that's a safe way to go. However, many factors, such as market competition, the average product price, and product demand, impact how much you should offer your affiliates. You can either start with a super high commission rate, provided it benefits your profit after all. Do a profound market analysis before deciding your rates!
How To Set An Affiliate Commission Rate With 4 Steps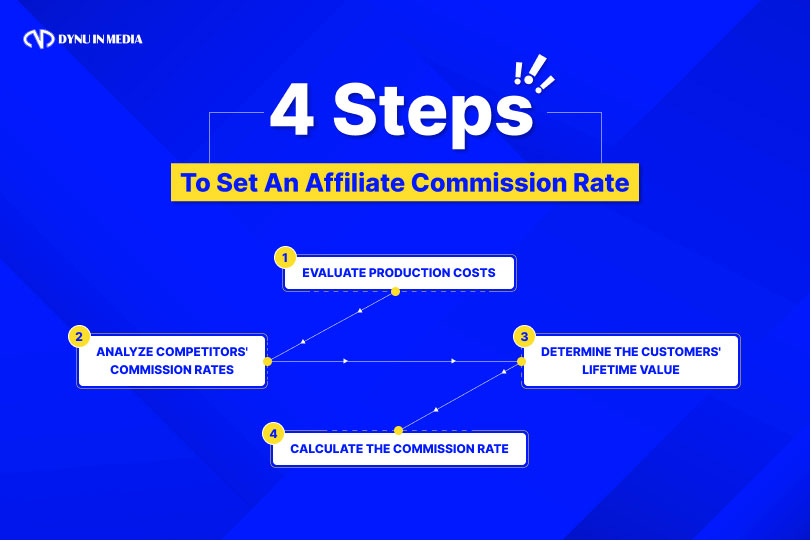 Here are the four steps to help you set an affiliate commission rate:
Evaluate production costs
The cost of labor, supplies, storage, raw materials, packaging, delivery, utilities, income tax, etc. Take into account these component costs when calculating your production cost. That will help you determine the minimum commission rate that you can offer to your affiliates while still making a profit.
Analyze competitors' commission rates
Analyzing your competitors' commission rates will help determine the average commission rate in the industry. That's how you become competitive in the market.
But how can you do that? You can purchase reports done by professional analysts or do the research yourself. The best trick we've learned from our advertisers is that they create affiliate profiles and join their competitors' affiliate programs. It takes time, but you could learn interesting things along the way.
Regardless of the way, it's important not to lose your focus on their standard affiliate commission, performance tiers, first sale bonus, and many other factors. Dig all details to the ultimate as hard as you can when it comes to considering a commission rate.
If you don't know where to start, contemplate a general picture of the commission rates in your industry first. For example, these average e-commerce commission rates are from different industries.
| | |
| --- | --- |
| Product Category | Affiliate Commissions (% of Sale) |
| Arts & Crafts | 12% |
| Beauty | 15-20% |
| Business | 20-25% |
| Clothing | 10-15% |
| Computers & Tech | 15-20% |
| Financial | 30-40% |
| Health | 20-30%+ |
| SaaS | 20-30% |
Determine the customer's lifetime value
It is the total amount that a customer is likely to spend on your product or service over their lifetime. Whether your customers buy from you repeatedly or from other brands depends on your product type and niche.
Keep in mind every step they make in the customer buying funnel and their potential as well. That can make your sales go beyond in the future, even if you're taking risks for making less profit at the beginning.
For example, you're selling muscle-building powder. For this product type, customers find it hard to switch brands once they see good results from the one they're using. That means once you have a new customer, you're having them in the long run. So, you raise your commission rate to 20% while other brands on the market offer only 10%.
Calculate the commission rate
Once you have evaluated the production costs, analyzed competitors' commission rates, and determined the customer's lifetime value, you can calculate the commission rate. You should offer a commission rate that is competitive and attractive to affiliates while still allowing you to make a profit.
If you're not able to offer an affiliate commission that can beat your competitors, try other ways to pique the affiliates' interest. Think of some unique incentives or targeting affiliates that only recommend products with some unique features that align with your brand (low price with high quality, organic, handmade, etc.)
Factors Affecting The Typical Affiliate Commission
Taking an overall look, affiliate commissions vary by industry and also depend on these factors:
The product's price: the commission is low if the product is cheap, and vice versa.
How much your company invests in affiliate marketing: this affects the affiliate marketing budget, thereby deciding the attractiveness of the affiliate commission.
Top 50+ Highest Commission Affiliate Programs
Here are the top 50 highest-commission affiliate programs to consider:
HubSpot
Elementor
Moosend
AWeber
Sendinblue
ConvertKit
GetResponse
Fiverr
Pabbly
Unbounce
Constant Contact
Systeme.io
Typeform
Outgrow
Instapage
Thinkific
Kajabi
Teachable
iSpring
Shopify
Leadpages
Wix
Crowdbotics
WP Engine
Kinsta
Bluehost
Hostgator
GreenGeeks
Target
Hammacher Schlemmer
Spocket
Ulta
Sephora
FragranceNet.com
BH Cosmetics
Boatbookings
Cheapflights
Momondo
Sandals Resorts
Acorns
Sage Financials
Grammarly
BigCommerce
Teamwork
Flywheel
Shutterstock
Sucuri
DreamHost
ADT
Cloudways
By following top 50+ highest commission affiliate programs that Dynu In Media showed in this article, you can know how to start making a profit. Best of luck with your affiliate program in 2023!