11 Common Digital Marketing Channels
Digital marketing has changed marketing a lot. To stay ahead of the curve in this era, you must use a few digital channels to promote your business. In this post, Dynu in Media will explore 11 popular digital marketing channels, and you can refer to choose the suitable one.
What Are Digital Marketing Channels?
Before understanding what digital marketing channels are, let's jump into the definition of Digital marketing.
Digital marketing is using any internet-based technology to sell a service or product. And digital marketing channels are methods of distribution of digital marketing assets.
If you want to introduce a new product, choose one or some channels to deliver the message. Some popular digital marketing channels encompass video marketing, influencer marketing, and social media.
11 Common Digital Marketing Channels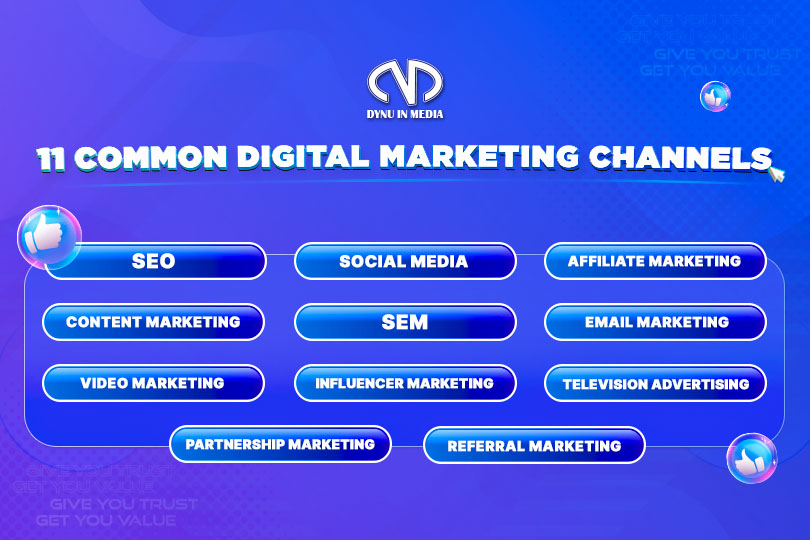 Search engine optimization (SEO)
There are over 63,000 Google search queries performed every second reported by Google, 2021. Now you can imagine the large number of people searching on the Internet, right.
Users often use search engines for shopping, entertainment, and research, so business opportunities are huge!
When customers seek services or products, they have a tendency to go with whoever ranks higher. Being outstanding from the competition at this stage implies that you'll be grabbing new chances organically, making consistent flows of leads down your sales funnel.
So how to improve your ranking on search engines? The answer totally depends on yourself; you must adopt modern SEO best practices like blog post optimization, linkable content creation, and keyword research.
Social Media
Next, let's move on to social media, an internet-based form of communication.
According to the statistics, social media users reach the 4.49 billion mark. And people use social media to build personal connections; thus, you can develop it into something bigger, better, and grander than initially envisioned.
Affiliate marketing – One Of The Most Effective Digital Marketing Channels
Affiliate marketing has become more popular, and many people have started making money online through it. So what affiliate marketing is, and how it works? Let us explain shortly below!
Affiliate marketing involves a partnership with an online retailer where you can receive a commission from every lead or sale that you bring in.
The easiest way to understand affiliate marketing is when you come across something that encompasses labels like "affiliate link" or "sponsored post."
With experience in this field, we can say that affiliate marketing can effectively drive sales and generate leads. No matter where your target audience is in the customer journey, this channel is a full-funnel strategy worthy of adoption.
There is a wide range of companies in the affiliate marketing field, and you find it hard to know the best and safest place to make money online.
However, don't worry cause Dynu in Media is here to help you earn money effectively. We cooperate with more than 300 advertisers and 500 publishers cross the world, from tier 1 to tier 3. Moreover, with the motto of a win-win relationship, we will try our best to optimize revenue with high payouts.
Content marketing
Content marketing contains ebooks, social media posts, blogs, videos, case studies, infographics, etc., that deliver value throughout the customer journey.
You can engage in deeper communications with relevant content, helping showcase your brand personality and start a relationship with target audiences.
One of the best methods to start a relationship with target audiences is by touching their insight. So how to do that? The answer is unique content. With this "powerful weapon," you can build curiosity, spark emotions, and fuel brand love.
Paid Search (SEM)
SEM includes PPC, and it might seem inconceivable that SEM will have the potential to earn ROI. After all, you pay for every click you get, unlike SEO, where users seek you organically.
The advantage of using SEM is that your ads are indicated above organic search results. This means you are still getting that engaged searcher before they see other options (your competitors).
For example, for every $1 spent on Google Ads, you can receive an average of $2 in return. That is 100% ROI right in your bag. Moreover, it has also been seen that PPC results get 150% more conversions than organic visitors.
Email Marketing
Email marketing is a channel that offers medium to high ROI for the business. Beyond revenue and lead generation, email marketing also brings other benefits:
A report shows that email has been so widespread that it reached 3.9 billion customers in 2020, and the number is expected to rise to 4.3 billion customers in 2023!
Email marketing also brings the best returns, with 73% of respondents of a study ranking the channel, compared to paid search and SEO at 67% and 72%, respectively.
With every $1 spent on email marketing, you can expect a $42 average return on investment. Over 62% of mobile devices are opened, compared to 10% on a desktop.
Video Marketing
We all know that the value of video in marketing is undeniable. In hustled and bustled life, sometimes we are bored with our daily routine and seek videos not only for entertainment but also for educational advantages.
You can easily find statistics on video marketing from increased open rates to conversion rates, which is a goldmine to exploit.
Just have a smartphone, and you can immediately record an attractive video to market services or products. However, to create branded videos that show the image you want to become, you may need to invest in a video production service or video editing software.
Influencer Marketing
Influencer marketing is related to a brand collaborating with an online influencer to market services or products.
It is impossible to scroll through social media without watching some influencer marketing. Everywhere you look, influencers show off their latest clothes, makeup brands, snacks, or candles.
Television Advertising
Maybe you don't know that television marketing is under the digital marketing platform as well. By doing television advertising, you are attracting potentially millions of eyeballs on your advertisement – and a few may become your clients.
However, television advertising in 2022 faces a host of obstacles; here are two profound blocks:
The first thing is the cost barrier. Television advertising can cost many dollars to produce and publish, which a small business cannot handle.
The last thing is that TV ad is easily skipped. Viewers are seeking many ways to avoid ads through streaming services, illegal downloads, and DVRs.
Partnership Marketing
Partnership marketing between companies has appeared since the 90s and has become an effective strategy for developing the business of well-known brands.
Partnership marketing means two businesses work together to generate a mutually beneficial marketing campaign. We will give an example that will help you understand this type of marketing well.
A running shoe brand collaborates with a brand that sells headphones. Users love listening to music when they run. Based on this, they came up with a deal providing free headphones with the purchase of running shoes. Their target audience may have some overlap, yet each may also reach a customer neither had access to before.
Referral marketing
Referral marketing sounds initially unfamiliar, but we use it daily. Referral marketing means promoting services or products to new customers through referrals, often word of mouth.
On average, referral marketing creates 3X to 5X higher conversion rates than other channels. Referral marketing usually comes from social media discussions, online reviews, and comments on the product listing. One report shows that consumers are 71% more likely to purchase a product or service when they see a social recommendation at first.
So how do we engage in referral marketing effectively? The answer is asking for referrals. You can gather referrals using referral apps or many customer marketing to build an army of advocates.
Which Digital Marketing Channel Is The Best?
This question is usually asked in many posts, and it has various possible answers. However, choosing the best digital marketing channel depends on these factors: functionality, goals, target audience, competitors, and budget. Moreover, you need to test different strategies and channels to see which combination suits you best.
Spend time measuring key metrics and analyzing if the results you are getting are helping you increase your ROI. Besides, don't hesitate to alter your marketing strategies moving forward.
Now you know some common digital marketing channels and can use them to optimize your revenue. If you want to make money online through digital marketing channels, especially affiliate marketing, feel free to contact us. Dynu in Media is always willing to help you gain your objective. Wish you success in the future!