What Is Double Opt-in? How To Set It Up?
Do you think about the quality of your email list? Or do you want to ensure your subscribers intend to read the email marketing you send? Let's find the answer in double opt-in, a process that ensures the best experience for your subscribers.
To ensure the best results from your email marketing campaigns, keep reading this blog with Dynu in Media to learn what double opt-in is and how to install it.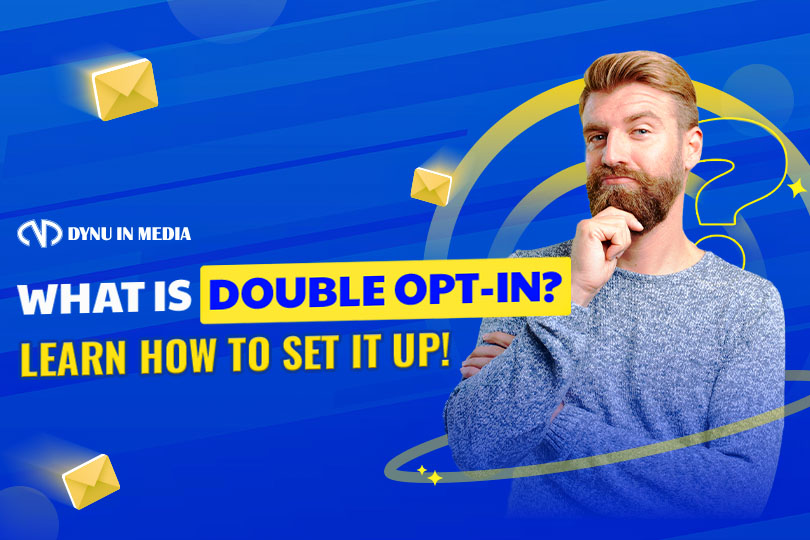 What Is Double Opt-in?
First, let's get to know "What is double opt-in?"
Double opt-in is when users sign up through your subscription form, then receive an email with a link they have to click to confirm that they want to get your emails. It shows a higher level of user interest, although marketers have lauded and disputed its effectiveness.
Double Opt-in vs. Single Opt-in: What's The Difference?
Let me explain the basic difference between double opt-in and single opt-in.
A single opt-in is a one-step process and only requires you to enter your email address one time in the sign-up box on a website. No confirmation is asked, and you immediately become a subscriber.
A double opt-in includes a two-step process where you enter your email in the signup box. After that, you receive a confirmation email where you must click to accept that you want to subscribe before being added to the list.
The main difference between them is that a single opt-in refers to a user only needing to subscribe once, and they will begin to get emails. In contrast, a double opt-in refers to a user who must subscribe and confirm their email via another link.
The Benefits Of Using A Double Opt-in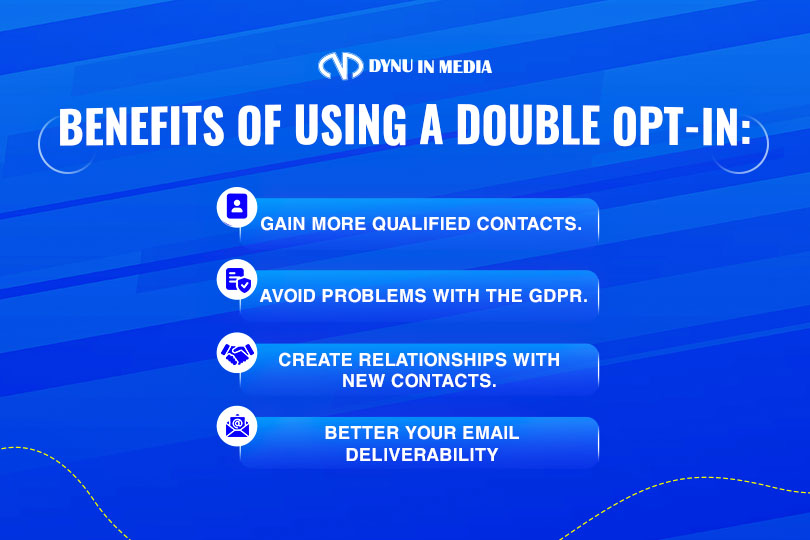 You've known about double opt-in; let's move on to the benefits of using a double opt-in.
Gain more qualified contacts: Double opt-in ensures that your list has only a valid email address. To be added to the contact list, new subscribers must click "confirm" in the email box. This prevents problems involving typos in the sign-up form or users submitting email addresses that do not belong to them.
Avoid potential problems with the GDPR: A double opt-in will help you show easy evidence that the contact opted-in by clicking to verify your email address. Moreover, it's helpful to have an extra level of protection from others that submit someone else's email address without their knowledge.
Create stronger relationships with new contacts from the beginning: A double opt-in helps you show your brand in email design, introduce your business, and consist of a great message welcoming new subscribers. This offers a more personalized experience for the subscriber before receiving your regular email campaigns.
Better your email deliverability: Double opt-ins ensure you do not add fake email addresses to your contact list. It also ensures subscribers want to receive your email by adding the extra step to the sign-up process.
How to Set Up Double Opt-In In 3 Steps With Hubspots
Each program or email marketing platform will have various installations to set up double opt-in. Here is one set-up way of Hubspots, one of the most popular email marketing:
Access email options
In the upper right side corner of the HubSpot toolbar, access your email selections by clicking the "Setting" graphics. After that, on the left-hand of the toolbar, click "Marketing"> "Email"> "Subscriptions." Scrolling to the bottom of the page, you will see double opt-in features and personalization tools. From here, create and publish the email.
Create an opt-in email
Firstly, you click "Edit details," which helps customize the subject line and preview text. Secondly, make sure the "Confirm your subscription" selection is in the body of your email. Thirdly, you click "Next"> "Update" to make sure your email has been published and saved.
Customize the feature
In the "Subscription tab," enable the opt-in switch by toggling it to "On." From there, customize the ways your email is seen by filling in some fields.
If you choose, create a new page in the dropdown menu fields and publish a follow-up email that subscribers will get once confirming their subscription.
From there, you have double opt-in fully installed to send to your contacts. On the contacts control, see a selection to send them the double opt-in email. For subscribers who want to sign up for your marketing emails, manually open your double opt-in to confirm their intent.
When Should You Use Double Opt-in in Email Marketing?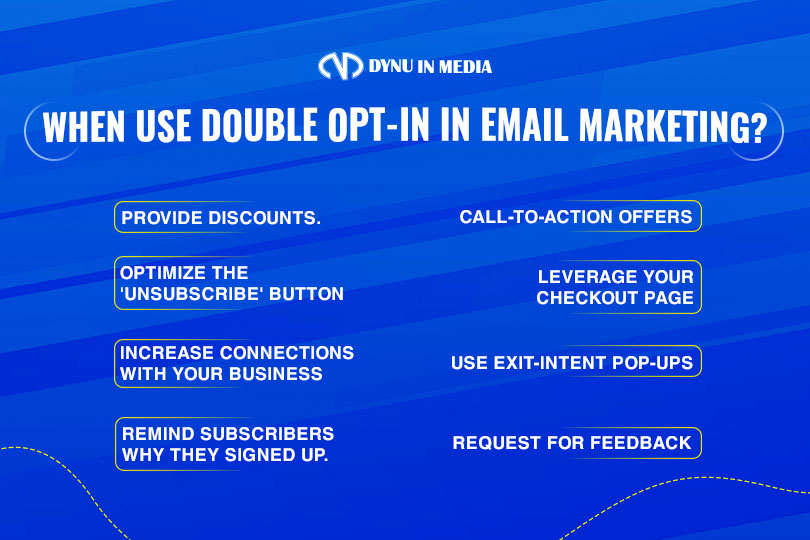 We suggest 8 ways to use double opt-in email marketing effectively.
Provide discounts and freebies
Lots of visitors will sign up for your free offers if they align with their interests. Moreover, the free content you're providing does not mean you can ensure its quality. Your free courses and ebooks will need time and even money. Thus, you can create free courses on platforms such as Canva, Udemy, Beaver Builder, etc.
If your visitors receive quality content, they will anticipate more in the future and sign up for your mailing list.
You can win your subscribers back by offering them flexible rules to maintain their subscription running. When a visitor clicks on the unsubscribe link, you can provide them other options to select if they want to get emails from you once a week or monthly. This strategy will decrease the unsubscribe rate.
For visitors who don't want to keep their membership, you can ask them personalized questions to know why they exist. Depending on the package or service they had subscribed to, you can customize these questions.
Increase connections with your business
An email opt-in further connects the business with new subscribers and grows its base. Specifically, we like how they add a CTA to their referral program and link to their social media pages. These are two wonderful techniques for increasing your audience base.
Moreover, it is an excellent approach to include customer service contact information for anyone with questions. This is vital for users who may have been signed up by someone else or did it by fault.
Remind subscribers why they signed up
It is always a great idea to restate your value proposition when you send a confirmation email to new subscribers. It reminds users of why they signed up and gives them that extra push if they hesitate to approve their contact information.
Call-to-Action offers
If you want users to confirm their subscription, persuade them with wonderful call-to-action buttons (CTA). Your CTA's content and value proposition should be attractive enough to convey that your offer's worth a reader's time.
Remember to check your CTA copies to know which elements attract your prospects the most.
Use Exit-intent Pop-ups
Exit intent pop-ups happen when a site visitor is going to leave the current web page. Websites with this feature will show a pop-up once the users move the cursor in a manner to suggest they're going to leave.
This strategy will assist your subscription rates and click-through because, unlike the subscription boxes that happen when a user first visits a website, exit intent pop-ups are less annoying. They allow a user to go through your content and items page undistracted, giving a site owner a last-minute opportunity to drive a sign-up.
Request for feedback
Persuade visitors to subscribe by creating more chances for them to engage with your brand. You can use a survey form or poll to ask users to offer their feedback according to your services and items. After that, use this feedback to get insights, which can create the basis for offering better services in the future.
Remember to add discounts or freebies to your feedback collection form to enable customers to test services and offer honest reviews.
Leverage Your Checkout Page
Last but not least, use double opt-in to leverage your checkout page.
E-Commerce outlets can get more followers by adding a CTA or double opt in email on the checkout page. As an online retailer, you use this box to provide other services like a newsletter.
Put the subscription button strategically, particularly in the form of a checkbox. If you're providing discounts, indicate to subscribers what they can obtain if they sign up.
For example, add the subscription button to a test membership checkout page. This button allows users with recurring payments to grab free subscriptions or discounts for the first month, at the same time, sign up for paid services in the following periods.
Are you looking for ways to determine email marketing strategy? Double opt-in should be one of the best options. It helps you to establish a more targeted and engaged following for your business.
If you have not already created a double opt-in system for establishing your email list, add it to your to-do list now! Dynu in Media hopes this blog provides helpful information for you. Feel free to ask any questions about this topic if you want to discuss it more.