8 Main Benefits of Affiliate Marketing
Under the changing of technology, people have been more drawn to review articles, online influencers, and brand advocates to buy products. This fact creates enormous lucrative opportunities for both product owners and affiliates. So, what's really in it for these parties to make their own perks? In this blog, Dynu In Media will show you the main benefits of affiliate marketing. And while you're planning to join the affiliate world, acknowledging these advantages will give you good preparation for your future making money-online plans.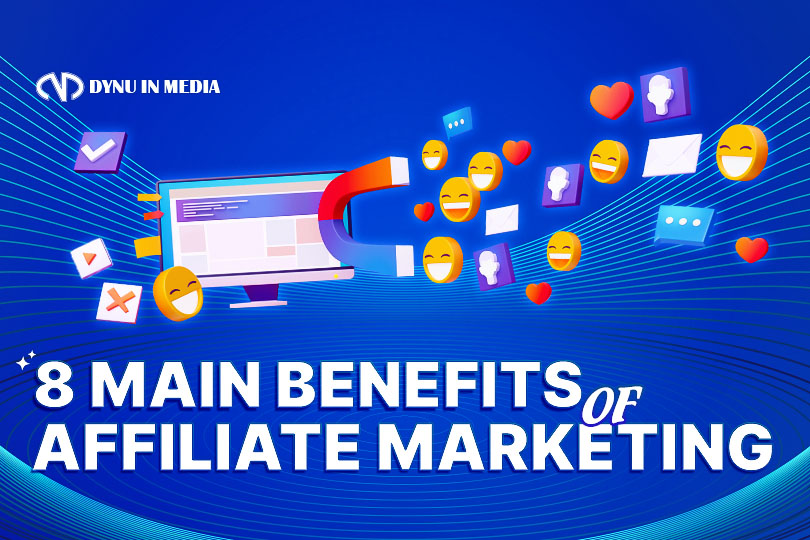 What is Affiliate Marketing?
Affiliate marketing is a process of promoting products or services online to receive commissions whenever a sale happens. It works based on the relationship between publishers and advertisers (also known as affiliates and brands).
Advertisers and publishers can work together directly or through an affiliate network, i.e. Dynu In Media, ClickBank, CJ Affiliate, or ShareASale. Either way, the concept of affiliate marketing stays the same — publishers earn commissions for bringing new leads or customers to advertisers.
But how effective is affiliate marketing? Today, affiliate marketing is one of the most effective strategies businesses can implement to market their products, earn quality leads, and steady sales.
According to Statista, affiliate marketing in the U.S. was worth $8.2 billion in 2022, increasing from 5.4 billion recorded in 2017. Given the rise of social media and influencer marketing, affiliate marketing's value is expected to go upwards continuously.
It's clear that such development of the internet has given entrepreneurs fertile land to grow their businesses. Comes with that huge chance are the benefits brands and digital marketers can earn through affiliate marketing. What exactly are they? Continue reading.
Benefits of Affiliate Marketing on Your Business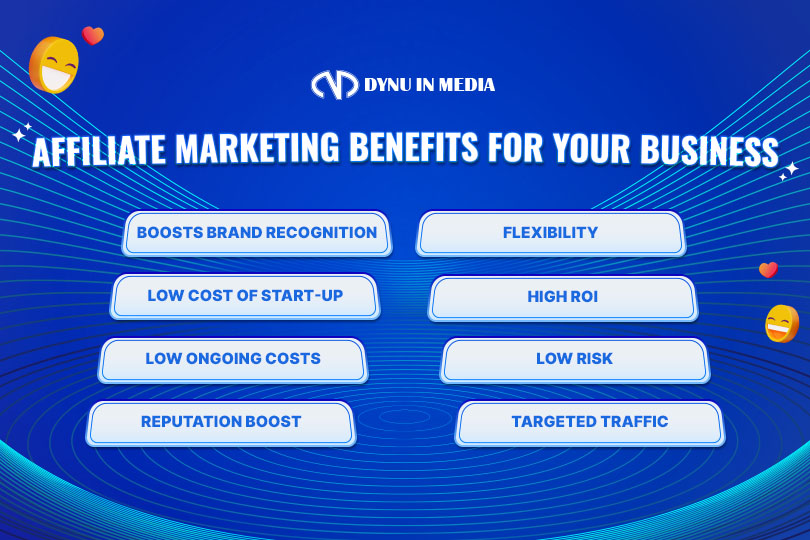 Building brand recognition
Brand recognition is the first and foremost benefit a business can gain from the use of affiliate marketing. Simply explained, affiliate marketing is all about people spreading nice words about your products as a step to earn commissions from you.
As a fact, advocacy is the best marketing traction. The more people talk about your brand online, the more your products get exposed to many target audiences. And since your brand has been widely recognized already, you receive more feedback quickly and reasonably. You'll also have a chance to showcase your single-minded customer support which promotes customer acquisition at best.
Flexibility
As an advertiser, you have all control over your affiliate program. That means you can decide to limit your affiliate budget or not, scale up the campaign whenever you want and restrict disqualified publishers. It's just like when you set up a paid advertisement if you already know about that.
High ROI (Return on Investment)
With affiliate marketing, you'll channel your marketing effort to affiliates who are in the influential circle of your prospects. With various affiliates at a time, you're in a high chance of getting a good ROI even at a fast pace.
Low cost of start-up
As a start-up, you can choose to join an affiliate network or create your own affiliate platform. Either way is much cheaper than running online ads, optimizing your web pages for SEO, or performing content marketing yourself.
Low ongoing costs
To generate sales, affiliates must do marketing for your products themselves. Meanwhile, you only have to spend money whenever they make a sale, which could be precisely tracked through affiliate links. See? This marketing model ensures you'll waste nothing, even as a start-up.
Low risk
Because you spend less with affiliate marketing, you're also entitled to little risk. But the best thing is that you only pay for conversions. So, as compared to other marketing strategies, affiliate marketing helps you avoid a huge payment loss.
Reputation boost
Once you partner with influential affiliates, you're in the way of building a good reputation for your brand. A brand is not a name or a logo but a promise. The affiliates you work with are responsible for that promise to your customers while they're promoting your products. And since they're trusted in that sphere of influence, you earn good credits through them.
Targeted traffic
As an advertiser, you are able to handpick your affiliates to make sure they generate the targeted traffic. These affiliates must have a particular impact on your product niche. For example, your products are eyeliners, so your partnered affiliates must have good voices in the beauty industry. So, targeted traffic is one of the noteworthy pros of affiliate marketing.
Benefits of affiliate marketing for affiliates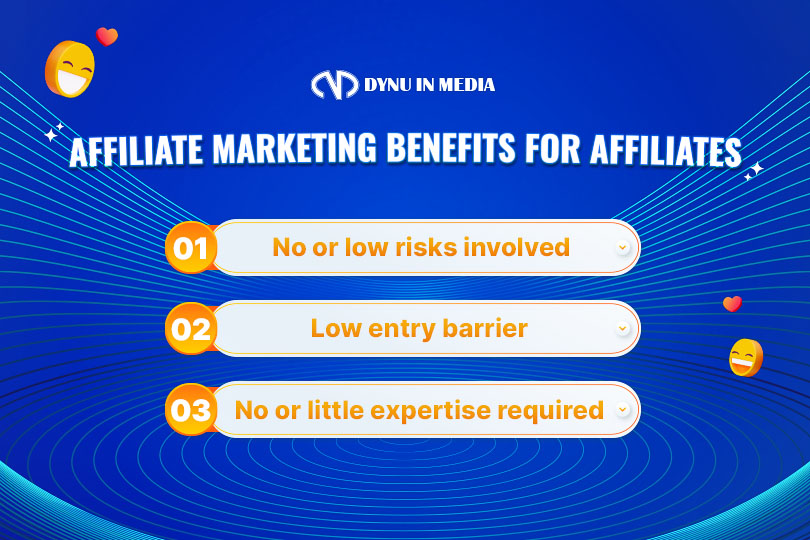 No or low risks involved
Generally, affiliates have abundant opportunities to earn money from affiliate marketing while not being entitled to big risks. The effort they make can be extremely little yet in exchange for huge returns — yeah that's what can happen in this field.
However, it's possible that affiliates don't get paid by advertisers despite the sales/leads they have generated. Unscrupulous advertisers are real, and publishers can avoid bigger losses by stopping promoting their products immediately. It's the flexibility in affiliate marketing that allows affiliates to do what's needed for their own sake.
Low entry barrier
Most affiliate programs and networks don't require much. Some only need you to sign up, fill out a form and get automatically approved. Others require you to have at least one website or social media platform to make sure you're professionally ready for a partnership.
Besides, the affiliate program's terms and conditions are straightforward and easy to follow. But they're also highly critical. As an affiliate, you must see them under the form of a contract that gets you into a profitable relationship. Don't ignore reading them!
No or little expertise required
It's good to be an expert in your product niche, but that's unnecessary for affiliate marketing. However, you must know the products to an extent, and you're learning further about them throughout your affiliate journey.
It's rather important that you're skilled at content marketing and sales to draw the audience's attention. Note that if an audience wants an answer from experts, they'll call out the brand or someone they know, not you.
Bottom line: the benefits of affiliate marketing make it a powerful tool to promote businesses' growth and affiliates' income effectively. If you're an entrepreneur finding a way to boost your brand recognition and earn high sales with the lowest cost and risk, it's time to join Dynu In Media! We're already an affiliate network expert globally, and we know what's good for businesses to promote their products securely and effectively.
If you have any questions, please leave a comment below and we'll reach out to you as soon as possible. We hope you enjoyed this reading.