Digital Marketing Funnel: Step-by-Step to Turn It into Money!
When it comes to marketing, it's essential to bring the exact message to the right people at the right time. In the fast-growing online marketing world, unsurprisingly, this fact elaborates something we all know or heard of — the Digital Marketing funnel. 
The funnel has never stayed in the same framework because each marketing school has a different explanation and the buying journey has been changing. Nonetheless, marketers over the decades have wanted to take the wheel, so they discovered the funnel's general basics. Dynu In Media will explain everything about them in this article. And hopefully, you'll know how to create one with this reading.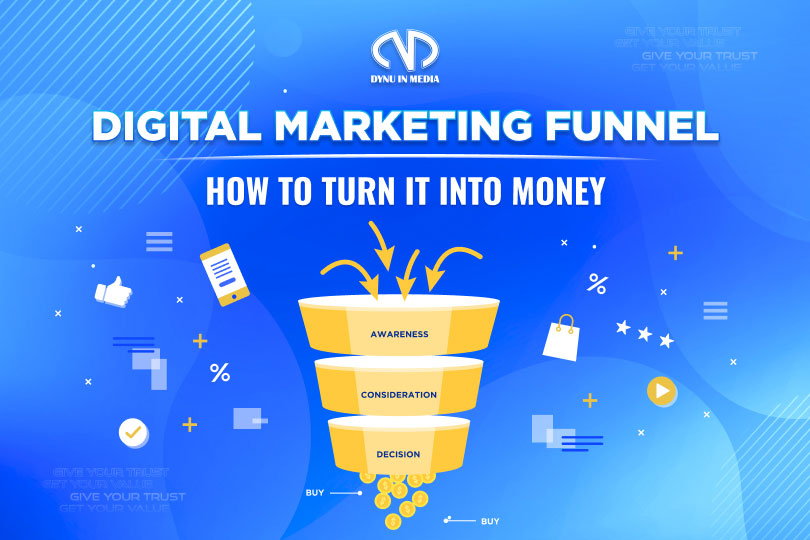 What is Digital Marketing Funnel?
The digital marketing funnel is a strategic process of the entire customer buying journey, from when they know the brand down to the post-purchase step. By "down to," we mean the funnel presents as a linear model, describing six stages as follows.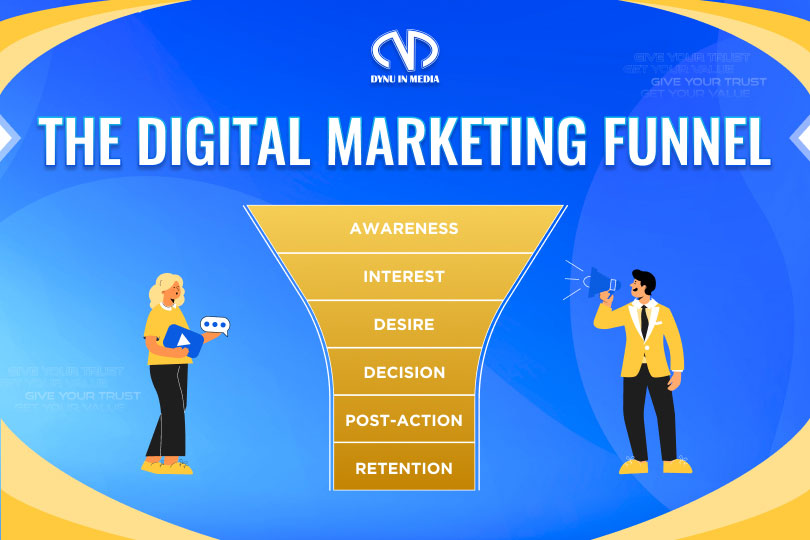 Awareness
In the first palace, your prospects don't know about the existence of your brand. That's when you want to bear the brand image into their minds by piquing their attention. A conventional way to do this is to pinpoint the problems which your product was made to solve.
Interest
Once they've put an eye on your brand, they know there's a solution to solve their problem. And that solution comes from YOU. Beyond that, it's even best that they have never heard of such a solution. So they'll be eager to know more about what's exactly on the tables. That's why the funnel continues in the next stage.
Desire
In this stage, your prospects desire to have such a solution you're offering. But in the meantime, they want to know more about your products while comparing you with your competitors. That's when you want to make everything advantageous toward yourself. 
For example, you're selling your products on a website — so you try to put it on top of other competitors on the Search Engine Result Pages (SERPs) with SEO/SEM techniques.
Decision
This stage means they've had all the good reasons to buy from your brand. But you also need to keep an eye on your competitors — they can steal your prospective customers in this stage out of the blue. 
For example,  your prospects search your branded keyword on a search engine with the intention of purchasing your products. But then they are attracted by a sale campaign Ad from your competitor on the top of SERPs — yes, your competitor has successfully bid for your branded keyword. That's how you may lose precious customers in the decision stage.
Post-action
After buying from your brand, they may want to share the news with people in their social circle. If there's a high chance they would announce it on social media, make sure you'll be aware of that and react to it appropriately. Most customers love how brands actually listen and talk to them on social platforms.
Or, in a bad scenario, you receive bad reviews or complaints from them. This is when you must show yourself immediately and try your best to "put out the fire." 
Retention
Your customers bought from you because they trusted you. Don't even think about putting your existing customers aside just because they once bought your products. 
According to many studies, acquiring a new customer can cost five times as much as retaining an existing one. Therefore, ensure they will still hear from you after their purchase by any chance. 
Contact them again via emails, phone calls, SMS text, or social media to engage in their experience and let them know you're always there to help.
Why is Digital Marketing Funnel Important?
Since the digital marketing funnel stages break down the entire customer journey, it gives marketers a powerful sales and marketing foundation. Here is what you gain from it.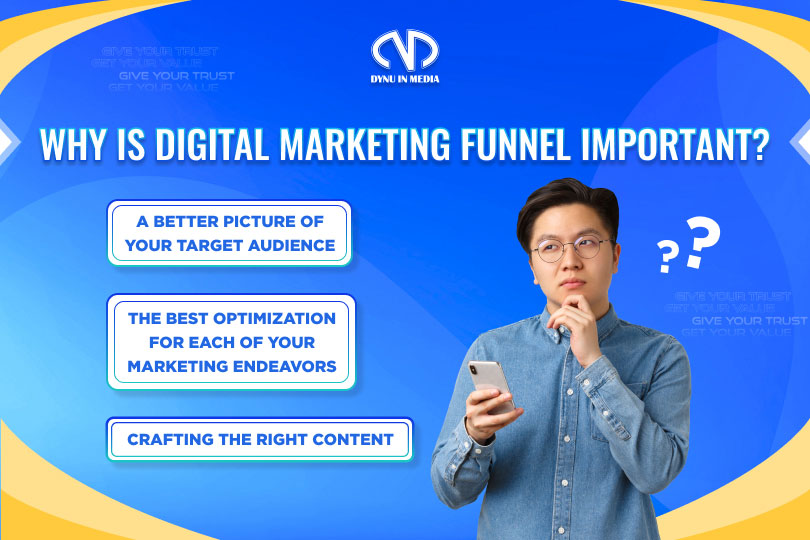 A better picture of your target audience
Gaining insight into your target audience isn't all about the buyer demographics and personas. It can also be reflected by how they know your brand or what encourages them to buy — these are what a digital marketing funnel could show you. The more details in your own funnel, the more customer insights you'll get.
The best optimization for each of your marketing endeavors
Knowing what customers need and behave in each digital marketing funnel stage gives you an idea of what to do. You're not going to waste time on unnecessary marketing tactics.
Instead, you're going to spend more time on tactics that work for the right personas at the right time. That's how you generate the best online traffic ever based on a detailed digital marketing funnel. Later, I'll show you how to create one.
Crafting the right content
This step is important. Regardless of how talented you are at writing, publishing the wrong piece of content at the wrong time to unwanted readers can cause ultimate failure. 
With a complete digital marketing funnel, you'll be able to avoid those situations. That's because you know what the audience's personas are and what they want to achieve in each buying stage. We'll make a few examples in the following section.
Types Of Content For Each Stage
Generally, the funnel can be divided into three big stages; each of them works with a different type of content.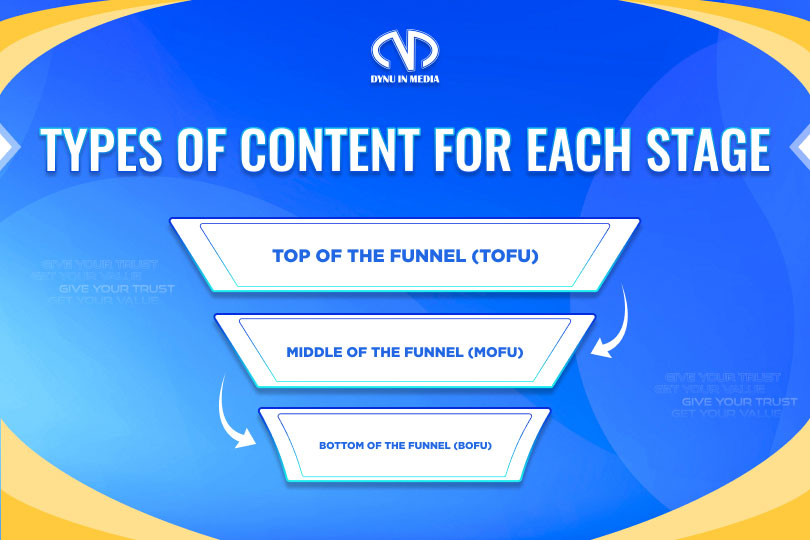 Top of the Funnel (ToFu) – the customers in this stage might be aware of the problem but haven't found a solution yet. Your plan is to wake them up with your solution while bumping the brand image into their heads.
Middle of the Funnel (MoFu) – the customers now know who you are and what you're offering, but there are questions regarding your products.
Bottom of the Funnel (BoFu) – the customers are making a final decision on whether to buy from your brand. Show them you're the best option on the market.
Attraction stage (ToFu)
On the TOFU, people will be drawn to a brand when it mentions the solution they are facing. That's why what you're trying to convey needs to be a step ahead. Accordingly, these types of content are tools to turn heads.
Paid ads

Videos

Blog posts (try to optimize them for SEO)

Visual media

Landing pages
Engagement stage (MoFu)
In this stage, people are aware of your brand and dig into it. They have many questions about your products as well as comparing you with other brands. Therefore, it's important to engage with them while providing helpful information related to your products. You want to create these content types:
Long-form blog articles about solving the prospects' problems

Whitepaper (not every brand needs this)

Email content

Social media posts

A captivating portfolio of your brand and products

Case studies
Decision-making stage (BoFu)
As the customers finally want to make their decision, don't let the chance slip through your fingers just because they found no interesting offers from you. Therefore, create powerful content that converts, such as
Live demos

Free trials

Sale pages

Coupons
Three Types of Digital Marketing Funnels
In fact, there are many more than three types of digital marketing funnels. Consumers nowadays take different paths in their buying journey. But in general, these three digital marketing funnel examples describe the best picture of the modern shopping process.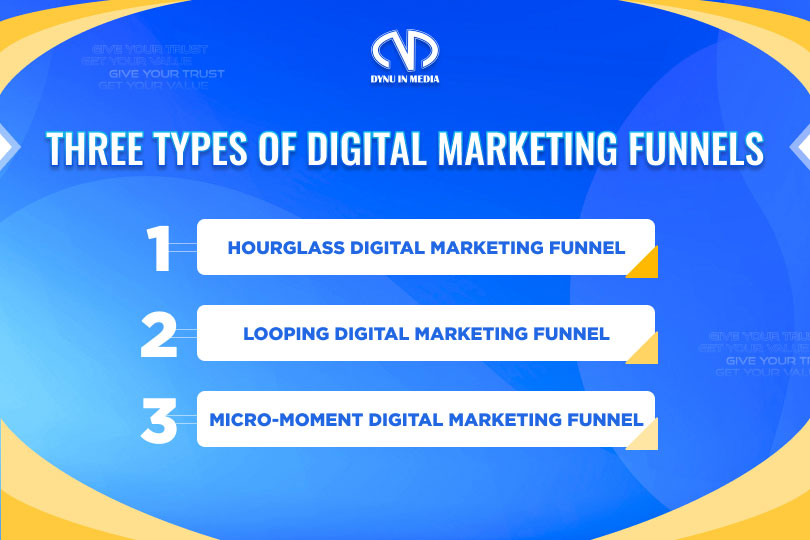 Hourglass digital marketing funnel
This hourglass framework illustrates detailed steps in the customer buying journey. You could say it's an expanded version of the previous funnel. It also focuses more on building and nurturing customer relationships.
The pre-buying stage includes these steps:
Engagement – brand awareness

Education – acknowledging the problem

Research – finding a solution

Evaluation – assessing the worth of a product/service to solving their problem

Justification – validating the purchase

Purchase – buying the product
The post-buying stage includes these steps:
Adoption – using the product 

Retention – the brand ensuring that the customers are satisfied

Expansion – upselling

Advocacy – letting others know about the brand
Looping digital marketing funnel
The looping framework features a less-complex format, indicating only six points in a circle shape. Unlike the previous funnels, it shows the customers' flexibility during the buying journey. 
The stages include
Awareness – being aware of the problem

Consideration – searching for a solution

Research & discovery loop – finding brands and making comparisons

Purchase – buying the product

Post-purchase experience – ensuring customers' satisfaction

Loyalty loop – buyers turning into loyal customers
Micro-moment digital marketing funnel
The micro-moment digital marketing funnel can be explained as a model of buyer intent. It was developed by Google to make clear the search behaviors on its search engine. Therefore, it helps Google bring the most insightful search results to users. 
From a marketing perspective, the micro-moment helps capture user attention at the right time, builds brand awareness regardless of company size, and delivers an upper hand for early adopters. 
The micro-moment marketing funnel includes four opponents as follows:
Want-to-Know Moment

Want-to-Do Moment

Want-to-Go Moment

Want-to-Buy Moment
There's no best digital marketing funnel. However, building one can rely on the same process. Let's move on to the next part where we discuss how to create a powerful digital marketing funnel.
How to Create a Powerful Digital Marketing Funnel?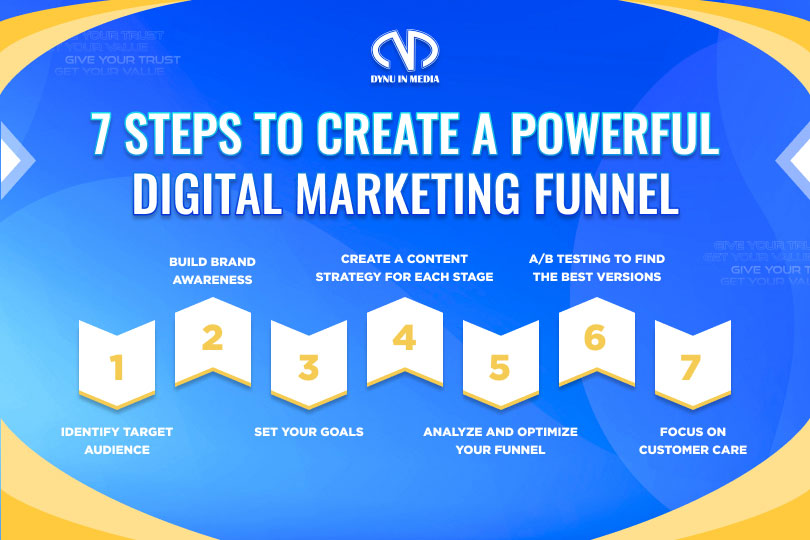 Identify Target Audience
The first step in every marketing framework is getting to know your target audience. Identifying who to serve makes a strong marketing foundation and saves time on unnecessary attempts.
Once you have the customer profiles, you also have a good picture of the market. Thereby, you easily come up with the best-suited content and know where to shout out the message. This helps you make the closest step to your customers.
Build Brand Awareness
Building a brand to be featured on the SERPs can bring a lot of benefits. It means you're trusted and of high quality. Although a brand is more than its visible signs like name and logo, people talking about your brand by name means they're aware of your business. 
Also, Google loves brands, and it recognizes brands by various factors: branded search terms, a trusted website of high authority, brand mentions, and more.
Here are the best online signals that tell people and search engines about your brand:
Real and sufficient information on your business website

An about page that describes your brand, company, employees, and maybe briefs shortly about your products/services

Professional visibility on business review sites like Glassdoor, Yelp, or Google My Business

An active, solid presence on huge social media platforms such as Facebook, TikTok, Instagram, Twitter, and more

Natural backlinks to your brand website to build trust and SEO effects.
Set Your Goals
Setting achievable goals for each digital marketing funnel stage is a must. Without specific goals, your efforts to create a digital marketing funnel will be vague. Note that the more detailed your goals are, the more you're getting sufficient direction.
Here are a few examples of digital marketing goals:
Increase email subscribers by 10,000 with Google Ads

Grow TikTok followers by 100,000 per month with helpful content

Triple store sales by directing customers to an existing holiday sale campaign with Facebook Ads

Get 1,000 leads in a quarter by encouraging blog readers to sign up with their emails
Create a Content Strategy For Each Stage
The best content strategy is one that emphasizes solving customers' queries first and inspiring their confidence to buy second. By doing that, you're giving your prospects a chance to know your products as the best solution for them. 
When they have all the good reasons to give it a shot, craft content that fuels their motivation to purchase. Make sure to publish content that is best suited to each funnel stage as I've already discussed in the previous section.
If you're struggling with creating content that converts, partner with Dynu In Media to get help from a solid network of publishers around the world. With ten years of experience, the  Dynu In Media network has the best quality publishers to increase your brand's visibility online while bringing you sales.
Analyze and Optimize Your Funnel
There's a lot to do when it comes to analyzing and optimizing a digital marketing funnel. However, with today's technology, many tools were built to help you do it.
Whether you sell on a website or not, use Google Analytics. This free tool covers all metrics indicating your sales and marketing performance on a website. It tracks how much traffic you're getting, where the users come from, how long users stay on the website, what pages they visit, and more. 
Once you've discovered the causes of a weak performance or the need to improve an area in your funnel, optimize them to increase your conversion rate. 
A/B Testing To Find The Best Versions
A/B testing is an experiment to find out which version of an idea works better. To perform A/B testing on your marketing initiative, separate it into two different versions and put them in the same campaign/condition to see which one makes better results. 
Once you know which works better, keep running that version. Some marketers, additionally, learn lessons from the failed version and optimize the better version based on that.
Focus On Customer Care
The customer retention rate is the most important metric in marketing. In other words, the marketing funnel isn't over after just one purchase from a customer. He or she can buy from you many times again as long as you ensure their satisfaction at the BoFu. To a good extent, your customer can become your brand advocate, saving a huge marketing budget. That's why we're talking about customer care.
Below are common customer care activities to boost your customer retention rate.
Respond to customer requests quickly.

Get customers constantly updated about new products, sale events, coupons, brand announcements, and more via emails.

Create a loyalty program for all customers.

Invite customers to give feedback and contribute their ideas to product development.

Do social listening and monitoring and keep them engaging with your brand.
Key Takeaways
The digital marketing funnel includes six stages from top to bottom: Awareness – Interest – Desire – Decision – Post-action – Retention

It makes a powerful foundation for every marketing initiative.

Each funnel stage works with different types of content to inspire customers the most effectively.

There are three common types of digital marketing funnels: Hourglass funnel, Looping funnel, and micro-moment funnel. The Hourglass funnel is the most detailed, while the looping funnel shows the unique flexibility of customers. The micro-moment funnel gears more toward buying intentions.

You can create a digital marketing funnel by following these steps:
Identify target audience

Build brand awareness

Set achievable goals

Create a content strategy for each stage

Analyze and optimize the funnel

Do A/B testing to find the best version

Focus on customer care
Marketing can't really exist without the funnel. It depicts the customer buying stages, from recognizing a solution to post-purchase steps. There can be many versions of a digital marketing funnel, but all of them should indicate the same habits of modern shopping. Whether you're a B2C or B2B company, this funnel gives you a smart direction to get more exposure to your prospects. 
Hopefully, you learned a lot from this post! If you want to learn more about affiliate marketing, check out Dynu In Media Blog. Alright, we'll see you in the next article!