How Many Affiliate Marketers Fail and How to Get Rid Of the Failure? [3 Mins Read]
Affiliate marketing – a dream come true for passive income. In this game, people don't have to invest in creating products, buying items, or no customer care and shipping. All the things they have to do are market other people's products online and get the commissions back. 
With the explosive growth of tech, people in the 4.0 era are more ready to make money online; which is why so many individuals are itching to become affiliate marketers. 
But.. is it that easy? 
Initially, this might sound simple, but in reality, it's not just a piece of cake. How many affiliate marketers fail? What are the causes of failure? Welcome to Dynu In Media, this article is what you need!
Is there any risk behind affiliate marketing? (Real sharing)
This question would probably pop up in newbies' heads immediately when they are on the road to find out if affiliate marketing is the best way to make money online.
Just say, Affiliate marketing works for some but not for others.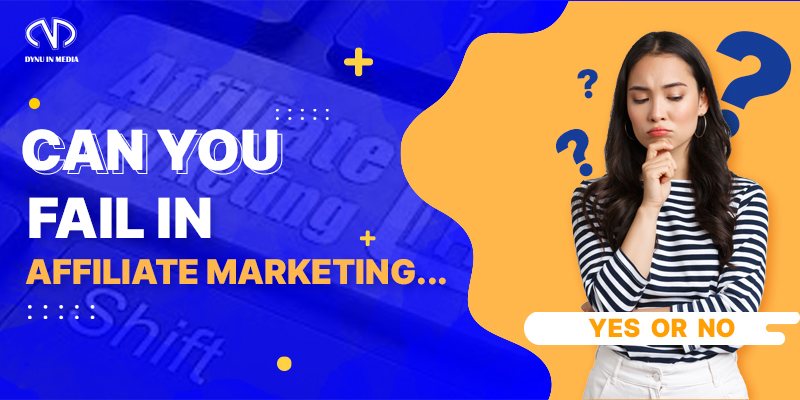 To tell the truth, affiliate marketing is not as easy as everyone thought. 
Is there any risk in affiliate marketing?
Can you fail in affiliate marketing?
Definitely yes, you can, if you do not map out

a specific strategy

for your money flow.
So the main point is, along with the attractive bargain it brings, there are many challenges of affiliate marketing that many beginners can't think of. 
How many affiliate marketers fail?
Maybe you missed this news by Mediakix, 81% of the brands rely on affiliate marketing; While only 5% are able to do affiliate marketing with complete success. This means the general consensus is that around 95% of affiliates don't make it, or drop out.
This very high ratio of failure in this profession is due to many reasons, and one of the most common among them is the mistaken approach. 
Also, with very high expectations, newbies enter this industry but when they are unable to earn more money, they get demotivated immediately. Meanwhile, those who have built a dependable revenue from affiliate marketing tend to be long-term affiliates.
By these words, we do not mean to advise you to give up on your upcoming plan but to show you that this world is not entirely rosy at all. 
"What is the failure rate of affiliate marketing?" – We sometimes say, 0% if you have good preparation, a clear & logical plan, and stick to it when executing. 
Why do 95% of affiliate marketers fail and quit?
It is usual that people who expect easy & fast money will quit if they don't see the instant results, this couldn't be further from the truth.
But you know what, affiliate marketing needs time, a lot of time. 
You need to learn how to brand, how to build and grow your content, you need to create an audience and convince them to trust you, and billions of other small stuff, not just by throwing affiliate links there on your social media accounts and making $6k/month, sounds like a meme.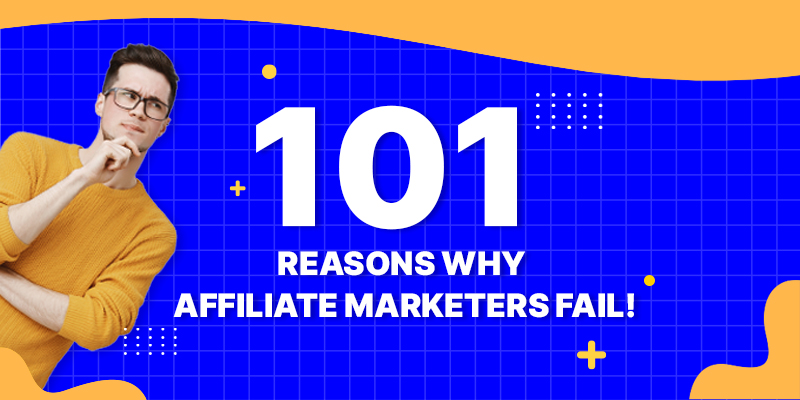 You should be able to map out a specific strategy for your next journey instead to avoid being in the 95%. 
In addition, you should also be careful with some main reasons that make your affiliate model fails. And now here comes the details: 
You don't know how to begin but no one is ready to lead you in the very first step.

You lack a clear marketing plan before running your affiliate model (marketing matter!).

You don't really know the product or service you promote. You are just following the trends.

You invest in the wrong affiliate offers to promote. You sell what you have, not the market needs).

You forget to test and tweak affiliated products (you forget to establish these routines for improvements.).

You go for selling, not for helping. You just PR the product without caring if it helps users' needs or not. Your selling and your actions should be based on digging for the problems of your target audience to deliver a perfect match solution.

You are exposed to too much competition; of course, they are no good for finding targeted audiences.

You start with multiple niche attempts. In this field, quality determines quantity.

You have not really disciplined yourself in operating the work alone.

You run into fake training – and affiliate programs.
There is a chance to be part of the 5%!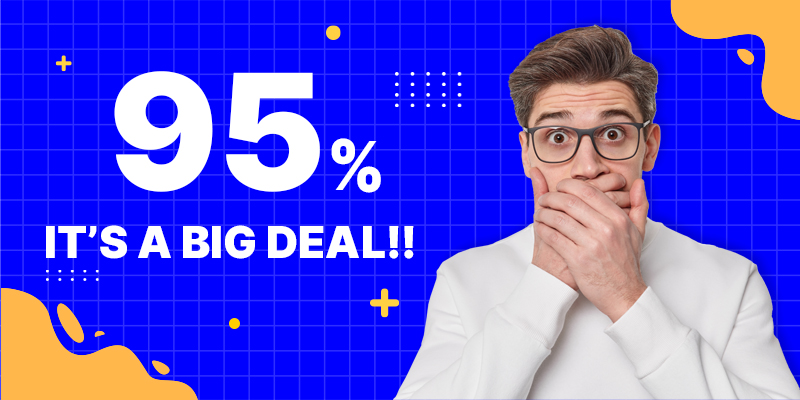 Even the affiliate marketing success rate – Just 5% so far, then after knowing a lot of reasons why an affiliate firm fails, we hope it's time for you to find your own key to success, and it's right here!
5 affiliate marketing tips that lift you to the next level!
Launch your affiliate site with existing content
While affiliate marketing is a good option to kick off making money online, it'd be foolish to launch a new channel and expect the commission to roll in instantly. People need time and conviction to trust that the products you're recommending are. 
Content is king, so at first, launching your affiliate site with existing content is what you need to focus on in the very first step!
Track your affiliate marketing success
There's no doubt that ongoing success needs insights as to what has worked in the past. All the questions that related to the past stats (e.g. What pages get the majority of your traffic?, What percentage are new versus returning users? etc.) will provide answers that you can use to improve and add actions. Use your data!
Keep an eye on trending topics
Trending products is the fastest way to make you earn massive incomes so try to catch them in your best. Keyword tools and trending topics from social media or social media hashtags are ways you can try to find them.
Run ads around peak shopping seasons
If you have the cash to spare, put some money behind social media adv, pay-per-click (PPC), or A/B testing throughout shopping seasons like Valentine's Day, Mother's and Father's Day, Black Friday, Christmas and New Year's, etc. While customer acquisition costs shoot up during competitive periods, it's an excellent way to maximize your chances of building your target audience.
As an affiliate marketer, you are making recommendations to your audiences of various products, so to stand out from your competitors, you need to show off as an expert, or at least provide detailed and valuable information about the products you promote via your channels. this could be the core of success!
Do not stop there, if you are not confident enough to operate an affiliate model on your own, then Affiliate marketing jobs are booming now!
As a way to experience, finding a job at an early age of experience is not a bad choice to improve skills and also get in touch with reality. In addition, affiliate marketing salary these days really worth your try for a while!
"What percentage of affiliate marketers are successful?"
To be honest, 100% if you think right and do right.
>>> Want to dive more into steps to success? This post by us is what you need: How to succeed in Affiliate Marketing!
Is affiliate marketing still profitable?
Yay for me!!
At least in 2022, affiliate marketing is still worth it.
There's no denying that it's also a low- to no-cost business venture you can profit from immensely. Besides, low risk and easy to scale are other things that make this game fabulous and are expected to make huge profits in the future!
Hope you've found some useful insights in this post about affiliate marketing. If you have any queries, don't hesitate to drop us a line below and we are happy to answer them all! See you in the next article by Dynu In Media!