How To Start Affiliate Marketing With No Money
Affiliate marketing is one of the most profitable methods to make money online. However, what if you don't have the money to start? In this blog, Dynu in Media shares the latest knowledge on "How to start affiliate marketing with no money." Keep reading this blog below!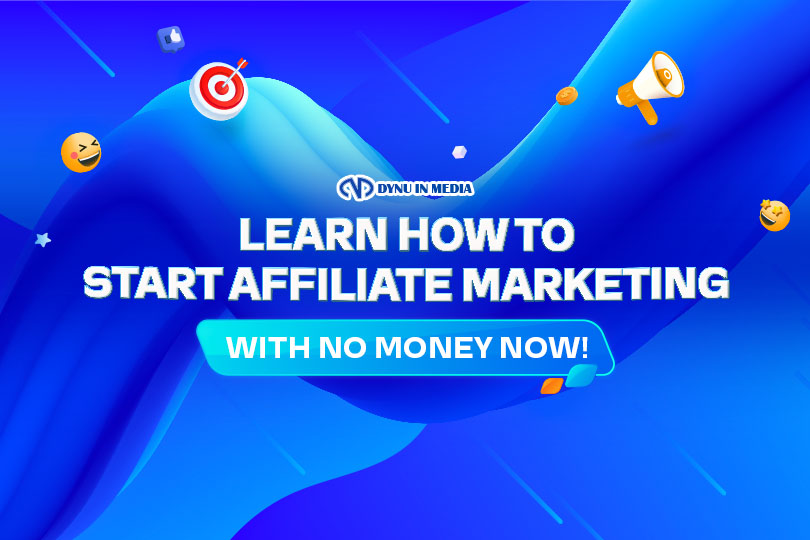 Why Start An Affiliate Marketing Business?
Here are 4 reasons you should start an affiliate marketing business right away.
Low risk: Generally, businesses only need to pay when you make a successful referral (vs. paying an influencer fee). For affiliates, your fees can be low (if there're any); therefore, you only lose time if you don't hit the right mark.
A win-win for everyone: The business makes the most of the sales you bring in and, after that, rewards you in return. Yet, users also profit from getting a trusted recommendation to satisfy their wants/ needs.
Work anywhere: If you've dreamed of living the digital nomad life, affiliate marketing can assist you in calling anywhere. However, make sure to obey work-related labor laws or taxes.
Build a passive income: Creating many quality contents takes time. However, content you have already created still makes affiliate commissions for months, even years.
Can You Really Start Affiliate Marketing With "No" Money?
Yep, and the only way to start off affiliate marketing without money is to take an affiliate link and send it to audiences. While possible, it is not scalable and will not make much money if you are not constantly networking.
How to Start Affiliate Marketing With No Money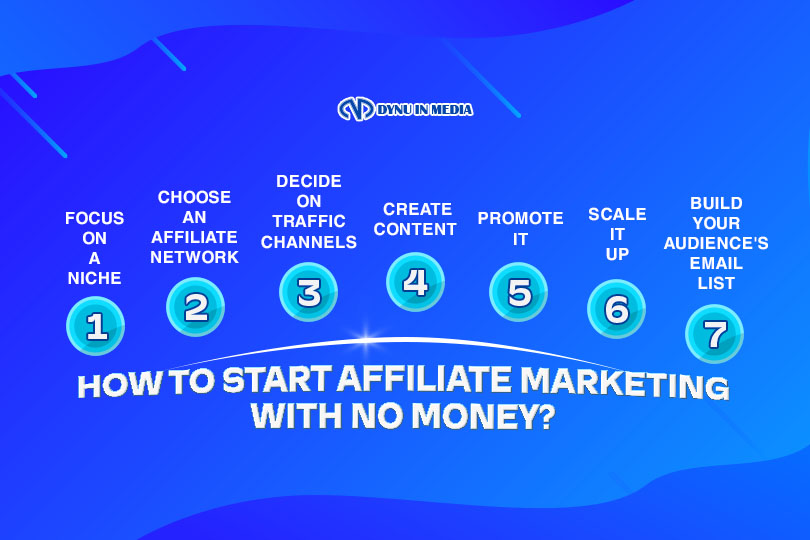 Let's learn 7 basic steps on "How to do affiliate marketing with no money."
Step 1: Focus on A Niche
First of all, you should concentrate on a niche. So, how to find a niche? We will share tips to do this.
Research the market: This will help you see the most trending and profitable niche sites, markets, and segments. For instance, fitness, blogging, finances, and cooking are some trending niches.
Pinpoint your interests: Ask yourself these questions, such as "What are your knowledge and skills?", "What do you already excel in?", "Are there some services and items you know, use, and can recommend to others?"
Research competition: "What are the most popular affiliate marketing programs?", "How much does the average affiliate marketer make?", "How do others start affiliate marketing without money?", "Which platform is the best to promote on?"
Here are the most popular affiliate marketing niche including:
Fitness: Yoga, gym, home gym, hiking, accessories.
Home: Pets, interior design, home tips, kids, plants, etc.
Fashion and Beauty: Make-up or fashion tips, top beauty products, and accessories.
Technology: Web hosting, gaming, VPN, online security.
Lifestyle: Education, minimalism, veganism, van life, eco-friendly.
Health: Personal care, nutrition, mental health, anti-aging.
Hobbies: Music, traveling, cooking, DIY, photography, art.
You need a niche because if you recommend various products, people will not see you as an expert they can trust. While if you recommend a particular product and create content about it, people can see you have experience in that field.
Step 2: Choose an Affiliate Program/ Affiliate Network
After choosing a niche close to your knowledge and interests, it is time to pick an affiliate program to promote affiliate products. Research affiliate networks and brands and choose the suitable one for you.
Some affiliate programs/networks you can consider:
Refersion
FlexOffers
ClickBank
Amazon Associates
JVZoo
eBay Partner Network
ShareASale, etc.
Some brands prefer to use an affiliate network, while some work directly with their affiliate marketers. Networks choose products from different brands and collect them in a database. This helps affiliates select products close to interest for their affiliate marketing business.
Are you wondering about how to begin affiliate marketing? Dynu in Media is the best option to start off. Become our partner, and you will get many benefits, as below:
Support 24/7.
Visual real-time report.
Offers with a high payout.
Work in high-tech platforms.
Exclusive offers from first-class direct advertisers.
So what are you waiting for? Click on this link, fill out the form, and start filling your banking account now!
Step 3: Decide On Traffic Channels
Next, choose a traffic source for your affiliate content by picking one of many platforms for your promotions. Thus, you don't have to build a website or blog that costs money.
So, how to start affiliate marketing without money or up-front investments? Establish a social media presence on sites and free platforms where your purchasers can mostly be found and chime in on the organic traffic these platforms provide.
Some free platforms to start affiliate marketing that you can refer to:
TikTok
Pros: Short videos don't require a "professional" look. It also provides more personal and authentic experiences. Trends often start from TikTok.
Cons: You can't click the links in the descriptions.
Facebook
Pros: You can reach many audiences on the largest social media platforms.
Cons: Less appealing to younger audiences; thus, it has bad organic reach.
Blog Posts
Pros: An excellent way to display your affiliate products and engage with customers.
Cons: It takes a lot of time to build a blog.
YouTube
Pros: Good for search engine optimization and has a global buyer of over two billion people.
Cons: It has lots of competition in many niches. Videos need to be high quality and professional.
LinkedIn
Pros: It has an excellent organic reach, and you can establish a platform for professionals.
Cons: Mostly for B2B audiences.
Instagram
Pros: Highly visual, good for displaying items and services. Moreover, it strongly emphasizes video content, such as stories and reels.
Cons: It has a lower organic reach for feed posts.
Step 4: Create Content
Let's start creating content that builds trust with your target audience. In 2020, global internet users spent 145 minutes for one day on social media on average.
So what keeps them online for over two hours per day? It's great content.
Establishing a content library takes time; therefore, it is a good idea to plan earlier and create a content strategy and calendar. Your strategy includes outlines of types of content you will publish on these days, as follows:
Tips and tricks.
Q&As.
How-tos.
Product reviews.
Tutorials.
Moreover, you can find out which keywords to use with a little research. We use YouTube as an example; you search for your competitors' channels. After that, see what videos are most popular and pay attention to the video tags, descriptions, and titles they have used.
And, of course, include links to your affiliate services and products, and write a disclaimer that explains they're affiliated.
Step 5: Promote it
You should focus on creating content for one channel; besides, utilize other channels to boost that content.
For instance, if you concentrate on YouTube or SEO, you can share your content on Pinterest and Facebook even without a large following.
Other ways to promote your content without spending money include:
Building relationships with others in your niche and familiar niches.
Commenting on other people's videos and content.
Engaging with others on forums.
Doing cold email outreach.
Step 6: Scale it up
Once finding a traffic channel that works, you can work to enhance your efforts. Moreover, double down on the promotion methods and content that are working and remove the ones that are not.
Step 7: Build Your Audience's Email List
While creating content on your platform, it is an excellent idea to start establishing an SMS or email list. Here are the two main reasons you should do this:
You have your contact list; therefore, you don't need to depend on social media platforms to interact with your audience. All platforms occasionally have hiccups; thus, when they go down, you can contact your audience through email.
While some affiliate programs do not allow you to comprise affiliate links in your emails, you can email links to content you create that include affiliate links – you send traffic to your content.
Once building trust with an audience, you can promote high ticket affiliate programs. These provide chances to create five fingers per sale. However, you often need a built niche and influence to encourage customers to purchase more expensive items.
Start Affiliate Marketing For Free With Dynu In Media
Now, you know "How to start affiliate marketing with no money"! Besides, you need to enlarge your knowledge daily, think outside the box, and be scrappy.
With enough determination, you can create a business that achieves passive revenue while relaxing, doing hobbies with family, or doing whatever you want.
It sounds great, huh? Want to find the best affiliate network with high commissions? Register for Dynu in Media now. We provide 24/7 support and diverse offers with a high payout. Moreover, we offer some bonuses for partners and flexible and secure payments.