Landing Page vs Website: For Those Who Wanna Expand Business!
"I have no idea about a landing page vs website!"
"What purposes are they serving? What're the differences between the two?"
For sure, the notion may have crossed your mind several times. Guys, many people are in the same chaos as you, needing clarification on these 2 definitions.
So congrats on landing in the correct spot!
In this article, Dynu In Media's going to discuss both landing page vs. website definitions, key differences, and how to make these marketing assets as effective as possible. Ready to dive deeper? Let's go!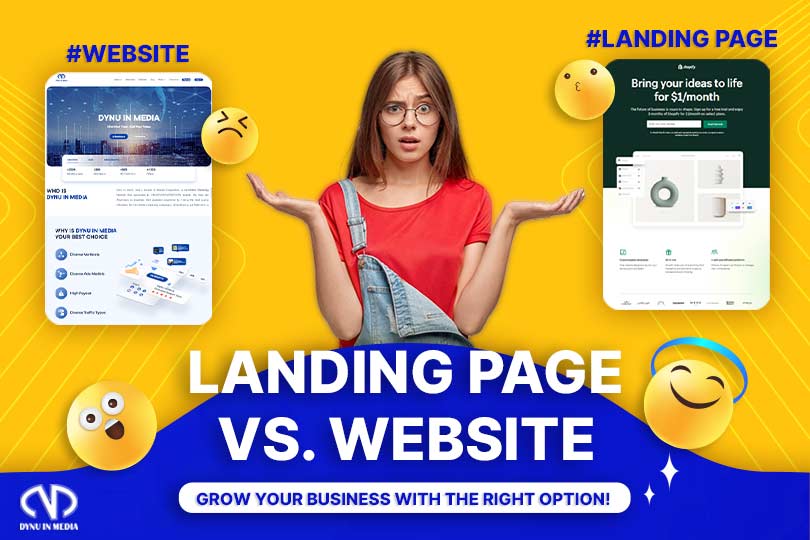 What Is a Website?
As a common term known worldwide, a website is a collection of pages with related content that share a single domain name.
Typically, websites can be created and maintained by an individual, business, or organization to serve a wide range of purposes.
Each website is dedicated to a particular topic or purpose, it can be for news, education, entertainment, commerce, social networking, or give visitors information about a business's products or services, for example. It can be said that there are no rules dictating the form of a website.
Website example
As mentioned, websites exist in nearly endless variety. Some examples of notable websites you probably use daily can be mentioned as Wikipedia, Google, Amazon, and Facebook.
Or to be more specific, click on our homepage – Dynu In Media, for more explicit information about what exactly a website for business purposes is.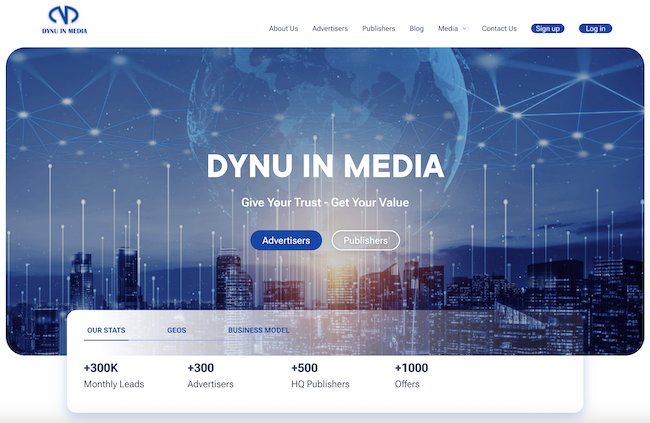 What Is a Landing Page on a website?
Unlike websites, landing pages are designed to direct visitors to a single call to action and are tailored to a specific campaign or offer. It plays a role in converting visitors into leads.
For example, landing pages are where you can collect an audience's contact information by asking them to sign up for an ebook, purchase a particular product, book an appointment, join a list, follow certain social media pages, and more.
Wanna dive more deeply into what a landing page is and how to build landing pages? Surfing here "what is landing page"!
Landing page example
A landing page we'd like to show you as an instance right now is Shopify.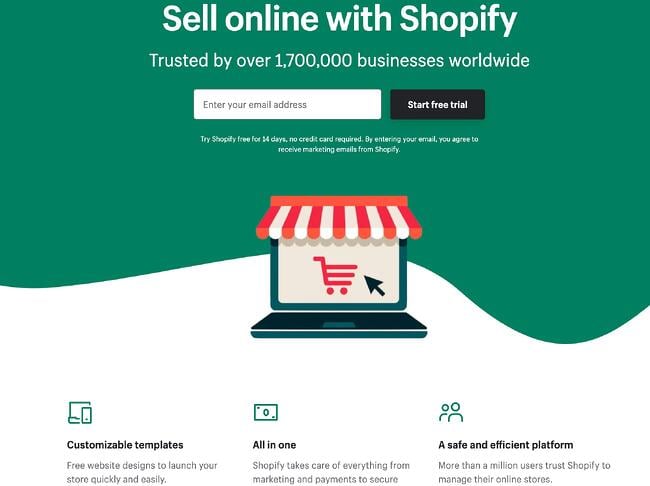 As you can see here, this page illustrates what a landing page is in the most obvious. As a trial landing page for sellers, it manages well to persuade audiences to fill in their information by noting key points about its top-tier product but it still needs to be text-heavy.
Then, landing pages vs website, what makes them different? Keep surfing below!
What Are the Differences Between a Landing Page vs Website?
There are plenty of things that set websites and landing pages apart, with some typical as below:
A single website can have multiple landing pages, unlike a landing page, which is a standalone one and towards one purpose only.
A website has numerous landing pages for different marketing campaigns, which may have CTA (call to action) to drive conversions. Meanwhile, a landing page is designed to lead customers to a clear/ detailed CTA or offers.
By those key differences, it's quite easy to spot traffic from people interested in your business type or the products and services your company offers will smoothly flow to the website. On the other hand, landing pages are read mainly by audiences who already know what they need and are looking for a specific solution.
For more details, here comes a handy table emphasizes the main differences between landing pages vs websites:
Given the information above, when to use each of them – Website vs landing page? If not, the following parts are for sure what you desire!
Landing Page versus Website: When to Use a Landing Page
Landing pages vs website both have their unique features. So if you meet all the demands below, owning a landing page will be right for you.
Using a landing page for advertising
When running any marketing campaign with advertisements, it's an awesome idea to handle the landing page.
When your potential customers have a specific intent towards your ad messages, they'll click on your advert, which redirects to the landing page. All the core information provided there would drive them to convert.
Make use of landing pages for lead magnets
Owning an enterprise but don't know how to turn visitors into qualified business leads?
Making use of landing pages for lead magnets is a perfect way to deploy, for sure.
Landing pages are undoubtedly a powerful tool to persuade users to fill out an opt-in form with their basic information (e.g., name, phone number, email address, etc.) in exchange for something. It's a fact that landing pages are more targeted than websites.
You won't need to update your whole website for each marketing campaign or offer. Just make different landing pages for different offers.
Show a User-Friendly Notice
The purpose of landing pages isn't just limited to sales. Sometimes you just need a page that tells people something important, like your website is temporarily maintained, under construction, or coming soon page, 404 page, etc.
Landing Page vs Website: When to Use a Website
With the above landing page benefits listed, you may already understand when to use them. But wait, what about the website?
Let's take a look at the different use cases in more detail below.
Tell Your Brand's Story
First and foremost, your website is the ideal place to tell people about your business or brand, also the reasons behind your offering products or services!
On a website, your business can share your brand's story with an: About Page, FAQ Page, Contact Page, etc. (as the most basic pages that a website must have).
As opposed to landing pages, where many users can't scroll all the way down, and the information will be forced onto a single page.
Describe Your Products or Services
If you want to show your potential audiences products in detail or simply provide functions for users, then a website is so much essential.
When people are surfing the internet for their intent like "scented candles", "real estate", "used car", "dentist", "Grammarly", "Wix landing page", etc., chances are they desire more information before making decisions.
Yay, you're not wrong, your website is a superb place to show in-depth what're your products, how you solve your customer's pain points with your services.
Bring your business closer to the user via Search Engine Rankings
Search engine optimization (SEO) plays an essential part in any business website and is a significant benefit of websites over a landing page.
Why? Simply landing pages are limited by narrower search terms, but websites can target many!
So if want your website appears in front of your potential customers more through search results, take advantage of the website by optimizing pages for local keywords, product or service keywords, and question keywords.
FAQ
Still having concerns about landing page vs website? Surfing our FAQ right here!
Why Landing Pages Convert More Traffic?
Read it so far, we all got that one of the most necessary ways for potential customers to find your website is through organic search.
But remember, landing pages are for visitors who are ready to convert, for audiences who are ready to take one more step by searching their needs, their pain points, and intent with highly specific phrases.
And once you have solved their pain point through clear content or CTA on these, it is a piece of cake to convert more traffic than a website.
See more: How To Improve Traffic To Make A Lot Of Revenue?
Do landing pages need SEO?
They certainly do!
Landing pages need SEO to rank higher in search engine results and ensure you reach your target audience. However, as mentioned, landing pages are limited by narrower search terms. So be careful when you want to push SEO for landing pages.
How many types of landing pages?
There are many types of landing pages, namely:
Splash Page
404 Landing Page
Squeeze Page
Lead Capture Page
Click-Through Landing Page
"Get Started" Landing Page
"Coming Soon" Page
Pricing Page
"Thank You" Landing Page
"Unsubscribe" Landing Page
Long-form Sales Landing Page
Paid Advertising Landing Page
"About Us" Landing Page
Do I need a website if I have a landing page?
"Can a landing page stand alone?"
Uhm, basically, you can own a landing page without a website. You can run a landing page independently of a website.
And there you have a landing page vs website! Are landing pages better than websites? There is no precise answer. However, a tip here is that understanding your needs well before choosing what to use is the right way to watch your business grow. Hope you learned a lot from this article, check out Dynu In Media for more cool posts!