Digital Marketing Vs Affiliate Marketing: The Difference?
Most people are confused by the terms digital marketing and affiliate marketing. In this post, Dynu in Media clarifies Digital Marketing vs Affiliate Marketing and helps you determine which one you should use.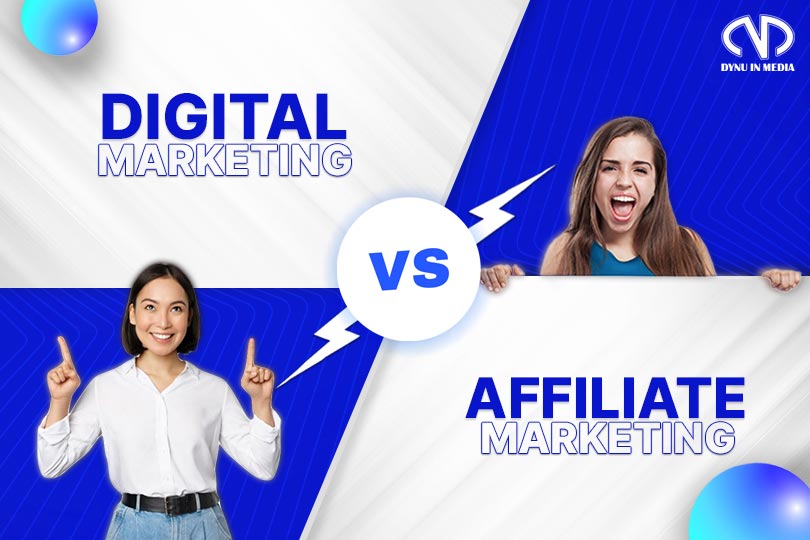 Definition 
What Is Digital Marketing?
Digital marketing is a technique for promoting and selling products and services by leveraging online marketing tactics such as social media marketing, search marketing, email marketing, etc.
Here are some popular forms of Digital marketing: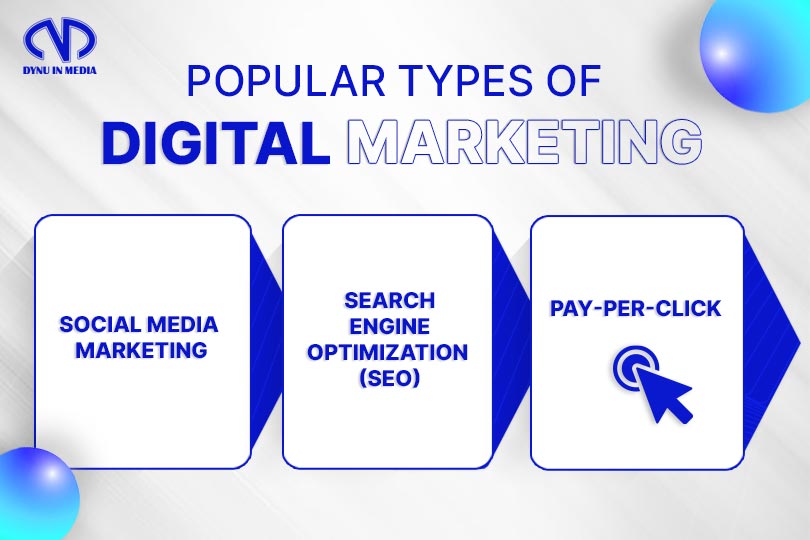 Social Media Marketing means branding by posting on social media platforms like Instagram, Facebook, Twitter, etc. It is related to using tools to automate and schedule social media posts to achieve business objectives.
Search Engine Optimization (SEO): It aims to do a business to rank higher in Google Search. The SEO experts seek diverse keywords with which the clients search for the product. The content writer makes content in the website findable and readable, the structure of a website is kept neat in depth and width, and as much diversity as possible when it mentions potential searching of the website.
Pay-per-Click: It will make customers visit business websites by adding advertisements on webpages, mobile apps, and YouTube videos. The business just pays when someone clicks on the advertisement and accesses your website.
What is Affiliate Marketing?
Affiliate marketing is a method of promoting a product or service via the Internet and other digital channels by referring customers who register or make purchases via an affiliate link.
When the visitors visit the website and purchase the product, the affiliate will earn a commission. In general, the expected result of an affiliate link is a sale. However, several programs reward affiliates for clicks to a website, app downloads, or free-trial users and so on.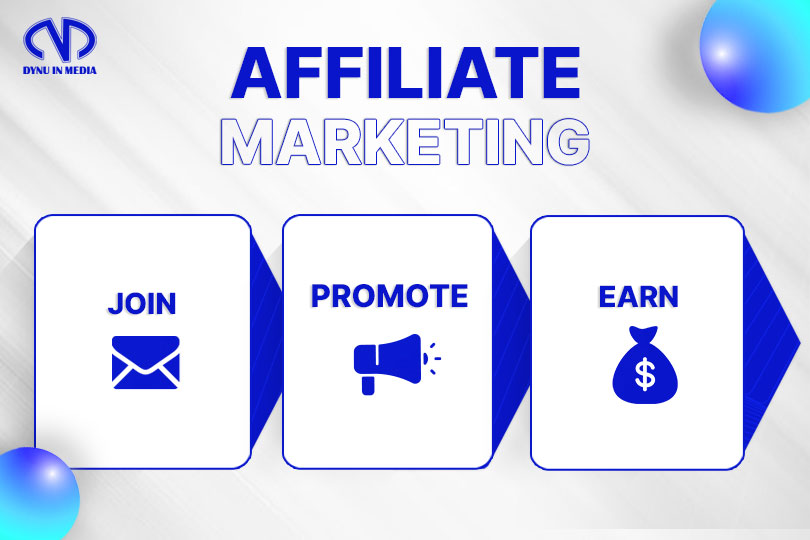 Differences Between Digital Marketing vs Affiliate Marketing
So what are the differences between Digital Marketing vs Affiliate Marketing? Here are some fundamental distinctions between both types of marketing:
| | | |
| --- | --- | --- |
| | Digital Marketing | Affiliate Marketing |
| Definition | A type of marketing that a company sells and promotes its products through many online channels. | It is related to promoting other businesses' products on social media or website and earning a part commission. |
| Competencies | Knowledge of social media, Search Engine Optimization (SEO), and analytics are crucial for a digital marketing career. | An individual must develop persuasion and relationship-building skills to succeed in affiliate marketing. |
| Reach | Numerous advertising strategies are used in digital marketing. It is a well-known concept that works for various kinds of devices. | Affiliate Marketing is under the umbrella of digital advertising. In this circumstance, commissions are the concentration of attention. |
| Ownership | As the product owner, you are free to choose from diverse digital marketing channels to promote your product. | Affiliate Marketing involves building connections to promote and sell other products in exchange for a commission. |
| Components | Many factors are related to digital marketing, making it hard to master. | Three vital parts of any affiliate marketing system include the customer, the affiliate marketer, and the product owner. |
Digital Marketing Vs Affiliate Marketing: Which Is Better?
Digital Marketing vs Affiliate Marketing: Which is a good option? Depending on our experience in two types of Marketing, you should consider choosing Affiliate Marketing to start making money online.
Firstly, Digital marketing (promotes a product or service through digital devices on the Internet) is wide and deep compared to Affiliate Marketing (where third-party entities or affiliates promote services and products).
Secondly, you need to understand numerous variables to become an expert in digital marketing while focusing on developing relationship-building and persuasion skills to succeed in affiliate marketing.
Last but not least, with Affiliate marketing, you can promote the business services by providing an amount of commission per conversion to an affiliate. At the same time, Digital Marketing needs you to join in diverse marketing-allied activities along with the primary marketing objective.
Which Affiliate Network Should You Choose?
There are many renowned affiliate networks on the market. How do you know which one provides quality services? Which one suits your need? Understand your concern, Dynu in Media is here to help you. We are proud to provide various offers with high payout, timely and flexible payment terms with detailed performance reports for publishers.
If you want to know more about Dynu in Media, freely contact us. We will try our best to give you the best solutions and meet your need.
Hope you enjoyed our article "Digital Marketing vs Affiliate Marketing: What's the difference?" To learn more about Affiliate Marketing, check out other posts on our website. Dynu In Media wishes you success!
Read more: