Rocket your Tiktok views with these 500+ trending TikTok hashtags right now! [Latest Update]
What's the best way to get your Tiktok content noticed easily?
Trending hashtags, no doubt!
Nowadays, having an awesome video post isn't enough to get you viral; Moreover, in platforms like Tiktok, tricks like hashtags were born to get your content in front of the right people's eyes. As a powerful tool to deliver your video to your potential audience, using the right hashtags can get you to climb the ranks in your niche much faster.
So what are trending TikTok hashtags right now to boost your reach to the next level? Keep reading to find out more with Dynu In Media!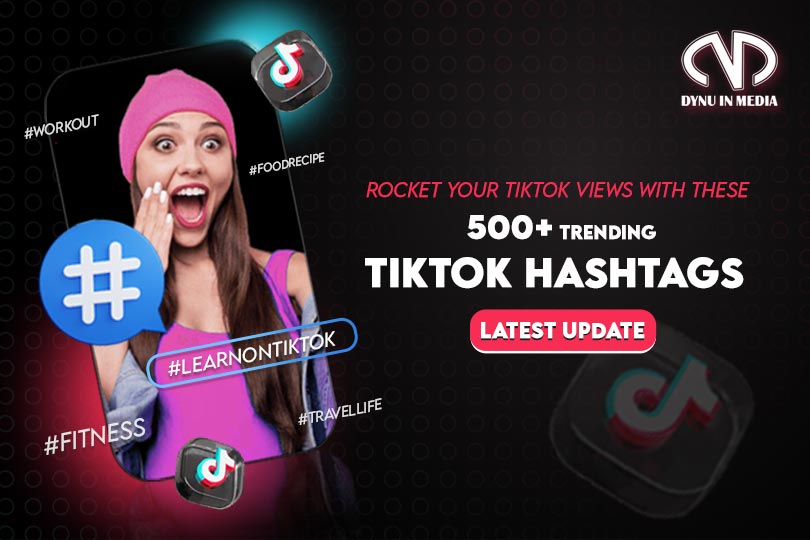 If you're trying to get noticed via a solid hashtag strategy, learning how to find trending hashtags on Tiktok is the thing you should master first.
Normally there will be 2 ways for you to explore them:
If you want to find content for your video based on trends, open the TikTok app and click on Discover at the bottom of the screen. On this page, you'll find previews of videos tagged with on-top hashtags. Then just scroll through these to pick something that interests you most.
In contrast, if you've already identified the content for your video and simply want to find hashtags to boost visibility and reach, search your topic directly in the search bar at the top of the screen. Hit the Hashtags button in the menu bar in the next step, then grab words with the highest views and the best related-to-your-content ones.
"Aside from the above 2 tips, is there any way to find trending TikTok hashtags right now?"
Yay it's right here!
Choose from the 18 topics below and pick hashtags that best suit you and your content orientation. All of them have been carefully hand-picked by us based on 2 criteria:
Catch the most current trend with extremely high views
Easily apply to all types of content in the niche.
Hey digital fellows, are you ready to dive deep into this pool? Bucked up!
See more: A Completed Guide To Tiktok Affiliate Marketing
With over 400 hashtags spanning 18 niches, these niche hashtags are guaranteed to put you in touch with your potential audience, who are more likely to engage in what you are posting: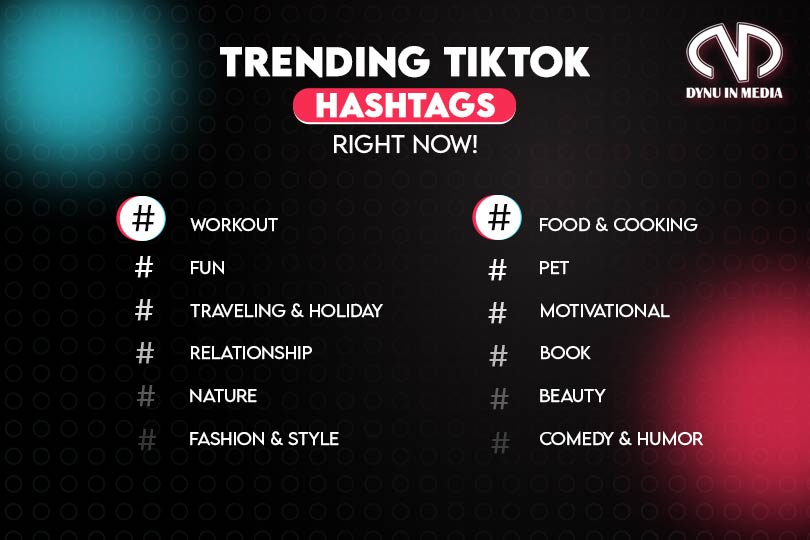 #LearnOnTikTok
#DidYouKnow
#college
#learning
#MindPower
#training
#KnowledgeIsPower
#testbook
#knowledge
#GeneralKnowledge
#school
#students
#JobTips
#learn
#education
#BusinessTips
#business
#TikTokLearn
#student
#teacher
#EduTok
#CareerGoals
#wisdom
#facts
#university
#LifestyleBlogger
#MomLife
#DadLife
#travel
#FashionBlogger
#TravelTok
#PlantLover
#CleanTok
#PlantTok
#fashion
#lifestyle
#LifestyleBlog
#love
#TravelTikTok
#life
#DubaiLifestyle
#LifestyleChange
#workout
#CleaningHacks
#CleaningTips
#HealthyLifestyle
#VeganLife
#MorningRoutine
#PlantLife
#health
#comedy
#justforfun
#1minaudition
#cat
#weirdpets
#lol
#funnyvideos
#featurethis
#featureme
#prank
#15svines
#trending
#1mincomedy
#blooper
#tiktokcringe
#boyfriendprank
#prankster
#travel
#TravelPhotography
#photography
#tourist
#nature
#TravelTok
#TravelBlogger
#trip
#travelTikTok
#traveler
#adventure
#holiday
#holidays
#TravelLife
#beach
#summer
#wanderlust
#TravelPhoto
#vacation
#TravelInfluencer
#travelgram
#tour
#traveling
#TravelBucketList
#explore
#friendship
#friends
#FriendshipGoals
#smile
#FriendshipDay
#FriendshipLove
#fun
#GoodFriends
#bestfriends
#bff
#friend
#FriendsForever
#memories
#bestfriend
#best
#besties
#family
#truefriendship
#sisters
#FriendGoals
#BestFriendGoals
#FriendsGiving
#GoodTimes
#Friends4Ever
#FriendsForLife
#life
#realfriendship
#internetfriendship
#friendshiptest
#cutecouple
#relationship
#ily
#goals
#CoupleGoals
#marriage
#love
#RelationshipGoals
#relationship
#RelationshipQuotes
#life
#couple
#RelationshipAdvice
#bf
#gf
#lovers
#kiss
#LoveQuotes
#forever
#together
#couples
#wedding
#boyfriend
#LoveYou
#cute
#dating
#girlfriend
#homeremedies
#acupressure
#healthiswealth
#stayhealthy
#lifestyle
#skincare
#5minworkout
#bestforhealth
#fitnessgoals
#fitness
#healthtips
#weightloss
#workout
#gym
#edutok
#basketball
#football
#soccer
#fit
#fittok
#fitcheck
#fitgirl
#fitnesstips
#getfit
#fitnesschallenge
#nature
#photography
#hiking
#GetOutdoors
#flower
#travel
#PhotoOfTheDay
#sky
#landscape
#garden
#NatureLovers
#mountains
#NaturePhotography
#fishing
#summer
#sunset
#winter
#camping
#natureTikTok
#forest
#hunting
#outdoors
#wildlife
#snow
#adventure
#MyRecipe
#TikTokRecipe
#kitchen
#lunch
#FoodTok
#dinner
#NewRecipe
#HealthyFood
#foodie
#FoodBlogger
#chef
#TikTokFood
#EasyRecipe
#delicious
#cook
#VeganRecipe
#homemade
#FoodRecipe
#tasty
#eat
#MySecretRecipe
#FoodPorn
#chef
#yummy
#pets
#dogs
#wildlife
#TikTokPets
#PetVideos
#puppies
#kitten
#AnimalLovers
#DogOfTheDay
#cats
#CatLover
#birds
#horse
#PetsOfTikTok
#cat
#dog
#DogsOfTikTok
#CatsOfTikTok
#animal
#animals
#cute
#love
#DogLover
#puppy
#CatOfTheDay
#dance
#MusicVideo
#DanceLife
#dancer
#DanceCover
#TikTokViral
#tutorial
#DanceMoves
#DanceCrew
#DanceChallenge
#music
#hiphop
#DanceInPublic
#choreographer
#TikTokChallenge
#TikTokDance
#DanceKPop
#party
#dancers
#DanceTime
#dancing
#choreography
#DanceTutorial
#ballet
#DanceVideo
#talk
#motivation
#quotes
#inspirational
#TikTokMotivation
#HungryForSuccess
#business
#QuoteOfTheDay
#determination
#MotivationMonday
#mindset
#SelfCare
#inspiration
#QuotesToLiveBy
#MentalHealth
#success
#FitnessMotivation
#entrepreneur
#love
#MotivationalQuotes
#leadership
#MyVoice
#anxiety
#goals
#LiveMoreChallenge
#book
#reading
#BookLover
#GoodReads
#writing
#BookTokFYP
#libros
#reader
#booktober
#BookShelf
#BookRecommendations
#bookaholic
#PopularBooks
#BookTok
#BookRecs
#BookWorm
#bookish
#ClassicBooks
#read
#BookNerd
#BookToker
#bibliophile
#BookAddict
#books
#TikTokBooks
#makeup
#MakeUpTutorial
#mua
#BeautyBlogger
#facial
#selfcare
#BeautyChallenge
#MakeUpVideo
#cosmetics
#HomeBeautyHacks
#MakeUpHack
#pretty
#BeautyHacks
#skincare
#SkincareRoutine
#model
#beautiful
#MakeUpLooks
#NaturalBeauty
#BeautyTips
#TikTokMakeUp
#beauty
#SkincareTips
#antiaging
#MakeUpArtist
#fashion
#FashionInspo
#moda
#fashionable
#ootd
#PhotoOfTheDay
#FashionTikTok
#model
#FashionBlogger
#clothing
#outfit
#TikTokFashion
#photography
#shoes
#fashionista
#StreetStyle
#shopping
#design
#style
#OutfitOfTheDay
#ClothingBrand
#dress
#outfitinspo
#FashionInfluencer
#beautiful
#laugh
#meme
#memes
#blooper
#1MinComedy
#FunnyMemes
#humor
#trending
#vines
#comedy
#FeatureThis
#featureme
#prank
#trick
#FunnyVideos
#haha
#DankMemes
#funny
#15sVines
#lol
#MemesDaily
#1MinAudition
#lmao
#dank
#comedian
#gamer
#gaming
#TikTokGamers
#CallOfDuty
#TwitchStreamer
#streamer
#gta
#game
#gamers
#GamerLife
#fortnite
#GamingMemes
#GamingMoments
#FunnyGamerMoments
#PCgaming
#ps
#EasterEggs
#GamingCommunity
#xbox
#GamerHours
#VideoGames
#GamerGirl
#games
#twitch
#playstation
#yoga
#YogaInspiration
#meditation
#YogaLife
#YogaPractice
#ashtanga
#YogaEveryDamnDay
#LotusPose
#YogaPose
#mindfulness
#wellness
#YogaTeacher
#YogaLove
#health
#YogaEveryDay
#YogaEverywhere
#YogaProcess
#stretching
#YogaTok
#yogi
#namaste
#padmasana
#wellbeing
#TikTokYoga
#YogaFlow
Still looking for more ways to boost your views on Tiktok? This article about Tiktok Ad formats is what you need!
FAQ
They certainly do!
In one way, hashtags help group content so users can share and find content about topics that interest them.
In another way, it's the way businesses can do marketing by using hashtags to group conversations on a theme. E.g., an enterprise might create a custom hashtag for their challenge, and everybody who loves the trend will make videos connected to the challenge and stick hashtags to their caption.
As we have mentioned in this article, there are two ways to the question "How to create or find a great hashtag": Via the Discover page and the find directly on the search bar. However, the following two suggestions are worth considering:
Check out your competitors' hashtags
Create your own hashtag
Alternatively, look at one of the lists from this post and choose some relevant ones!
How Can I Go Viral on Tiktok?
Keep up with the latest trends, without a doubt.
By using the top hashtag TikTok as well as hopping on in-top topics persistently, your video will go viral!
There's a truth to the fact that on platforms like Tiktok, hashtags can be considered a powerful tool that can make your content shine and help you earn more reach, likes, and followers.
Hope you enjoy this Trending TikTok hashtags right now article. If you can find the best-suited hashtags for your content in this post, don't forget to drop a comment to let us know which word you've been successful with! Dynu In Media wishes you viral!