Pinterest Affiliate Marketing: 5 Best Tips & Guidelines
Pinterest is one of the most excellent social media platforms for promoting affiliate offers. If you are a beginner and want to jump into this field, you must consider many things before getting started. In this blog, Dynu in Media will share the 5 best tips to get a good start with Pinterest Affiliate Marketing.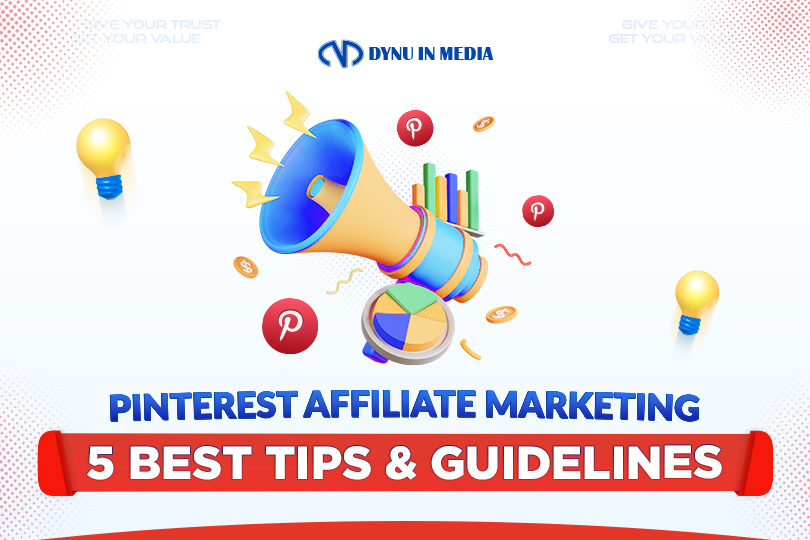 Can I use affiliate links on Pinterest?
Yep, you can use affiliate links on Pinterest. Pinterest wants content creators to earn an income with their content; thus, sharing affiliate links is absolutely within Pinterest guidelines.
How to Use Pinterest for Affiliate Marketing?
Create a Pinterest business account
First thing first, you need to build your Pinterest Business profile. If you already have a personal account, change it into a business account.
So, how to create a Pinterest business account? You visit the Pinterest business website and click "Create an account." After that, you will be redirected to a signup page where you can create an account for business or log in to your existing account.
A Pinterest Business account is different from a standard one because it allows you to access analytics and ad tools, containing engagement monitoring, audience insights, and pin performance. You can also create your own ads.
Finding affiliate products
Next, you need to find some affiliate products to promote!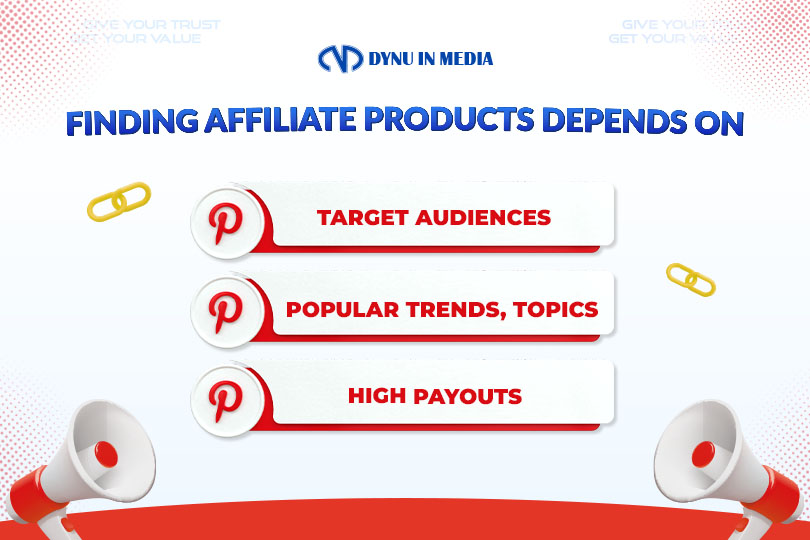 When seeking products, you must consider who your audience is and which popular Pinterest trends, topics, and things customers will find helpful or want to purchase. Moreover, a high payout is also a notable thing.
Among numerous affiliate networks on the market, Dynu in Media is proud of being one of the best choices for you. We provide many top conversions, flexible and secure payment for our clients. We also support you 24/7 in needed.
So if you are interested and want to partner with us, contact us right away! Can't wait to create high ROI with you!
Create the content on your website to promote your affiliate links
The next step is introducing your audiences to your Pinterest affiliate links; content is the bridge. If you have a website, this is a great place to create value related to your promotion. Customers want to engage with something that adds value.
For example, you can create videos or blog posts and publish them on your site. They could be product reviews that emphasize your affiliate products.
How to introduce affiliate links to your audiences attractively? The answer is to create content honestly and obviously to appeal to customers.
Creating & enable rich pins
Firstly, you need to create a Pinterest business profile. If you already have your account, go to your Profile page. Afterward, go to the "Create tab" and choose "Create pin." You can use third-party tools like Buffer or Tailwind to make and schedule your pins.
The second thing is enabling rich pins. Rich pins are more descriptive than typical images on this platform. They show much information in their pin description, attracting more attention on a crowded feed. Thus, this will increase your opportunities of driving traffic via Pinterest.
Here are some feature types of content for enabling rich pins:
Recipes: Show ingredients, cooking time, serving sizes, and rating.
Articles: Show author, headline, and description.
Products: Show the latest pricing and availability.
So, how to enable rich pins? Well, the process is quite complicated, and you need to do it once.
Let's follow the 4 steps below to do it effectively!
Step 1: Add rich meta tags to pages you want to use rich pins for, like a post review of your affiliate product.
Step 2: Check the tags uploaded correctly using the rich pin validator.
Step 3: Choose your used selection to add rich meta tags: Shopify, HTML, etc.
Step 4: If everything looks great, click "Apply now" and wait 1 day for your rich pin application to be accepted.
Optimize for SEO
Pinterest is a social networking site as well as a search engine that users use to explore new content. By optimizing your profile for SEO, you can reach people looking for something you are an affiliate.
Interact with other users
In any social media, you have to increase your activities to boost your presence, like exploring other boards in your niche, repining or commenting on the pins you like, and replying to users' comments under your pín.
Analyze and adjust
You know, analysis is a vital step for any affiliate marketing campaign, and the Pinterest Analytics tab is one of the best places to start, but you don't stop there. You need to combine traditional analytic tools. For instance, you can use UTM links in Google Analytics to track clicks from separate pins.
Measuring which is effective and which isn't will help you to make better decisions on your Pinterest affiliate marketing strategy.
5 Pinterest Affiliate Marketing Tips
Create multiple pins for each piece of content
One of the most effective Pinterest affiliate marketing strategies is creating many pins for each affiliate link, blog post, etc. The more pins you make per content, the more opportunities it may get viewed and clicked. You should always create new pins for old pieces of content and old links.
Consider promoting high-performing pins
One of the most effective ways to gain good results and conversion is using Pinterest ads.
If you have a pin already getting engagements, conversions, or good clicks, consider wagging a campaign to get that pin in front of more pinners! The return on these ads can be huge!
Study trends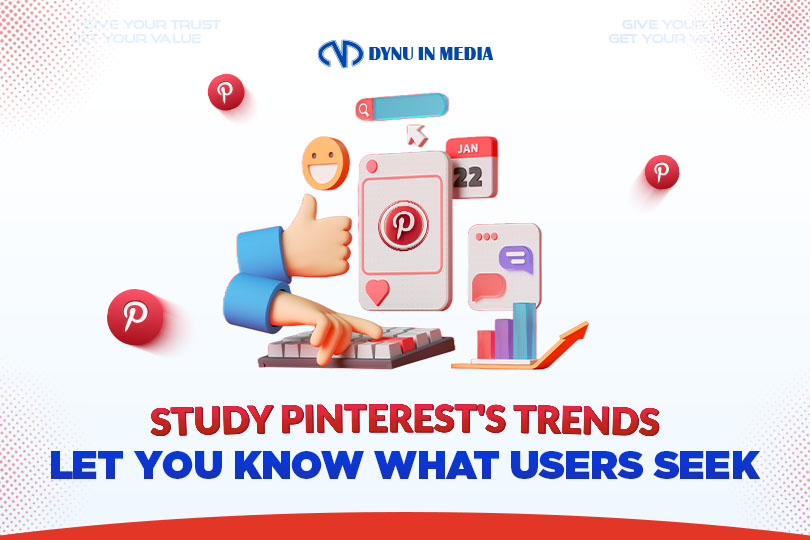 Though trends periodically change, they're good factors of what users seek now. Moreover, using trending keywords and trends helps you find out what your competitors are doing.
Don't forget to disclose affiliate links
The FTC (Federal Trade Commission) requires that marketers add disclosures to paid partnership content or affiliate links to protect customers. So, you need to label pins accordingly with "affiliate" or "sponsored" tags.
Don't forget this step, or your Pinterest account can get in trouble!
Most articles about Pinterest marketing best practices suggest adding hashtags to every pin you release. But we don't. Why?
Since 2021, hashtags on Pinterest are no longer clickable, meaning hashtags feeds don't exist. And hashtags are similar to Pinterest keywords; thus, don't waste your time on them.
Hope this post has helped you understand Pinterest affiliate marketing and how you can get started with it. If you have any questions, feel free to leave your comments below. We will try our best to answer them as soon as possible. See you at the next post by Dynu in Media!