YouTube Affiliate Marketing: 7 Best Tips
YouTube affiliate marketing can be lucrative for some but challenging for others in this fast-paced world. However, it's undeniable that YouTube is an excellent affiliate marketing platform. If you can make something valuable, something to help your audience, something they need, and something no one else has made, you can make it large.
Today, in this article, Dynu In Media shows you 7+ valuable tips on how to go about it. Keep reading to explore more!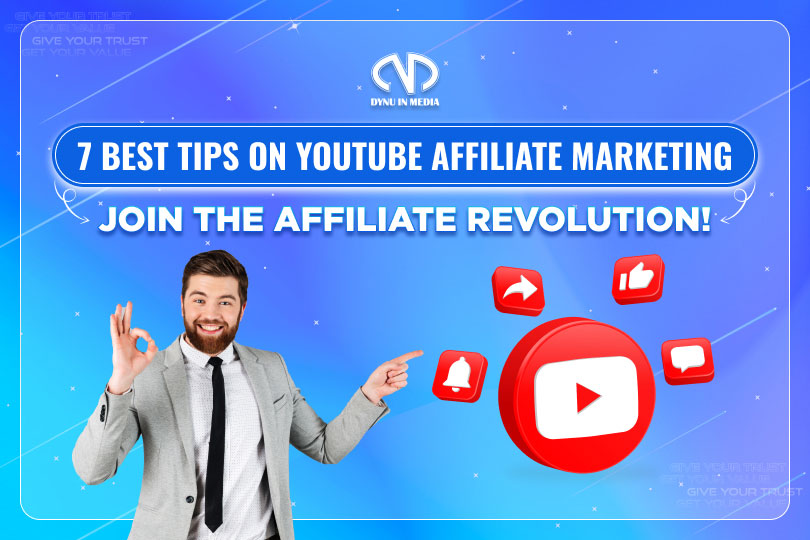 What Is YouTube Affiliate Marketing?
Let's get started with the definition of YouTube affiliate marketing. What is it? According to many advertising experts, YouTube affiliate marketing is a way to make money online by promoting others' goods and services in exchange for a cut of the sales made by viewers clicking on the links affiliate marketers recommend to the videos they upload.
You can see these links within annotations, or beneath the video in the 'Description' box. Moreover, many marketers can pin their affiliate links in the comments section as well.
Companies start an affiliate program and create unique URLs for each affiliate marketer. If your target audience clicks on one of these links, a cookie will be dropped on their browser, indicating which marketer was responsible for the sale.
These cookies will stop working after their designated time has passed. That means that if the customer buys the product before the cookie's expiration date, the affiliate marketer will get credit for the sale. On the other hand, affiliate marketers won't get paid for a sale if the customer purchases after the cookie expiration date has passed.
In a nutshell, YouTube is a kind of video marketing that has been one of the most effective digital marketing channels so far.
Why Use YouTube Affiliate Marketing?
If you are still concerned about whether YouTube is an excellent platform for investing in affiliate marketing, here are some reasons that strongly convince you to choose it. YouTube can assist affiliate marketers in increasing brand recognition and earnings. Four crucial elements make YouTube distinctive from other platforms, as follows:
YouTube is the world's second most popular website. For budding YouTubers, the monthly viewership of nearly 30 billion visits (21% US-based) is a significant market.
It is simple to start. To create a YouTube channel, "keep it simple," as the design idea goes. If you have great content, you don't need excellent videography.
YouTube allows you to make videos from blog postings. Cross-promote material on this platform in different ways. You can turn a blog into a YouTube video. You may incorporate the video inside the blog article to make it more active without writing new material.
It doesn't require 1,000 subscribers on your YouTube channel. YouTube affiliate marketing allows you to begin making money while waiting to get approved for ad revenue sharing.
Affiliate Video Ideas To Try On YouTube
Affiliate marketing videos can take on an almost unlimited variety of forms and formats. But a few tried-and-true methods have worked well in the past.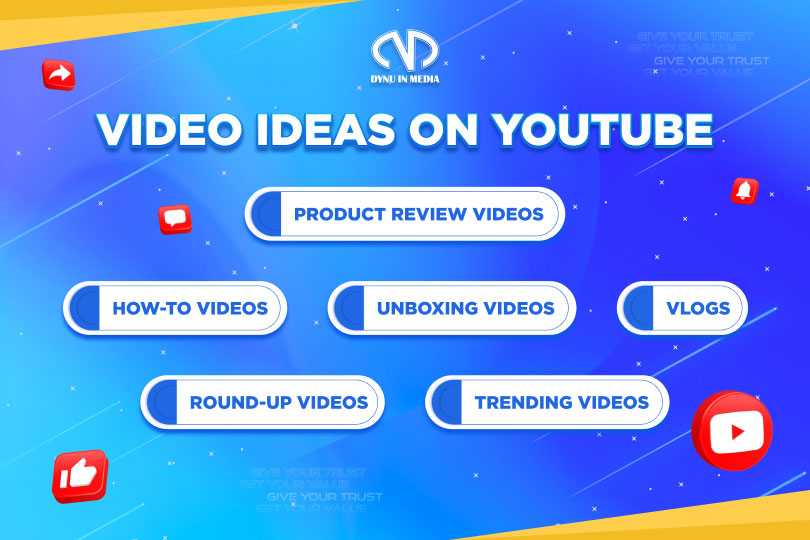 Okay, so let's have a look at what you have to work with:
Product Review Videos
Producing review videos is one of the most popular affiliate content marketing ideas many marketers choose when they go into YouTube. Why? This is due to the fact that 62% of shoppers say they always or often check online reviews before making a purchase. As many as 52% of viewers will be swayed to make a purchase after watching a positive product review video on YouTube.
Videos like the ones up top are great examples of content that converts effectively. That means you'll get a lot of traffic to your affiliate links and have the chance to make a lot of money.
How-To Videos
How-to videos are also called tutorial videos. In fact, people watching tutorials are further along in the sales process than those watching trending videos. You may easily add affiliate links to the description for any tools, gadgets, or other things you recommend and demonstrate in the video. To boost affiliate marketing conversions, demonstrate each product in every video you make.
Unboxing Videos
This type of video is so popular on YouTube because viewers may imagine themselves as stars. Creators open a package to "review" it, and they are then telling viewers everything about the item inside that package. For instance, Estella of Study to Success unboxes iPad Pro accessories on her YouTube channel. In this case, viewers can buy the same things through affiliate links in the video description.
Vlogs
Vlogs (video diaries) are a great way to share your passion for travel or any other topic with the world. Creating a vlog can be time-consuming, but the benefits are substantial. Blogs that include videos require the creator to have solid video editing skills.
In the video's description, you can provide all the affiliate links to the tools you relied on to create the video and take the trip (if the video is a travel vlog) that help you earn a commission.
Round-up Videos
The following incredible idea video on YouTube is to make round-up videos. This type of video can help you cover as many demands, hobbies, or needs of your customers as possible, even if they are still waiting for something. Therefore, round-up videos are the perfect idea to help you make a collection of many products. For example, you can make round-up videos like "monthly favorites" with affiliate links. This could increase sales by encouraging viewers to buy on the spot.
Trending Videos
The YouTube community generates its own trendy craze that dominates at a specific time. You can make a spin-off by keeping an eye on platform trends and getting ideas from products that affiliates recommend.
7+ YouTube Affiliate Marketing Tips
Tips and tricks have always been hunted by every marketer when they dive into affiliate marketing. So, don't overlook these 7+ best YouTube affiliate marketing tips to help you convert many conversions:
Add chapter markers
Be transparent with affiliate links
Create related playlists
Embed YouTube videos in blog content
Optimize for YouTube search
Produce YouTube shorts
Use eye-catching thumbnails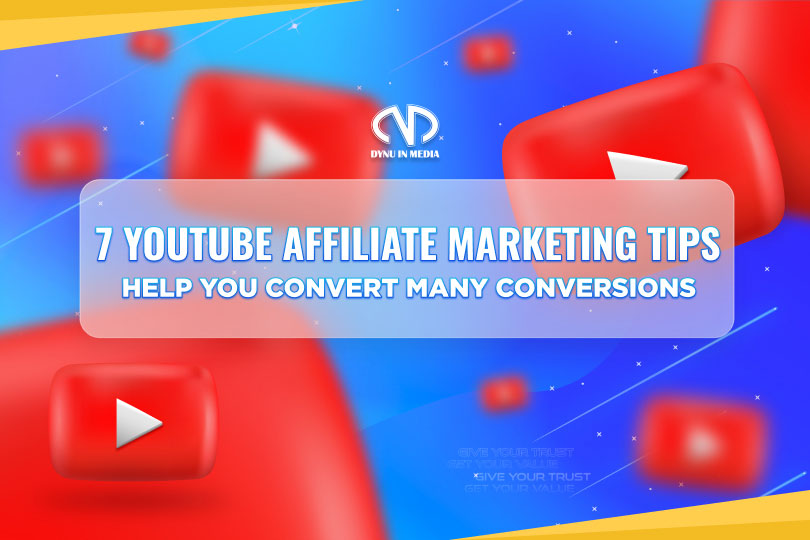 Add Chapter Markers
The simplest approach to making your YouTube videos more professional is to use chapter markers. They allow viewers to come to your YouTube video looking for brief and precise answers. A cooking tutorial video, for example, includes chapter markers that allow viewers to skip ahead to the section where the creators discuss selecting a cut of beef and when to put it in the oven without watching the entire 30-minute video.
Be Transparent With Affiliate Links
Being transparent with affiliate links is the best way to help you avoid a boycott of you and your YouTube channel. No matter what topic you're making videos for, you should always make it apparent when you're getting paid to promote a product. If you don't accomplish this, your audience may lose faith in you and your promotions forever.
Create Related Playlists
As an affiliate marketer, the more views your video receives, the more likely you will earn an affiliate commission. You may do this with the help of YouTube's playlist feature, which lets you compile videos of the same genre into a single, endless clip.
Make your own YouTube playlist by doing the following:
Collect similar clips into a single playlist.
Open each video in a new browser tab.
Use the "Save" button under each video to keep it.
Make a new playlist (or add it to an existing one).
Set the privacy to "public."
Embed YouTube Videos In Blog Content
To maximize the exposure of your affiliate links, it is best to use both a blog and a YouTube channel. Here are some benefits you should consider:
Engage various audiences: Your target market has multiple learning and watching styles—some like watching movies, and some like reading blogs. Therefore, to prevent alienating consumers who would buy your recommended products, combine both video and blog.
Increase video views: Show your affiliate videos to folks looking for suggestions outside of YouTube. Google displays YouTube videos in search results for select keywords., which can help your videos spread their approach.
SEO optimization: Search engines rank pages based on dwell duration, time on page, and bounce rate. Therefore, embed relevant videos on your website to improve and last those figures.
Optimize for YouTube Search
How do I do SEO on YouTube effectively? Let's start by determining what keywords your target audience is looking for and then creating YouTube videos that match their needs. With a bit of search engine optimization upfront, you can get a lot of organic traffic.
To begin, look for competitive YouTube channels that promote similar products to those for which you are an affiliate. Use the Keywords Everywhere browser extension to find more relevant terms while tracking search volume (the number of people who search for that phrase each month) and trends.
After keyword research to find out what terms your target customer is looking for, optimize the video so that it will appear as often as possible.
Put the keyword in the video's title, and make it as catchy as possible.
Keywords should also be included in the video description.
Extend your watch time. The YouTube algorithm favors videos with a high watch time since the material has been shown to keep users on the platform.
Produce YouTube Shorts
YouTube Shorts is a version of Tiktok. It allows creators to publish short videos to their YouTube channel. These videos must be vertical, mobile, and under 60 seconds. They're supposed to be quick-fire films that visitors can flip through, but that doesn't mean your affiliate marketing strategy couldn't use them.
Marketing experts recommend using YouTube Shorts to highlight specific features of a product or program. Then showcase the product's full benefits and link to its comprehensive review video on the YouTube channel.
Use Eye-catching Thumbnails
A video's thumbnail, the graphic that appears before the video begins to play, is crucial in getting people to watch it.
A YouTube video's thumbnail is like a book cover. If the cover isn't engaging, no one will pick up the book, no matter how great the story inside is. You need a cover that stands out on a shelf full of other books to increase the likelihood of your book becoming a success.
How To Make Money With Affiliate Marketing on YouTube?
Convert Potential Customers More Effectively Through An Affiliate Funnel
These five easy steps will help you build a thriving affiliate funnel that increases sales for your affiliate business:
Choose the most appealing offer to promote.
Make a page for the bridge.
Create an opt-in form on an optimized landing page.
Make a thank-you page.
Drive visitors to your landing page.
A business can use an affiliate funnel to show potential buyers all the ways their product can help them. The first step in a landing page funnel is to visit an affiliate link on YouTube. Once you click that, you'll be sent to the product's ordering page.
An affiliate marketing funnel is a great tool for developing prospects needing more time to buy.
Promote "Direct" Affiliate Links In Your Videos
Direct linking sends your audience from a traffic source to the advertiser's sales page through your affiliate link. Content creators who add affiliate links in their YouTube descriptions employ direct linking.
Although YouTube allows direct affiliate marketing connections, not all affiliate marketing programs or social media platforms do. So, make sure your affiliate marketing activities follow the rules of each program and social media site by reading their terms and conditions.
Have you found the tip on YouTube affiliate marketing you are interested in? Dynu In Media is here to help you find YouTube Affiliate Marketing useful and informative. This is just a small amount of the information that is out there on this topic, so we recommend that you continue to do your research and find what truly works for you! Please continue to check out our blog for more information that might be helpful to you. If you have any questions or concerns, please feel free to contact us by leaving your messages in the comments.