How To Use Social Media For Affiliate Marketing In 2023?
Unlock the potential of social media for affiliate marketing in 2023 with this guide from Dynu In Media. Learn the latest strategies and tricks to successfully use platforms such as Facebook, Instagram, or Twitter to get maximum reach and drive conversions. Get started!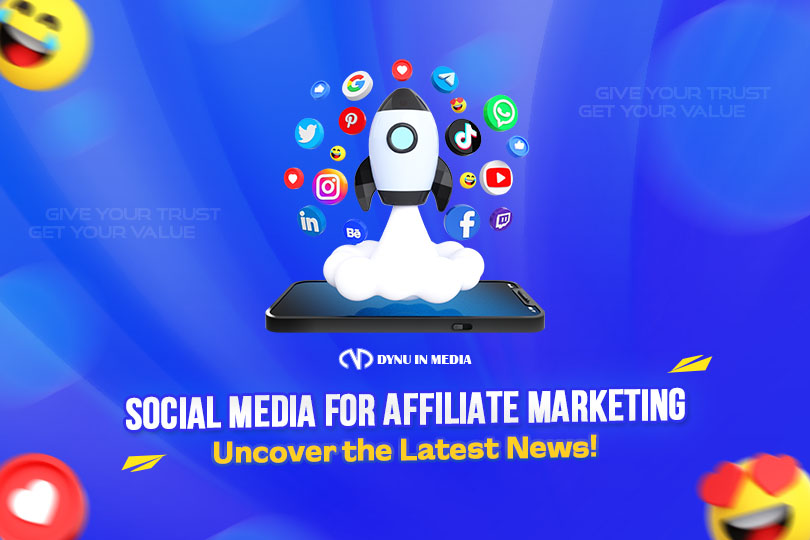 How Affiliate Marketing On Social Media Works?
To kick off, let's dive into how affiliate marketing on social media works. Affiliate marketing on social media involves publishers (affiliates) directing traffic to a merchant's site in exchange for a commission.
As soon as a user signs up for a free account, a recommendation is often permanently linked to her affiliate account across all social media sites.
Affiliate marketers spread the word about these deals through carefully planned campaigns. If the person you referred follows through and does the desired activity, you will receive a commission.
Sessions and cookies aren't necessary for some social media affiliate marketing platforms because the referrals are tracked internally. Affiliate networks can benefit from the increased exposure those with established channels on YouTube, social media, or personal blogs can provide.
Due to the abundance of offers and low barrier to entry, the social media niche can be a wonderful area to begin your affiliate marketing career. If you're a marketer, your best bet is to join affiliate networks that are specifically tailored to social networking. Affiliate marketing on social media has many of the same benefits as on other platforms and can help you reach a wider audience.
Top 6 Best Social Media Platforms For Affiliate Marketing in 2023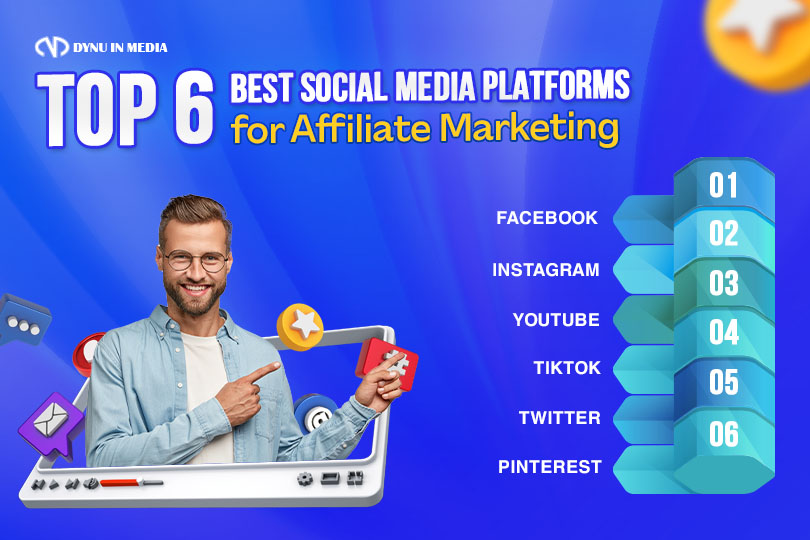 Here are the top 6 best social media platforms for affiliate marketing you can refer to:
Facebook:
Facebook is the first social media site we'd like to highlight. In fact, many individuals are already familiar with it. When it comes to marketing affiliate links and products, Facebook is one of the oldest but still most popular social media networks. With your imagination and some interesting material, you may attract free traffic and turn it into sales.
Facebook Personal Profile: Use your account to promote affiliate products and links to increase clicks and shares. If you have a sizable following on Facebook, you may use the platform to promote your affiliate links with relative ease.
Facebook Page: Add paid advertising with your product reviews, features, and other compelling content.
Groups on Facebook: Joining Facebook groups relating to your niche will tremendously help your business and affiliate marketing efforts. Create a group of people interested in your products, and make yourself known among them as an expert.
Instagram
Next, let's talk about Instagram. You should not ignore this platform to take advantage of your commission if you are an affiliate marketer. With Instagram, you can promote your affiliate links through videos or regular posts most creatively.
Here are some ways you can apply for affiliate marketing with Instagram:
Link bio: You can only include a clickable affiliate link on your Instagram bio. Customers will be sent to a sales page where they will hopefully make a purchase.
Highlight: Instagram added the Highlights feature to replace Stories, which disappear after 24 hours. If viewers cannot catch the Stories launch, they can view them later.
Instagram Shop: Convert your personal Instagram account into a business one, then offer your products in the Instagram Catalog.
Reels, Stories, IGTV: Captions and videos posted to Instagram's Reels and Stories should be attention-grabbing. Put the affiliate product's greatest features, such as filters, tags, and filters, front and center.
Swipe Up: Use the swipe-up function if you have over 10,000 Instagram followers or wish to buy adverts. Customers can swipe up from your Story and be taken to the promoted website.
Youtube
Over 2.5 billion people of all ages use YouTube monthly, making it one of the most popular social networking sites. YouTube combines the functions of a social network with a search engine.
With YouTube, you can share anything and everything, such as:
How-to videos
Product reviews
Guides
Unboxing videos
Beauty and fashion videos
Etc.
Tiktok
TikTok is a platform where users may showcase their talents through creative short videos. Accurately monetize your content by promoting affiliate products, links, and unique offers; fast become viral; and never have to appear on camera.
You may reach a wide demographic by studying when the most users are active on TikTok, keeping up with popular content creation strategies, and optimizing your content with filters and effects.
Twitter
Twitter is best suited to people who can draw interest with just a few well-chosen words or phrases. Despite its restrictions, Twitter is a great place to find free traffic for your affiliate marketing efforts.
Using hashtags is the most effective method of being discovered on Twitter. You may expand your network of potential buyers, supporters, and partners with their assistance. Check out the hashtags that are now trending and start utilizing them to boost your reach.
Pinterest
Finally, don't ignore Pinterest in affiliate marketing on social media. Pinterest is well-known for being a source of inspiration for do-it-yourself initiatives (DIY), interior design, and consumer goods.
With its emphasis on visual material, Pinterest is likely to rank well in the search engine results pages (SERPs) visited by your target demographic. You will get positive returns if you put in the time to learn how to use Pinterest effectively.
Using Pinterest to promote your affiliate links:
Create checklists
Post promotional materials
Post infographics
Create product collections
Post product reviews and descriptions
How to Use Social Media for Affiliate Marketing: 5 Tips In 2023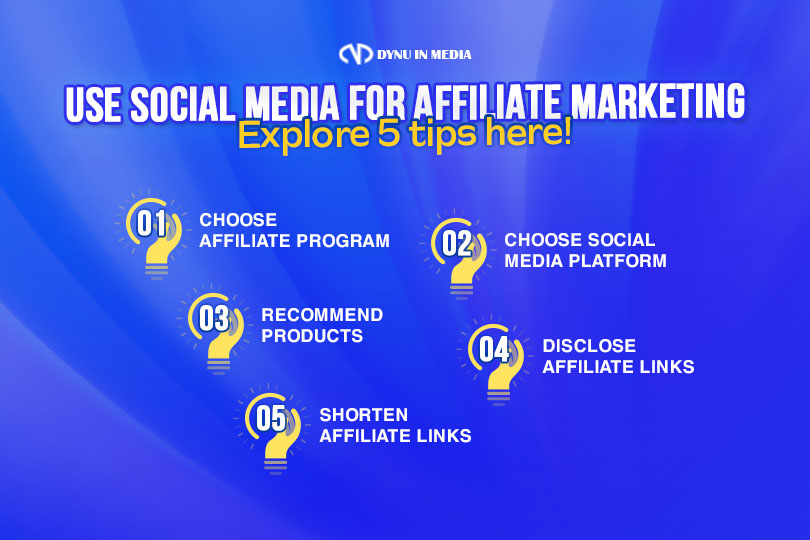 You can use these five simple tips from us to wisely use those big social media for affiliate marketing:
Choose the right affiliate program and social media platform.
Recommend products.
Disclose affiliate links.
Shorten affiliate links by using a link shortener.
Choose The Right Affiliate Program
Choosing the right affiliate program is one of the most important things you should not miss. It's in your best interest to compare commission rates and payment methods to choose the best option.
Affiliate marketing can be simple to enter for beginners by using programs from large general retailers like Amazon and Walmart. These reputable names allow you to choose from a vast array of options.
However, mega-retailers aren't always the best option for creators. Commissions and sales could be higher if you sold directly from the company or through a niche retailer. You can get to know the brand more individually and over a longer period.
Choose The Right Social Media Platform
The next tip is to choose the right social media platform. Which platform you use depends on your desired ad formats, intended audience, and sales strategy.
There is a distinct function for each of these mediums. While YouTube does feature a "shorts" capability, most users upload and watch longer-form videos. Short, catchy, and mostly intended for a younger demographic are the hallmarks of a TikTok video. Photos and other visual content are Instagram's main draw. LinkedIn caters to businesspeople, whereas Facebook is more focused on personal relationships.
These distinctions mean that your platform will depend on your intended audience and how you intend to reach them.
Recommend Products You Use And Trust
Affiliate marketing is most effective when it appears natural. Earn a commission by recommending high-quality products and services through social media affiliate marketing. These should be things that you make regular use of.
This is a non-intrusive technique to profit from your audience without becoming sales. Creating content that is both high in quality and useful to your audience is essential when thinking about how to use affiliate marketing. It's not worth risking your relationship with your followers in exchange for a small percentage on a sale.
Disclose Affiliate Links
Affiliate links require disclosure like any other form of compensated link or content. It's only right to let your followers know you'll get a cut of the sale if they use your affiliate link.
This can be especially challenging on Twitter, where every character counts. Hashtags like #affiliate and #affiliatelink are used by some affiliates to make their affiliation clear. However, there is a possibility that followers will misinterpret these tags. Consider switching to #ad instead.
The good news is that if you use Instagram's built-in affiliate tool, your posts will be marked as "Eligible for commission" by default. This is analogous to sponsored content articles' "Paid Partnership" label.
Use A Link Shortener For Long Affiliate Links
The most prevalent methods of tracking affiliate links use UTM codes and user codes. But that can lead to linkages that are extremely long and, well, ugly.
Therefore, bear in mind to use a link shortener to keep the tracking code intact while shortening the links.
How to Choose the Best Social Media for Affiliate Marketing?
Many social media networks exist, but not all will reach your target demographic and create clicks. Here are some ways to help you choose the best social media for affiliate marketing:
There are several social media networks. So, to succeed in affiliate marketing, don't waste time on each. Look at each platform's pros, cons, and limits to narrow the selection. Choose a platform based on your affiliate items and abilities.
Research the competitions:
Find out whether your competitors are promoting similar affiliate items and services. Where are they advertising? How do platforms perform? How can you change?
When choosing a social media site, analyze your competition to improve your affiliate marketing plan.
Instead of waiting for customers, successful affiliates go to them. Showcase your affiliate items and engage with the proper audience by displaying your content where people are.
A content plan can help you narrow down your social media outlets. How often and what kind of content will you post? TikTok recommends posting 1-4 videos every day, while YouTube recommends posting over three videos per week.
You're good at what? Videos, reels, blog posts, images? Plan your content strategy and leverage each platform's tools to create click-worthy material and drive traffic.
Social media for affiliate marketing offers affiliates infinite promotion and traffic alternatives. Adapt your content to the affiliate niche and flourish on any social media network with the appropriate plan. Choose a platform for your business using this article. Join the Dynu In Media affiliate network for flexible commissions. Simple, easy, attainable. Contact us on social media for assistance and grow with us! Dynu In Media helps you start businesses!