Affiliate Marketing vs Dropshipping: Which's Profitable?
Most businesses scratch their heads when it comes to affiliate marketing vs dropshipping. Which is the better business model to follow? Which one is easier to run and grow? In this article, Dynu in Media will break down things you need to know about dropshipping vs affiliate marketing. Keep reading to learn which is the appropriate online business for you.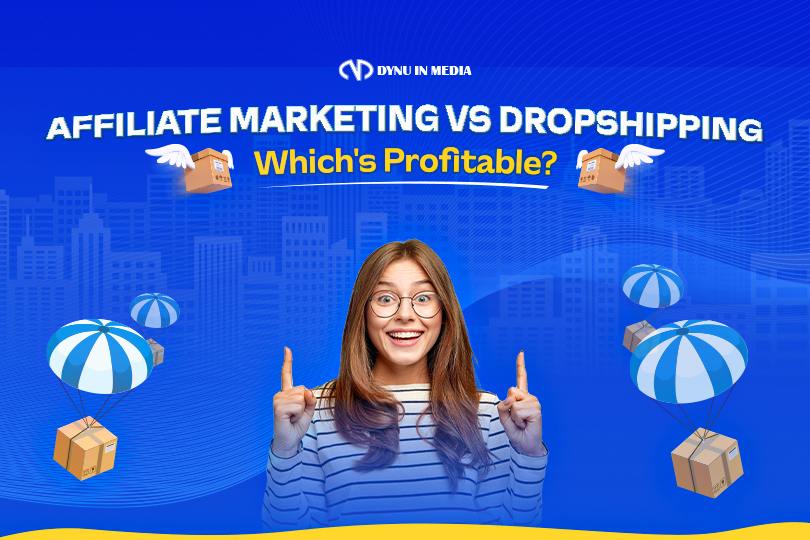 Affiliate Marketing vs Dropshipping: Definition
What Is Affiliate Marketing?
First, let's get to know what affiliate marketing means. Affiliate marketing is the process where an affiliate gains a commission for marketing a company's or person's goods.
What Is Dropshipping?
Dropshipping is a business model that helps you sell goods online without owning or running the physical location where those goods are stocked and processed.
The Difference Between Dropshipping And Affiliate Marketing: An Overview
Before moving on to the differences, let's take a look at some similarities between affiliate marketing and dropshipping:
They are really low-risk business models.
They help you to begin a business without requiring shipping or inventory products.
They're easy to begin working on right away.
They have high earning potential.
They have low startup expenses.
They offer similar skill sets, like the ability to drive traffic to a landing page, create ads, and other marketing skills.
The primary difference between dropshipping and affiliate marketing lies in the way of selling products. With dropshipping, you are selling good from your website, but affiliate marketing takes the audience to another e-commerce website through your affiliate link.
To know more about the differences between both, let's have a look at the table below:
| | | |
| --- | --- | --- |
| Criteria | Affiliate marketing | Dropshipping |
| Business model | The profit you make is the commission on the goods you sell, often paid monthly. | The profit you make is your selling price minus the wholesale price. |
| How it works | Refer clients and gain commissions. | No need to stock inventory or ship goods; just create profits on arbitrage. |
| Ease of use | You're not in charge of handling anything related to the store. | You're not responsible for customer help. |
| Commission | You're paid a fixed commission by the merchant. | Name your price and control offers. |
| Business management | Clicks on the affiliate links on your site links direct potential clients to the merchant's web. | Sell goods not in inventory, and pay the producer after clients pay you. |
| Recurrence | An affiliate buy just a one-off transaction. | Repeat business and recurring orders from clients. |
| Growth prospect | Affiliate websites will develop, but affiliate marketers will remain dependent. | A quality online store will naturally develop over time with a strong fundamental. |
| Future prospect | You rely on the producer/retailer whose goods you promote as an affiliate. | Your dropshipping store can become a full-fledged business. |
| Customer data | You do not address customers. | You own the client data. |
| Control  | You do not control the affiliate offers available to you. | You fully control the dropshipping offers available to you. |
Dropshipping vs Affiliate Marketing: A Comparison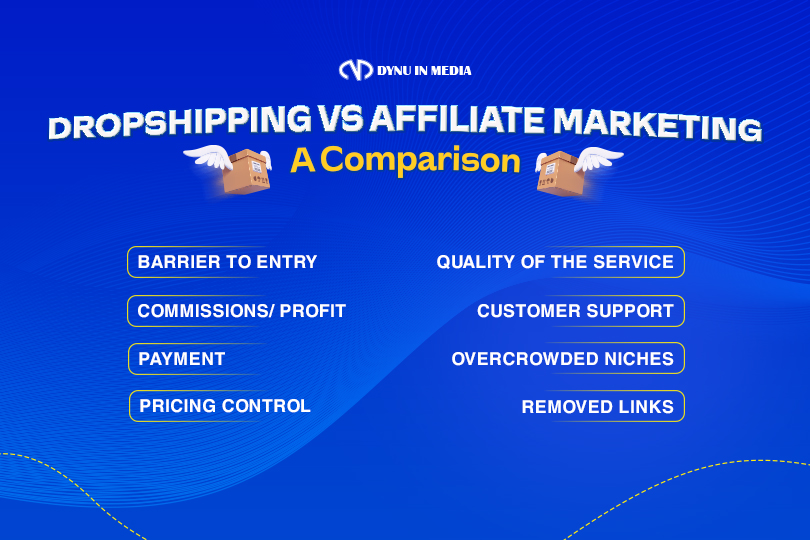 Barrier to entry
You do not need many resources for affiliate marketing; you can begin with your laptop or phone. Moreover, most affiliate programs are free to attend, with some offering sign-up bonuses to welcome newbies.
However, some costs may vary depending on which affiliate marketing platform you select. For example, beginning social media platforms, such as Facebook, YouTube, Instagram, etc., is totally free.
While dropshipping is an e-commerce business model that offers minimal investment, making it approachable to anyone with an internet connection.
You fully control what goods you want to sell and how you market and sell them; you just need a hosting and domain.
Commissions/ Profit
With affiliate marketing, commissions are a percent of the good. But, you are left with a much smaller percentage when you factor in your marketing expenses and costs.
For drop shipping, you can purchase a good that costs $1 and sell it for $19.99, which helps you maintain a significant portion of the sale price as profit after subtracting marketing expenses.
When comparing dropshipping vs affiliate marketing, you will likely be better financially as a drop shipper.
Payment
With an affiliate marketing business, there might be thresholds you need to reach before cashing out your first check.
For instance, if you are an Amazon affiliate outside of the USA, you can be paid by gift card or cheque. But, to achieve the cheque, you must have made at least $100.
With the dropshipping model, you can have your payout after the client pays for the goods on your online store. This way, you can withdraw your money.
Additionally, it will better your cash flow, making you flexible in running and developing your business.
Pricing control
By promoting goods from other brands, you won't control the price and the good. Consequently, you can't make the good more appropriate for your customer, containing changing its description and image.
Managing a dropshipping business is an excellent way to begin and build your brand. As the store owner, you will fully control the business's operations and pricing, bringing many benefits to your online business in the long term.
For instance, you are able to create a strong brand image for your goods to better brand recognition and customer loyalty.
Quality of the service
Another wonderful reason to become an affiliate is that your responsibility ends once a customer buys a good via your link.
You just have to promote the affiliate offers of the network you have attended. All the after-sales responsibility is on the merchant.
For a dropshipping business, you won't control the shipping service and the good quality because you will not keep the stock regionally. This can lead to customer issues, like product defects or shipping delays.
Customer support
You will not be in charge of inventory management, customer orders, and delivery processes as an affiliate. Moreover, you're free to promote the good on various platforms, which assist you in building a solid audience.
Your job is to stimulate your target audience to purchase the good via your affiliate link, making you concentrate on building an effective promotion to increase the conversion rate. The primary drawback to dropshipping is that you are in charge of customer help as the store owner. Whether it is a good-related query or a complaint related to the delivery, you have to respond to the customer.
Overcrowded niches
Selecting a suitable niche is necessary to be successful in dropshipping. Yet, because of the increasing number of dropshippers, lots of niches are saturated, leading to lower profit margins and forcing several dropshippers to work on lower percentages.
In contrast, affiliate marketers can join one niche, but they have different customer categories. Commission rates depend on each network or program; the more products you sell, the more commission you can earn.
Removed links
Because many people do not understand the peculiarities of affiliate marketing, they have a tendency to see affiliates as scammers that "steal" their money. They feel they cheat them out for additional money that ends in their pockets – in fact, it's not true.
In such a way, when audiences recognize an affiliate link, they become suspicious right away.
With dropshipping, you will have your professional website. You will make enough money to invest in content, profit-generating techniques, and advertising.
The traffic comes to your website. The checkout will match your web's branding.
When you have more control, you improve your odds of appealing to and converting customers.
Affiliate Marketing Vs Dropshipping: Which Is More Profitable?
Both affiliate marketing and dropshipping can help you generate good profits. So why we don't integrate the two and make the best business type? You can do this by adding a store to your affiliate web.
This way, you can sell your products and affiliate goods, giving more selections to your customer and gaining money from sales and commissions.
Or, you can begin a private-label dropshipping business, where you sell goods under your brand. This can be a practical selection for those who want to build loyalty and gain recurring revenue from their business.
Affiliate marketing and dropshipping are great business models for generating money online. They are appropriate for everyone who wants to begin a new low-risk business with a limited budget. So, affiliate marketing vs dropshipping: Which one is profitable? The answer depends on the business model you want to establish. Besides, you can mix both to bring many options for your customers and achieve more commissions and sales.
If you are looking for the best affiliate network, Dynu in Media is the perfect option. Become our partner, and you will receive diverse offers with high payout and 24/7 help. Moreover, we provide high-tech platforms and bonuses for partners. Let's join us now to make more money together!