What Are Super Affiliates? How To Become Super Affiliates?
Are you ready to take your affiliate marketing game to the next level? Learn all about super affiliates and how they maximize profits with their advanced strategies. Get the inside scoop on successful campaigns, and unlock the secrets of becoming a super affiliate today! Here is an article from Dynu In Media to write everything you need to know about it. Let's dive into it now!
What Is a Super Affiliate?
To kick off, check the definition of a super affiliate. A super affiliate is a top-level online marketer who drives a much higher rate of traffic and sales to your website than an average affiliate.
Simply put, super affiliates are the highest-performing affiliate marketers. We looked through affiliate marketing sites and collated the criteria that kept coming up when discussing what makes someone a "super affiliate."
This is what we discovered:
Super affiliates often have several employees.
The success rate of top affiliates is reliably high.
They often drive 50-90% of campaign sales.
They usually have big, well-established followings.
They have strong brand partnerships and authority in their niche.
They are masters of affiliate promotion.
Top super affiliates can partner with industry leaders with these credentials.
Why Should You Become A Super Affiliate?
If you are confused, why should I become a super affiliate? What can it bring to me? Here is the answer. If your affiliate marketing efforts do effectively, brands may offer you unique perks like free products to trial, greater affiliate commissions, custom rates, and the chance to negotiate your remuneration.
Companies are searching for high-converting super affiliates who share their industry, specialization, mission, and ethics. Furthermore, dealing with super affiliates is easy. It saves brands time and generates more cash than dealing with less established affiliate marketers.
How To Become A Super Affiliate In 7 Steps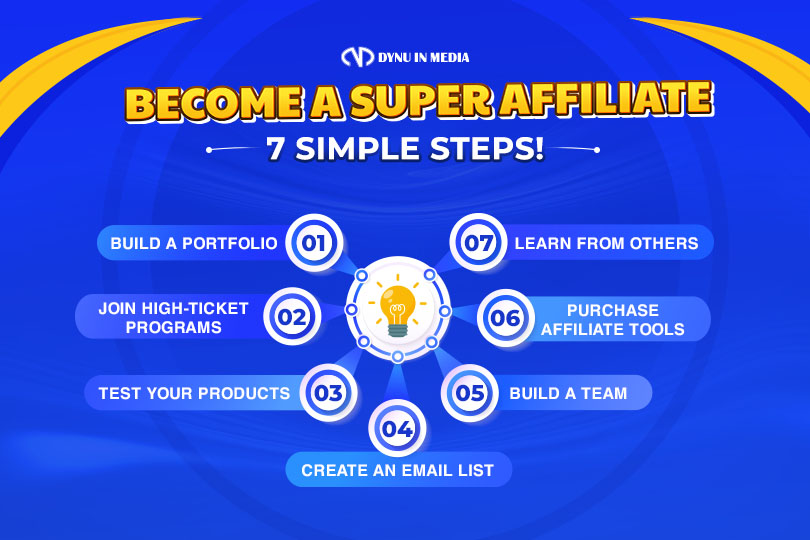 To become a super affiliate, you need to follow these easy 7 steps below:
Step 1: Build a portfolio of websites
Building a portfolio of websites is the first step you need to follow. Our recommendation is to launch a single successful website before considering expansion. The majority of successful affiliate marketers have multiple sites in the same field. Selling products within your niche will become much easier if you take the time to learn as much as possible about them.
Step 2: Join high-ticket and super affiliate programs
Then, the second step is to join high-ticket and super affiliate programs. Depending on your niche, high-ticket affiliate networks can net you several hundred to several thousand dollars for every sale.
High commission rates, high conversion rates, and high average order values are all ways to boost affiliate earnings, and Dynu In Media can make it easier to help you achieve all those goals.
If you still need to know which network to work with, let's come up with us. You will never be disappointed, we promise!
Step 3. Test your products and content
In case you need help determining which product can generate the conversions, you can generate roundup blog posts to discuss several items or genres and then analyze their performance.
Based on that, you can find a product or market niche that does well and allows you to focus more attention and resources on that area. Your odds of success should improve dramatically as a result of this.
Step 4: Create an email list to secure your traffic
Please answer this question:
How often do you buy a product for the first time?
Maybe not regularly, but certainly never if it's too pricey.
That is why you should build a closer relationship with your audience and remind them about your brand and products every single day or once every two days. Email marketing funnels are particularly effective this time for introducing more expensive affiliate products.
Furthermore, if you can convince your audience to confirm the double opt-in in email marketing, you increase the chance they will buy your products.
Step 5: Build a team and processes
The next step is to build a team and processes. This step needs you to focus and have good management skills. When outsourcing, you should treat your affiliate website like any other firm and allocate funds accordingly.
Keeping track of commissions becomes difficult until you have 500 or more partners. The following are essential considerations for assembling a winning squad.
You should divide your partnerships into two groups: the higher-paying programs that will be reviewed monthly and the lower-paying programs that will be reviewed bi-monthly. With these criteria, the list can be refined and checked. It's not perfect, but it does help you monitor your payments.
Step 6: Strategically purchase affiliate tools and software
At some point, you'll need to upgrade your affiliate tools and software. If your rivals use state-of-the-art resources that generate superior data, you will be playing catch-up.
These are some examples of popular programs used by top affiliate marketers:
WordPress Plugins – Like AAWP or Thirsty Affiliates.
SEO Tools – Like SEMRush and Ahrefs.
Project Management Software – Like Asana and Trello.
Affiliate Analytics Software – Like Affilimate.
Affiliate marketing automation software and insights into where your conversion rates are low can be a real boon to your bottom line.
Step 7: Learn From Other High Performing Affiliates
What should I learn from other high-performing affiliates? Here are two things you need to bear in mind or take note of.
Learning: Affiliate marketing is a rapidly expanding field. Thus it pays to educate yourself on it. You can subscribe to relevant resources to keep current and competitive in the affiliate marketing sector.
Networking: Keep an eye out for affiliate marketing conferences and other events you may attend to learn the latest methods and keep up with industry trends.
How Can Advertisers Find Super Affiliates?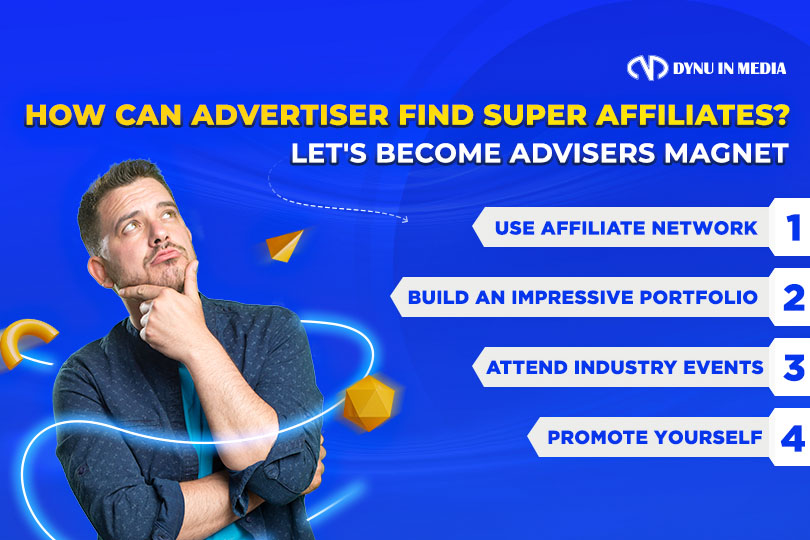 All advertisers want to sell their products or services as much as possible. Therefore, in fact, if you become a super affiliate, you do not need to find any advertisers because they will come with you.
However, suppose you understand what advertisers need or their requirements when finding super affiliates. In that case, you will have a good plan and strategy to attract high-quality advertisers to work with you. Aside from that, this can help you have a chance to approach many big and famous advertisers as well.
Check out some tips below to help you build your good strategy:
Use affiliate networks
Look at your competitors
Reach out to your existing advertisers
Attend industry events
Search for influencers
Build an impressive portfolio.
Ultimate Secret To Becoming a Super Affiliate?
Collaboration with other well-off associates. The truth is that strength comes from unity. While competition is healthy in this field, it need not be ruthless.
Affiliates can contribute to one another's success in a variety of ways. If you advertise someone else's product one month and they promote yours the following month, you both benefit. Perhaps as an affiliate, you can swap guest posts on each other's blogs.
Super affiliates have mastered the art of driving targeted traffic, building relationships, and converting leads into customers. Advertisers need a solid affiliate program, promotion, research, and an especially generous budget to attract super affiliates. Therefore, don't forget to bag the seven steps Dynu In Media brings you in that article above to become a super affiliate as soon as possible. Finally, we wish you success!