How To Do Affiliate Marketing Without A Website?
Affiliate marketing is an excellent way to make money online; however, many people think they need a website to start off. But this is not the case. There are some ways "How to do affiliate marketing without a website." Let's dive into this blog with Dynu in Media to know what they are!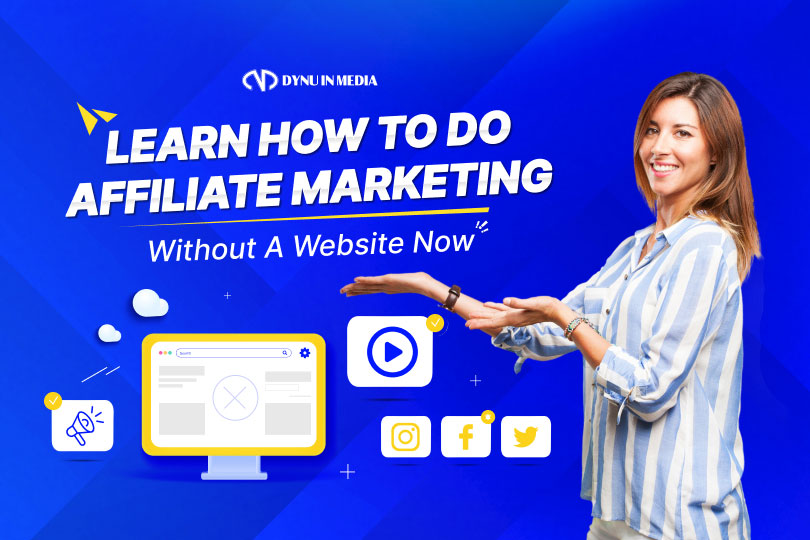 Is Affiliate Marketing Without A Website Possible?
Yes, it's absolutely possible to start affiliate marketing without a website. There are various affiliate marketing, and though the one with a website is amongst the most well-known, it is most surely not the only one.
Before discussing "How to make money with affiliate marketing without a website," it is vital to know what it takes to become a successful affiliate. You do not need much to start with affiliate marketing when it occurs.
To get started in affiliate marketing, you need three vital "ingredients":
A traffic source: A means of connecting your customers with the offer you promote.
An audience: Customers who are interested in whatever you talk about.
An offer: An affiliate service and product that aids your audience in addressing a problem or gaining a goal.
Generally, a website is the hub of your affiliate marketing activities.
7 Ways To Do Affiliate Marketing Without A Website in 2023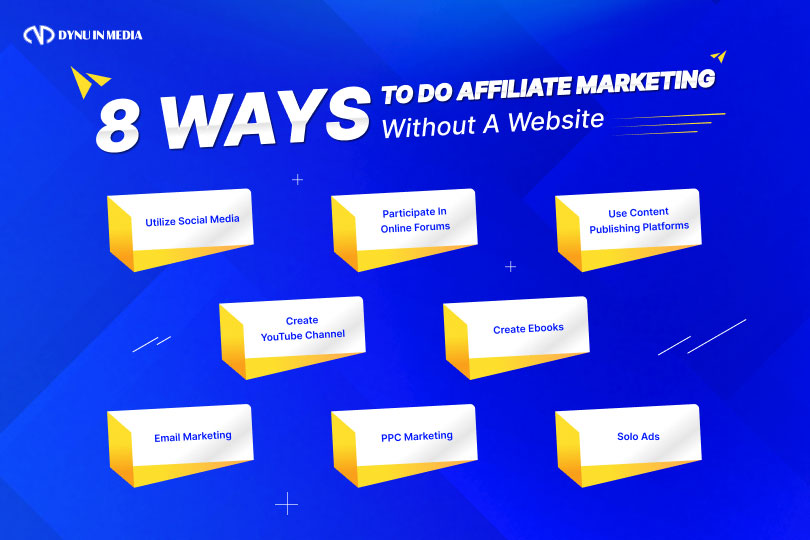 Here are 7 ways "How to make money affiliate marketing without a website," as follows:
Utilize Social Media
Social media stands as the number one option on our list. It is a good tool for meeting new people, connecting with old friends, and promoting your affiliate items.
However, the key to being a successful affiliate marketer is to promote the suitable item to the right people via the appropriate platform. Each social media channel has a different purpose, and not all will benefit everyone.
Here is a short note to make some of the most popular social media sites unique.
LinkedIn: A platform primarily dedicated to career development and professional networking. People often promote software, educational courses, workshops, and professional services.
Instagram: A space where you share more visually rich content and be engaged with influencers and brands. It is primarily used to market fitness brands, lifestyle products, and products needing more visual demonstration.
Twitter: A platform where users voice their opinions and update on the latest news and trends. It is also broadly used to promote gadgets, digital games, tech brands, business software, and automobiles.
Facebook: This platform is mostly used for connecting with brands, social networking, and promoting all B2C and B2B services and products.
Participate In Online Forums
As known, forums and online communities are becoming increasingly popular. Two well-known examples are Reddit and Quora.
Quora has roughly 300 million active users every month, while Reddit has about 50+ million everyday active unique users and attracts approximately 1.7 billion visits monthly.
The two platforms above are full of engaged users searching for information on niche topics. Some niches are just plain bizarre, but others are a goldmine for affiliate marketing, as they are loaded with commercial intent.
And where commercial intent exists, there is a chance to create passive income.
Use Content Publishing Platforms
A content publishing platform is like having your blog without a website.
Popular examples are Medium and Steemit. Regarding SimilarWeb, Steemit has approximately 3.5 million visitors per month, while Medium brings in roughly 40 times that number.
It is a fast and straightforward content publishing platform for affiliate marketing. Just set up a profile, write a blog and add one or two affiliate links, and you are good to go.
Create YouTube Channel
Wait! YouTube falls under the social media category, doesn't it?
Absolutely right, but what makes it unique is that it is the second most-used search engine behind Google.
Unlike other platforms, YouTube has diverse content, giving creators of all ages a chance to earn via it. Therefore, if you want to promote a service or item via video, placing your affiliate code or affiliate links into your YouTube video descriptions; and can be an effective way to increase your revenue.
But, it is vital to remember that the results you take may vastly depend on how large your customer is and how engaging and informative people find your content.
Create Ebooks
An ebook is another excellent way to promote your affiliate links. Popular platforms, such as Amazon Kindle Direct Publishing, allow you to publish an ebook free of charge.
Though publishing ebooks has become a painless process, you just get from this marketing method if you offer fantastic material to your readers as a useful resource and guide.
Thus, select a subject you're well-versed in and only consist of affiliate links where they are necessary. The purpose of the material is to show readers absolutely helpful information, giving them the confidence to trust your recommendation.
Email Marketing
This requires you to collect or buy a list of phone numbers or email addresses. If you get them, you will market your offer efficiently without using an external page. Text emails or messages already include some text, and they often direct straight to your offer.
PPC Marketing
If you want fast results, PPC marketing is a good choice. Looking at the origins of every successful affiliate marketer, you can determine a general thread: they always made the right option when choosing an item to market.
Google and Facebook are excellent platforms to market your affiliate products. They use a pay-per-click advertising model, allowing you to pay whenever an audience clicks on the ad.
Solo Ads
Solo ads are one of the best methods to reach a user if you don't have a website. It helps you target your audience by leveraging other people's email lists. Eventually, this helps you to market your affiliate goods to others.
So, how does this work? Be supposed that you wanted to concentrate on the healthcare niche. You have signed up and have started promoting your affiliate goods on diverse online forums. After that, search for influencers in the healthcare niche who help solo ads in their email blasts.
If the influencers think your offer is good, they're about to contain it in their email list and will charge you (commonly on a per-click basis). This means you can achieve instant commissions immediately; however, you will be able to create more opt-ins. But you should know those solo ads are usually considered a hit-and-miss, as you will not always be directing quality traffic.
You must balance your Rol when running solo ads. Don't sign on to a long contract, and revisit it frequently.
Affiliate marketing is one of the most reasonable and effective ways to start creating money online. As long as you select the right traffic source, you can start making affiliate income with no website. Dynu in Media hopes the 7 methods above will help you on "How to do affiliate marketing without a website," you can start making affiliate income easily.