Affiliate Marketing: How To Earn $1,000 For Beginners
"How do I make money online?" "How to make $1,000 on the Internet?" You may be wondering. Keep an eye out!!! Let DYNU IN MEDIA release the best way to make money through Affiliate Marketing.
>>> Click here: The Best Traffic Sources For Affiliate Marketing
What is Affiliate Marketing?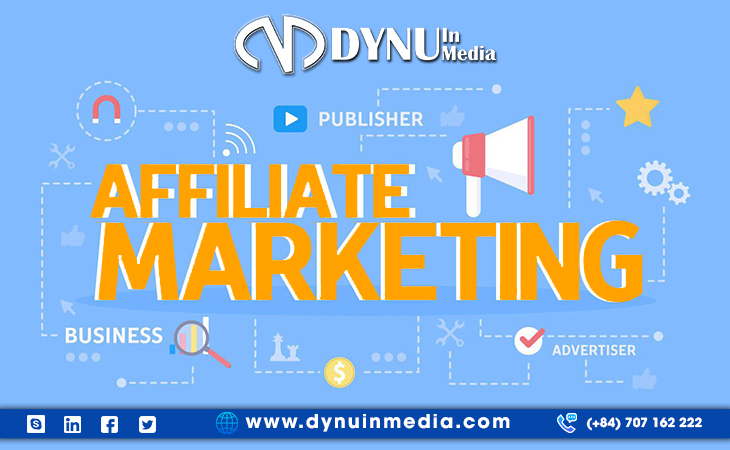 Affiliate marketing is a method of using the Internet and other digital channels to promote a product or service by referring customers who register or make purchases via an affiliate link. By putting one on your website, blog, or social media profile to entice people to click, fill out the form, take specific actions, etc a publisher will be compensated for promoting products for other advertisers.
Who's Involved in Affiliate Marketing?
Affiliate marketing focuses on spearhead products and creation for parties, leveraging individuals' ability for more marketing strategies to profit. The procedure has these parties involved:
Affiliate ( Publisher) 
Affiliate network
Advertiser
Traffic provider ( DSP-Demand-side Platforms, Ad network)
Quality check tool provider  
Tracking system provider
The consumer.
How Does Affiliate Marketing Work?
As an affiliate, when you discover a product or service that you'd like to promote you will need to join the advertiser's affiliate channel – usually through its affiliate program or an affiliate network to promote the product/service.
After signing up, you will get affiliate links to promote these items or services by putting affiliate links on your website, blog, social media accounts, or email to attract people to take a specific action. You will be paid a commission or a flat rate if the act is captured successfully, e.g: user signing up for survey sites, watching videos, submitting a credit card, playing games, installing an app, etc.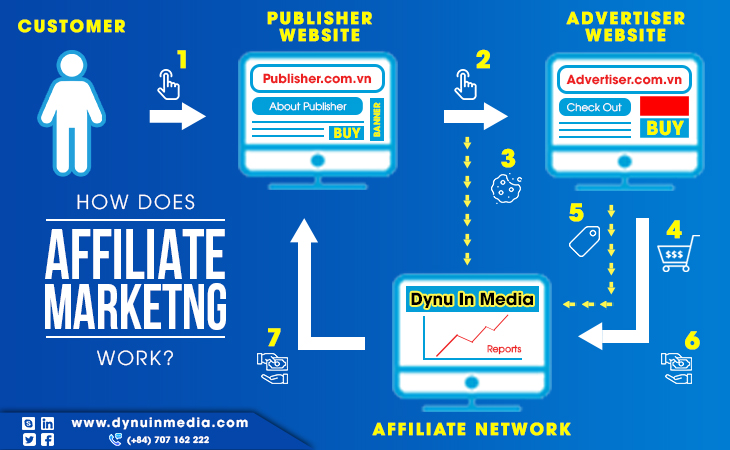 Depending on the affiliate program or network, you might have a payment threshold. This means that you could receive specific or more and more revenues based on your effort to call people action. Payments can be made in various ways, such as wire transfer, ACH, Payoneer, PayPal, etc. based on the payment methods you desired. 
( Make sure you read the full version of the affiliate agreement).
To Review:
Affiliate Networks will give affiliate links from Advertisers and passing to Publishers.
Publishers place an advertisement or a link to offer on Pub's website, blog, or social network.
A customer clicks on Pub's unique affiliate link or takes a specific other action.
In-offer page, the customer makes a purchase or fills your form, etc.
The affiliate network records the transaction. 
Advertisers confirm the purchase or action.
You are compensated with a commission.
>>> Click here: Tip of the Week to Affiliate Marketing Success
Pros and cons of Affiliate Marketing
Now you know how Affiliate Program works, let's dive into the Affiliate Marketing pros and cons list.
Below are some of the benefits of Affiliate Marketing for Beginners:
Your earnings are not limited to the amount of time you spend on the job.
Making money even while sleeping.
Geting started with little or no money.
You can work from anywhere and at any time.
You are not required to work for only one company.
Your selling is not restricted to any particular area.
Affiliate marketing does, however, have some drawbacks. Here:
You are not creating any assets. The customer and the advertiser determine its meaning. Advertisers will keep data and build relationships with their customers.
Your campaigns can be volatile at times.
Highly- competitor ability because this affiliate model attracts thousands of people, especially very experienced marketers; thus, it is a tough competition.    
How to Start Affiliate Marketing for Beginners?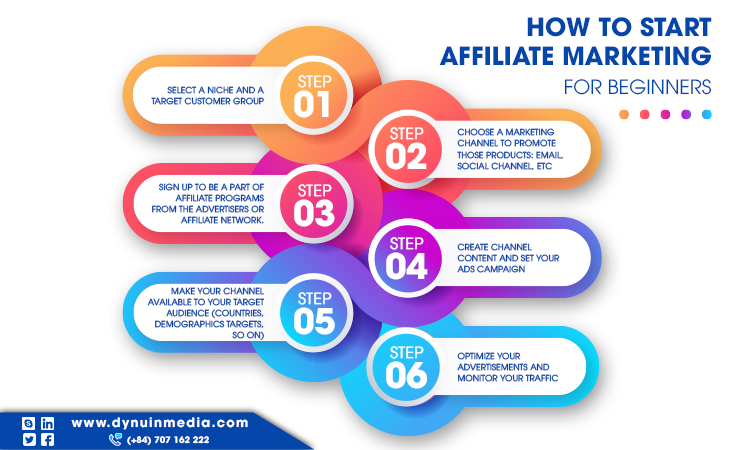 To start with Affiliate is quite simple. DYNU IN MEDIA will guide you through these baby steps to begin getting money via affiliate programs. Here are six steps to get started with one during this pandemic.
Step 1: Select a niche and a target customer group
Step 2: Choose a marketing channel to promote those products: email, social channel, etc
Step 3: Sign up to be a part of affiliate programs from the advertisers or affiliate network.
Step 4: Create channel content and set your ads campaign
Step 5: Make your channel available to your target audience ( countries, demographics targets, so on.)
Step 6: Optimize your advertisements and monitor your traffic
Register with DYNU IN MEDIA to become an affiliate marketer and boost your revenue as soon as possible.
In conclusion, the information above could help you understand what Affiliate Marketing is, how one works and one of the most effective ways to start is to join an affiliate network. Let's get started on your journey with us! Hopefully, this will be a document you can refer to and learn how to make money online (MMO).