CPA Marketing Tips: The Ultimate Guide For Beginners!
Making money with CPA is a popular affiliate marketing trend attracting many people to join the affiliate network. So, what exactly is a CPA marketing definition or calculation formula, as well as how a publisher earns money from CPA Network? DYNU IN MEDIA will show you CPA-related information below, so stay tuned!
>>> Click here: Best CPA Affiliate Network
WHAT'S CPA MARKETING?
CPA (Cost Per Action / Cost Per Acquisition) is an Affiliate marketing model that helps Publishers earn commissions whenever a user clicks on an affiliate link and completes a specific action (making a purchase to get a quote, filling out a form or watching a video, etc).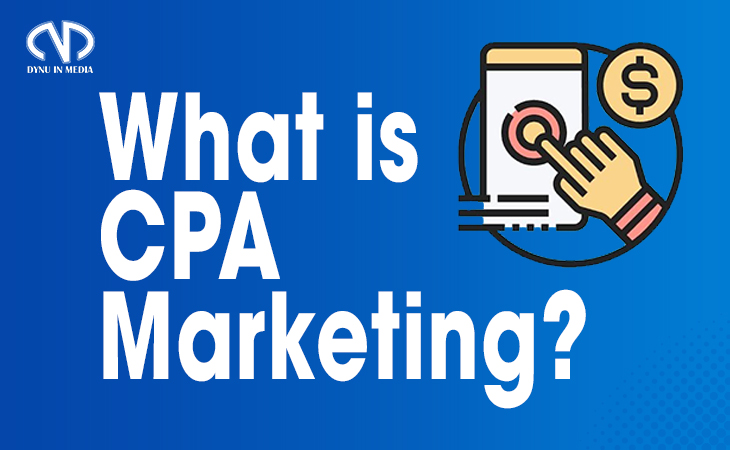 Through the Affiliate program, CPA networks will rebroker campaigns from an Advertiser to Publishers. Publishers will get paid a fee each time a referred customer practices the action or buys items through the landing page of a campaign.
How does CPA Marketing work?
Now that you know what CPA Marketing is, let's start to break down into how one works and who is involved. After analyzing how it works and who's involved, you will realize that CPA Affiliate Marketing is a straightforward concept.
Affiliate or Publisher: The influencers (blogger, website owner, etc., with their excellent traffic) or the media buyers (buy traffic from ad networks) drive their traffic to the offer page/e-commerce site.
Advertiser: The brand that desires to reach customers through an affiliate channel (by either its own affiliate program or an affiliate network) to increase sales, generate leads, or boost conversions for the business.
CPA Network (DYNU IN MEDIA): The platform that connects between "the affiliate" and "the advertiser". We provide a wide range of CPA offers from various brands. After registering on our network, a publisher chooses offers and starts to promote them.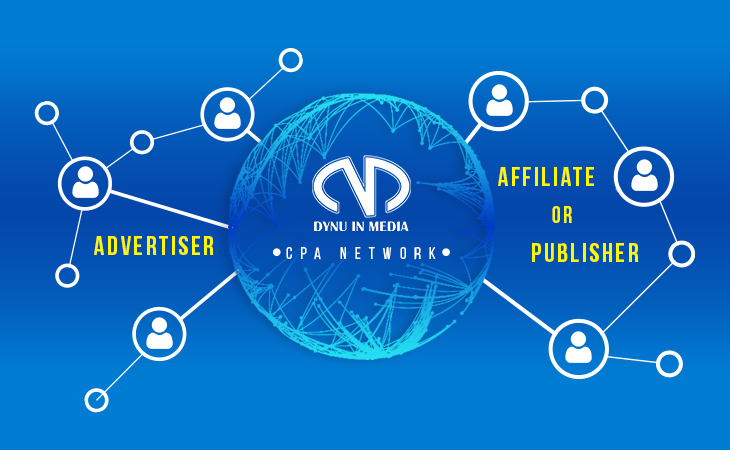 CPA Network Terminology
For Beginners, you need to get about CPA Marketing terms to know how it works clearly. Here are some terminologies you may want to familiarize yourself with:
Affiliate Manager: A person in charge of a merchant's affiliate program, recruiting affiliates, interacting with them, and generating revenue for the merchant.
Category: The market segment to which the CPA offer applies (finance, Nutra, beauty, health, etc.).
Commission: The payment received by an affiliate after a successful conversion is tracked.
Conversion rate: The proportion rate at which a specific action is carried out. Conversion rate is calculated by a division of number of conversions by the number of clicks you had on a particular campaign. CR% = total conversions/total clicks
Return on investment (ROI %): The amount of money earned from a campaign. The formula is dividing revenue by ad spend and multiplying the result by 100.
 For example, an ad campaign was viewed 6000 times, 300 clicks, and had a total of 20 conversions. The total cost that the Advertiser decides to pay is $200, then the CTR and CR can be calculated as follows:
CTR = (300/6000) x 100 = 5% 
CR = (20/300) x 100 = 6.67%
>>> Click here: Best CPA Affiliate Network
The Process Of CPA Affiliate Marketing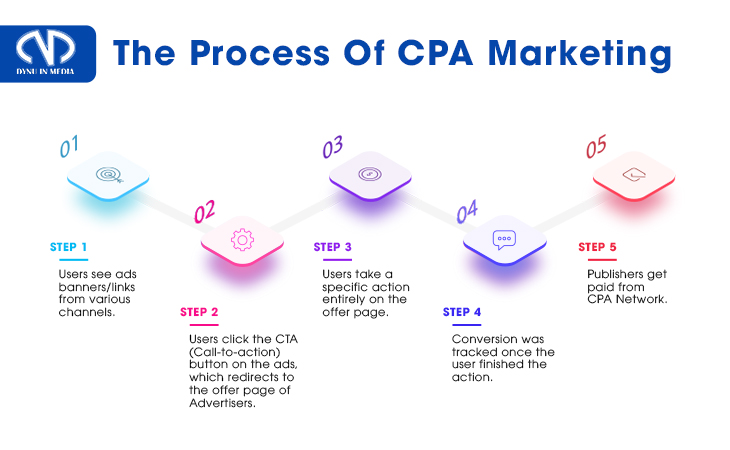 Step 1: Users see ads banners/links from various channels
Step 2: Users click the CTA(Call-to-action) button on the ads, which redirects to the offer page of Advertisers 
Step 3: Users take a specific action entirely on the offer page
Step 4: Conversion was tracked once the user finished the action 
Step 5: Publishers get paid from CPA Network.
Benefits of CPA Marketing For Beginners
Do you believe that you can make money online while sleeping? It can be possible with Affiliate Marketing – the best way to make passive income for you or anyone. After reading the benefits of CPA Marketing below, you can be mesmerized: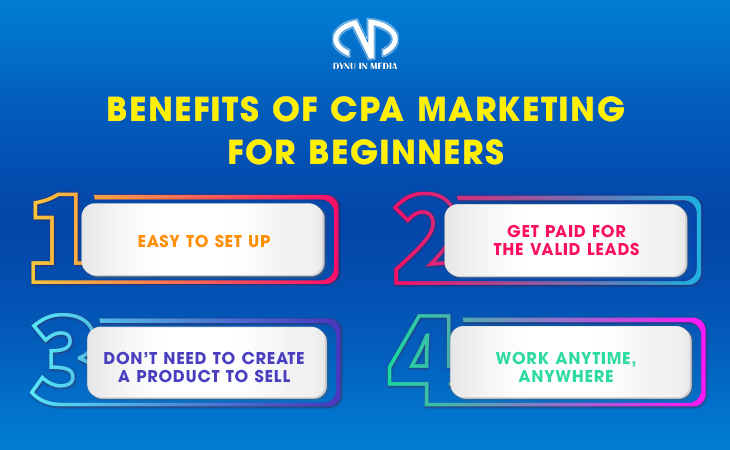 Simple Business – It takes easy to set up
Affiliate marketing is a business model that utilizes an Internet connection on a laptop or mobile device, beginning with an ad campaign on your website, blog, or social channel profile to increase revenue.
Get paid for the valid leads
You receive a commission when a valid action converts on the offer. So, let's escalate your traffic quality, optimize your content to entice customers to click on your affiliate link and execute a specific action.
You don't need to create a product to sell 
One of the most significant benefits of CPA affiliate marketing is. You don't have to spend time developing a product and figuring out how to sell it. Instead, place affiliate links on your promoting channels and wait for a customer to make a purchase.
Work anytime, anywhere
Allowing yourself time and location freedom with CPA affiliate marketing. Depending on your preferences, you can work in the mornings, afternoons, or evenings at a local coffee shop or from home.
It's fantastic that you can take an extended break by setting up your ad campaigns and enjoy a well-deserved vacation with your family or loved ones. With the help of affiliate marketing, you can build a great lifestyle business.
How to start CPA Affiliate Marketing for Beginners?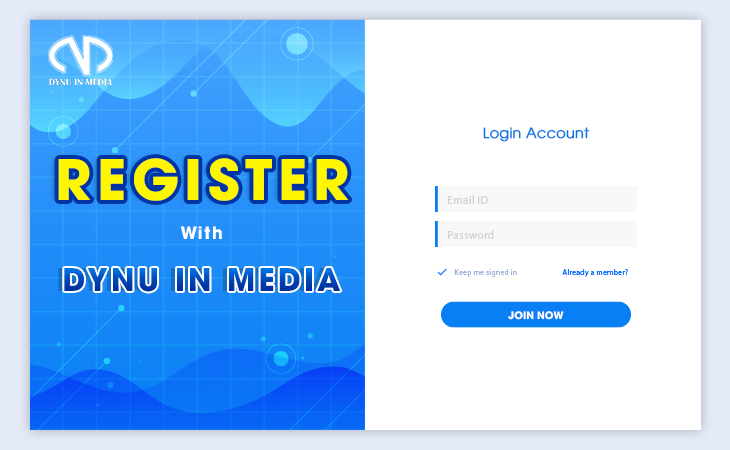 Looking for a way to earn extra income at home? Let's start CPA Affiliate marketing with these baby steps below, including:
Finding your niche (finance, sport, Nutra and health, beauty, etc.)
Choosing and connecting with the best CPA Affiliate Network – DYNU IN MEDIA.
Finding products in your niche and setting your ad campaign.
Putting on your Affiliate link to promote your revenue.         
DYNU IN MEDIA has just sent you some essential information about CPA. We hope you are aware of it and can effectively manipulate it for your affiliate marketing network. Wish you success soon!