5 BEST CPA AFFILIATE NETWORKS IN 2021
Choosing a solid affiliate network is a crucial part of being a successful affiliate marketer.
There are thousands of affiliate programs offered by merchants to market their services or products. The right affiliate network can help you find the perfect offers and make lots of money with a relatively high payout. You will be less likely to take risks because you'll just get paid for generating leads, so you can leave the job of closing the deal to someone else.
No matter what types of products or services you are looking to promote, you should always be able to find a reliable affiliate network to suit your needs. In this article below, we release the 5 best CPA affiliate networks in this field that you can choose. Don't get away from your screen. Let's get started!
What is a CPA affiliate network?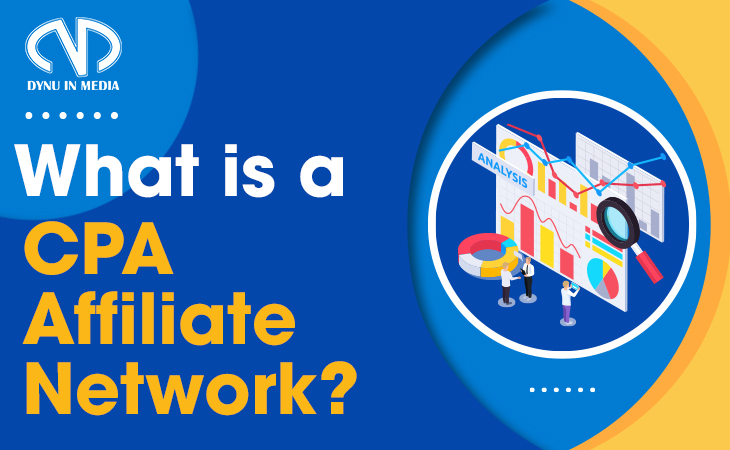 CPA Affiliate Marketing is also known as Cost Per Action in full. This is a method of affiliate marketing that offers a commission to the Affiliate when a specific task is completed.
CPA is an exciting corner of the overall business model, especially because CPA offers can be insanely profitable.
CPA works or falls into a few levels such as Affiliate, Business, and CPA Network.
Affiliate or Publisher: These are the influencers or promoters of a business or product in order to drive traffic to a product or eCommerce site and make a specific conversion. An influencer can be Blogger, Brand promoter, etc.
Business or Advertiser: Run an Affiliate program to promote products. This can be done through a partnership with an affiliate to drive quality traffic to the business website, increase sales, generate leads, or boost conversions.
CPA Network: This facilitates the entire Cost Per Action (CPA) marketing process. The platform brings together affiliates who want to make money by promoting products and the businesses promoting their products.
As mentioned previously, CPA Affiliate Network is a network that operates mainly on cost per action, including cost per click (CPC), cost per action (CPA), cost per lead (CPL), cost per install (CPI), and so on. These affiliate programs play an intermediary role between publishers and advertisers to make a terrific affiliate marketing program.
??? ? ??? ????????? ???????? ????
MaxBounty – Top CPA Marketing network
Maxbounty is a CPA network that is very selective on who they allow into their networks. They take potential affiliates through a diligent interview process via both an online application and Skype interview to select their preferred affiliates.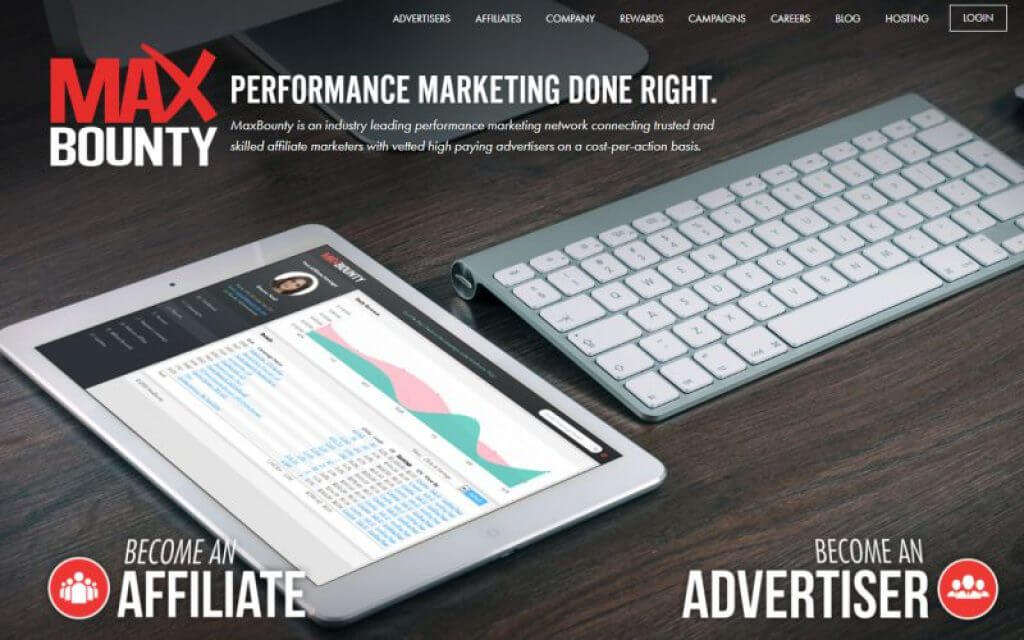 MaxBounty is the #1 CPA affiliate network globally and has bagged awards in 2014, 2015, and 2016 for its outclass performance and revenue-generating machine. MaxBounty's headquarters are located in Ottawa, ON, Canada.
This network has a few standout features:
More than 30,000 affiliates
2000+ Current Live offers.
Offer types: CPA (Cost per Action), CPL (Cost per Lead), CPS (Cost per Sale), CPI (Cost Per Install).
TOP GEO: Worldwide
Top Verticals: Loans, Surveys/ Market Research, Antivirus/Cyber Security, Credit Scores/ Credit Reports, E-commerce.
Minimum Payment: $100
Payment methods: Weekly, Net-15 (first month)
Payment Method: Check, PayPal, Wire, ACH, Wire, PayPal, Bitcoin.
There are some points that affiliates need to notice that Maxbounty only accepts experienced CPA marketers. Besides, they also always provide FREE guide videos helping newbies get started as an affiliate marketer. You may also earn $80 for each sale if you advertise Maxbounty's product Maxbounty Hosting. You may recommend friends and earn a 10% referral commission as well.
ClickDealer – Best Performance Marketing Network
ClickDealer was established in 2012, headquartered in the Netherlands, and is now expanded to six countries.
There's a lot to admire about this multinational network from the standpoint of an affiliate. ClickDealer is also a Global Performance Marketing Agency constantly developing solutions to help businesses achieve their marketing objectives. It is now ranked among the top CPA networks throughout the globe.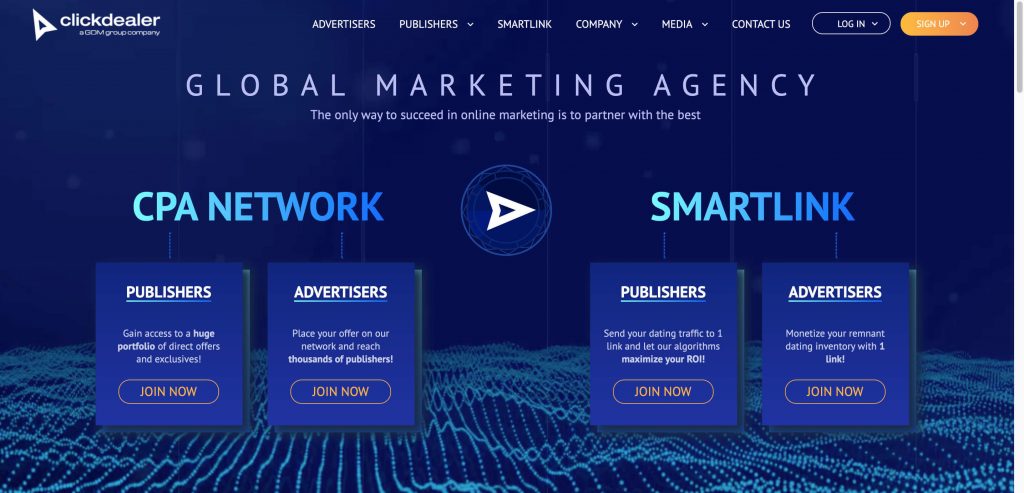 There are a few highlight points in this network:
Top verticals: Health & Beauty, e-Commerce & Retail, Dating, Mobile Utilities, and more.
It employs cutting-edge in-house technology delivering top-performance marketing.
Offer Types: CPA, CPL, CPS, CPI, Revshare
TOP GEO: Worldwide
TOP verticals: Dating, eCommerce, Sweepstakes, Crypto, Nutra, Gambling, Download, Mobile Subscriptions.
Minimum Payment: $100
Payment Frequency: Net 30 and payments bi-weekly, weekly, and monthly.
Payment methods: PayPal, Wire, Payoneer, WebMoney, Paxum.
Tech: A SmartLink is a link that directs users to the most appropriate destination based on their location, device, and other click data parameters, as well as the dynamic eCPM of each path, directing traffic to the best performing creatives and offers.
If you're looking for "the highest payouts" and "the best offers," ClickDealer CPA Affiliate Network is a great place to start.
Dynu In Media – Best CPA Affiliate Network
Dynu In Media Network, also a division of Interate Corporation, was established by members with more than 10 years of experience working in different fields of Affiliate Marketing. DYNU IN MEDIA is one of the best CPA Affiliate Network proud to be the best CPA Affiliate Network of Vietnam, reaching the world.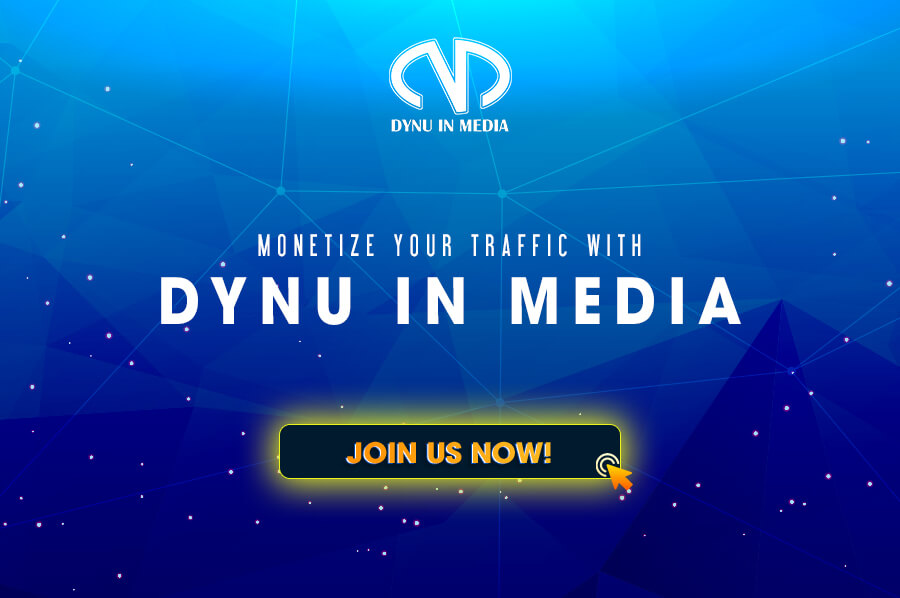 Although exclusively established in 2019, DYNU IN MEDIA has achieved remarkable achievements in the field, such as:
On average, generate over 20,000 leads per day.
Brings over 200 influential clients and advertisers to the platform.
Attract over 1000 publishers to the platform.
Access to 600+ quality offers.
Offer types: Direct CPA, CPL, CPS, CPI, CPC campaigns
Offers with competitively high payouts
TOP Verticals: Sweepstakes, Finance, Insurance, Nutra & Health, etc.
Top GEO: US, UK, CA, AU, NZ, most of the EU, some Asian countries.
Anti-fraud tools.
Visual real-time report.
Minimum Payment: $50 ( in a given billing period); $ 300 (minimum payout through Wire).
Payment Frequency: On-time NET-15 and NET-25.
Payment methods include PayPal, Payoneer, Wire Transfer, Check, Transfer Bank, etc.
Dynu In Media's proprietary tracking technology, industry-leading expertise, and access to exclusive campaigns allow publishers to monetize their online efforts more effectively with a trusted partner.
Exploring your journey and bumping up your income with tons of direct campaigns and quality sponsorship opportunities. Your dedicated Affiliate Manager, as well as our technical team, will accompany you 24/7 to ensure you have the most delighted and long-lasting partnership with us.
Furthermore, the system of this network is pretty convenient, and affiliates learn along the way, making it an ideal platform to join.
>>> Click here: DYNU IN MEDIA – Best Affiliate Network For Earning Passive Income 2021
GlobalWide Media
GlobalWide Media has become one of the well-known names in the industry, providing digital marketing solutions to the industry's leading brands by connecting advertisers to their audiences through brand campaigns. It has brand recognition in more than 100 countries and delivery partners in 80 locales.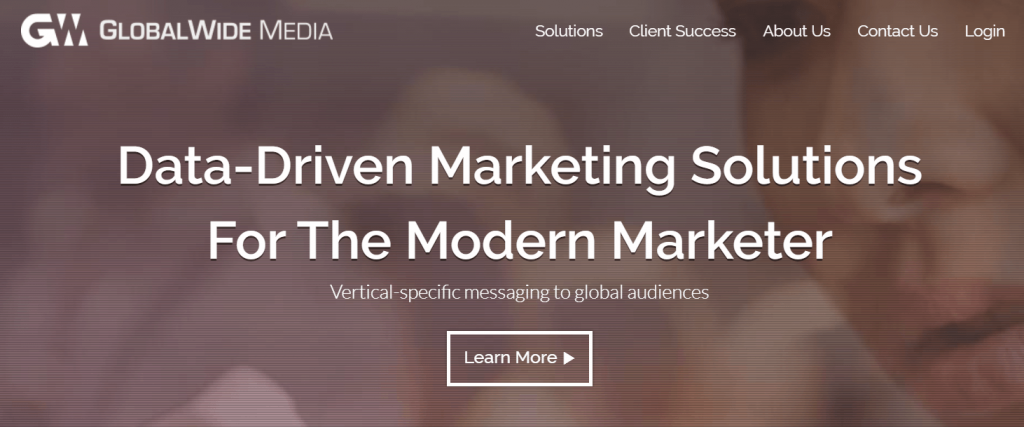 It has been in the industry for the past ten years, with over $3 billion annual sales and generating over 5 million monthly conversions for advertisers. Due to their unparalleled results in many verticals, people from around the world choose them.
This network has a few notable features, as follows:
Offer Types: CPA, CPL, CPS, CPI, CPC, CPM, etc.
TOP GEO: Worldwide
TOP verticals: Automotive, Dining, eCommerce, Education, Entertainment, Insurance, Travel, Retail, etc.
Minimum Payment: USA$100
Payment Frequency: Net 30, Monthly payments.
Payment methods: PayPal, Wire Transfer, Check, ACH.
And another remarkable thing is that you can earn a 5% bonus on all sales made by anyone you refer to this CPA network. That's the reason why GlobalWide Media is one of the CPA affiliate network reviews full of potential. Join GlobalWide Media to have a wonderful experience and make plenty of money online immediately.
Perform[cb]
Perform [cb] (previously Clickbooth) is known as a well-known figure in performance marketing, which was established in 2002.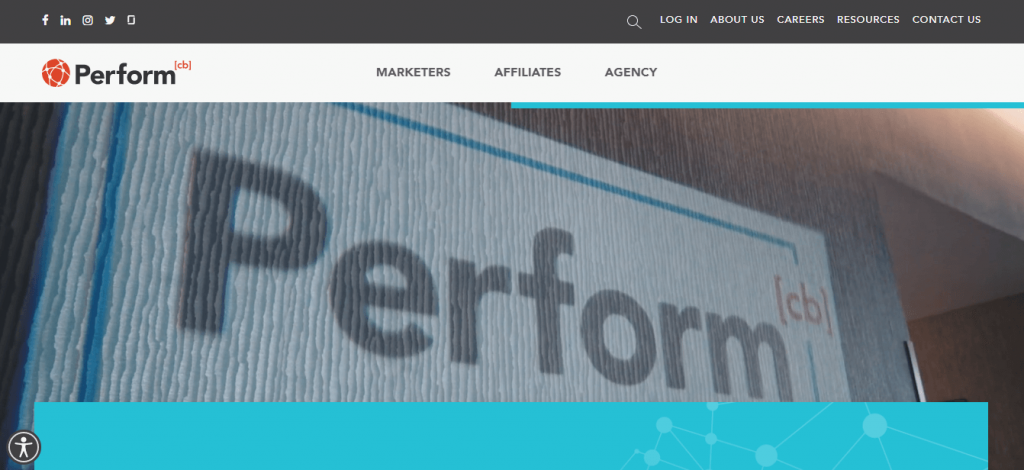 Perform [cb] plays an intermediary role between the biggest brands in the industry and Silicon Valley's most popular new startups. With more than 20 years of experience in affiliate marketing, Perform [cb] has achieved many significant achievements.
Since 2015, one of these has been recognized as the World's Leading Performance Network. HBO, FANDUEL, McAfee, Nextdoor, and Redfin are all prominent partners of this network.
​​A few prominent characteristics of this network include the following:
Offer Types: CPA, CPL, CPS, CPI, CPE (Cost per Engagement), and OTT.
TOP GEO: Worldwide
TOP verticals: Finance, eCommerce, Entertainment & Lifestyle, Health & Beauty, Download and software, etc.
Minimum Payment: US$50
Payment Frequency: Monthly
Payment methods include PayPal, ACH, WIRE, Capitalist, Payoneer, and Paxum.
Furthermore, it enables advertisers and marketers to reach many targeted consumers while maximizing ROI (Return On Investment). Moreover, it allows affiliates and publishers to promote campaigns and make a significant income.
Customer acquisition, innovative program launches, skilled account managers, brand protection & compliance, curated program recruiting, sophisticated analytics, and many more features distinguish Perform [cb].
>>> Click here: CPA Marketing Tips: The Ultimate Guide For Beginners In (2021)
That's all of the information about the 5 best CPA Affiliate Network in Affiliate Marketing. Each network has its own pros and cons. We hope you can choose the Affiliate Network that suits you best to make money online with the valuable information above.