The Most Important Dates for Affiliate Marketing in 2023
A wonderful year is coming to an end. New Year new plans; for sure, you are looking for 2023 affiliate marketing key dates to prepare for your upcoming strategy.
Hey buddies, we've got you covered!
Dynu In Media has summarized ALL the essential dates for the following year, or the most important dates for affiliate marketing in 2023 in this post. There are many holidays to celebrate, and it's a waste if you don't use them to make money online.
Ready to plan a strategy for next year on your calendar? Hands on!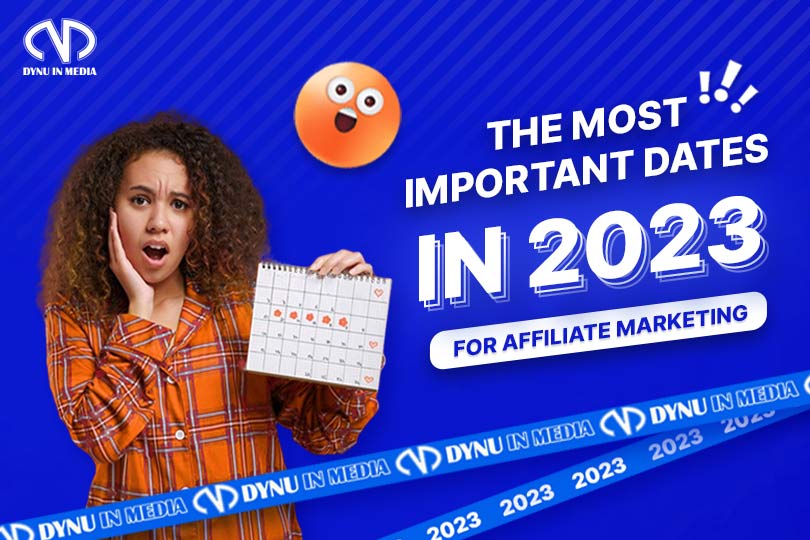 Important dates for affiliate marketing in January
January is always kicked-off with big-noted holidays of the year.
A year begins, then it would be an omission if not to mention the New Year (01/01). Many cultures celebrate the event somehow, so this is probably a golden opportunity to promote your offers no matter what tier you are running on. This holiday takes place right after Christmas, so if you want to run a successful campaign, schedule your preparations early, or even combine them with Christmas is a tip here.
Blue Monday (16/01) – the most gloomy day of the year! It's a Monday that is depressing or trying especially because of the return to work and routine after a weekend. So it would be great to make your audience feel better with colorful ad ideas.
Korean grand sale (12/01-28/02) – a tourism festival that promotes tourism, shopping, and the Korean wave to foreign tourists. Make use of these dates to plan "grand" campaigns!
Lunar New Year (22/01) – the most important social and economic holiday for Asians. Lunar New Year begins with the first new moon and ends on the first full moon of the lunar calendar. This is the time for family reunions, so it best suits those who target campaigns on Asians with houseware, fashion, or food offers.
See more: What is Affiliate Marketing and how to earn $1,000 for beginners?
Affiliate marketing days in February
Super Bowl LVII (12/02) is the upcoming championship game of the National Football League. The game is scheduled to be played at State Farm Stadium in Arizona and will be televised nationally by Fox. It seems like the paradise of the E-commerce vertical (as sport offers) on these dates.
Undoubtedly, Valentine's Day (14/02) is the month's most significant event worldwide! E-commerce offers (as gifts for couples) are the things you cannot miss on this occasion; however, don't forget about dating apps. Loneliness can be tough for singles this time of the year.
Presidents' Day also took place this month (on Monday, February 20), honoring all the past and present presidents who have served as presidents of America.
Mardi Gras New Orleans festive, or Fat Tuesday in French (21/02), time of merry-making and festivity. This festival comes from the custom of using all the fats in the home before Lent in preparation for abstinence and fasting.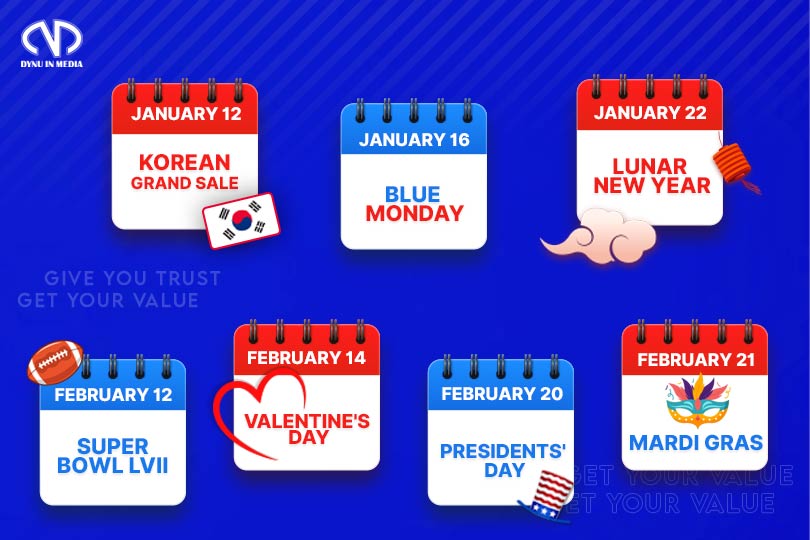 Essential dates in March
March comes, so don't forget the opportunity to promote e-commerce offers related to women because it's time to celebrate International Women's Day (08/03)! Targeting male audiences is not a bad idea since women won't buy stuff themselves!
Saint Patrick's Day (17/03) is another cultural and religious celebration held in March. We can say it feast day of St. Patrick, patron saint of Ireland. It's a quite important day of Ireland so as an affiliates promote offers this tier, you might find a good deal on this occasion.
March is also to shed your warm winter layers and get outside to enjoy the fantastic weather; Spring begins (20/03)! Promote well offers related to Spring cleaning, home improvements, and outdoor activities. Demand will be high these days.
April can make old things news!
It's crazy but fun that April is kicked-off with April Fools' Day (01/04)! It is the only day of the year for you to play pranks on your audiences to entertain and engage them. So try your best to make use of this day to prompt conversions.
If you ever forget, Coachella Valley Music and Arts Festival (14/04) is BACK this month! So prepare well for all music, fashion, and makeup offerings during the event.
Easter (17/04) – considered the most important date on the Christian Calendar, it is also an awesome occasion for you to run campaigns. (creatives that are related to colorful Easter Eggs are old but gold for sure, you can give it a try).
Including Earth Day (22/04) as an ecological element in your campaigns is another way for you to celebrate April. Sustainable deals that focus on environmental protection and healthful living are the thing that makes you shine these days.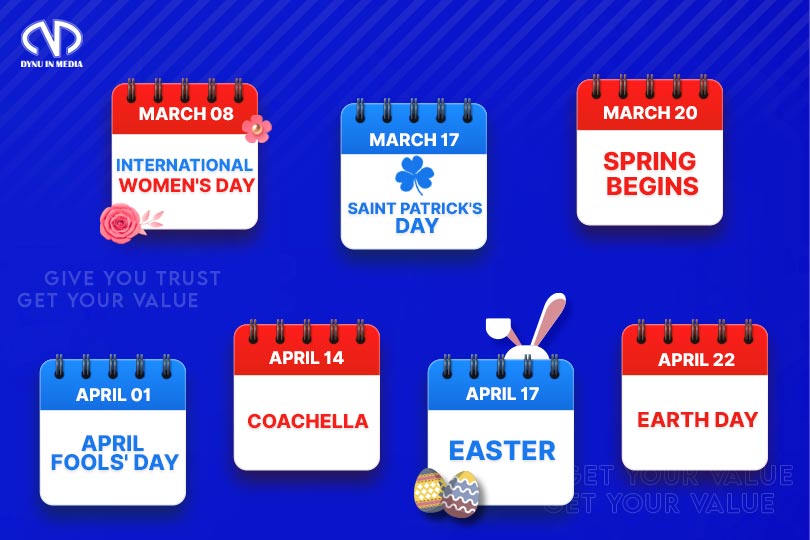 May days
Not much happens in May, but when it does, it explodes.
Targeting Mexico to run your offer? Cinco De Mayo (05/05) – as commemorates the anniversary of Mexico's victory over the Second French Empire; is the date that you can focus on this month.
Mother's Day (14/05) is around the corner!! Take advantage of E-commerce offers for this day. Think about clothes, jewelry, or accessories; they are never outdated.
June, a month of pride
June? OMG, It's Pride Month already! As the month that celebrated for LGBT (Lesbian, Gay, Bisexual, Transgender and Queer), all rainbow-colored campaigns are things you can grasp and promote.
June starts with International Children's Day (01/06), so get ready for toys and gifts; you may earn a great bargain tho!
This month also is the season of Summer begins (21/06), it is a great time for people to enjoy the nice weather and take off from school to spend some quality time outdoors. Consider boosting travel and tourist offers in the early stage.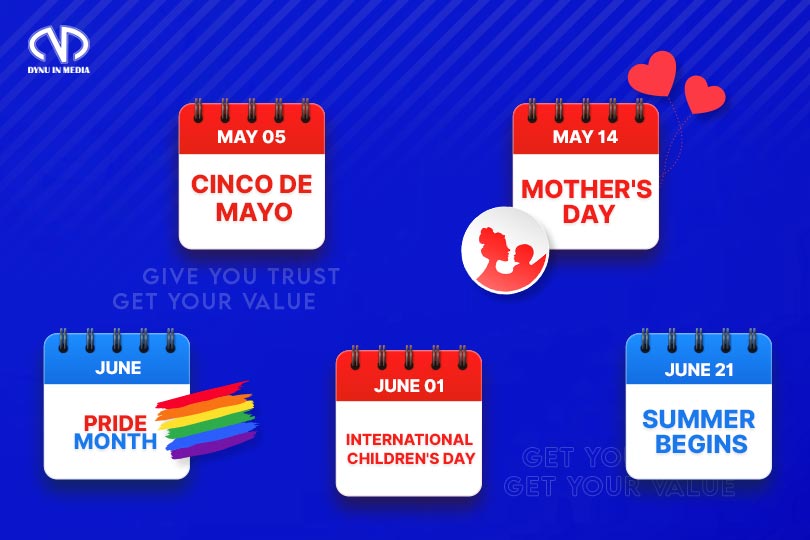 Important dates for affiliate marketing in July
Summer is in full bloom these days so don't forget to boost tourist offers. Especially if you run offers in the US, then Independence Day (04/07) is the day you can focus on.
11/07 and 12/07 is also for Amazon Prime Day 2023! As a 48-hour mega-sale event that offers discounts on thousands of products from retailers, it's truly a gold mine for those who have a careful preparation.
Key dates in August
August – the beginning of back school season. Go with the flow, Book Lover's Day (09/08) is taking over the world. Exciting offers for bookworms are the things that are likely to explode these days. Make use of it!
Youth day (12/08) is another interesting event happening this month. It is a holiday dedicated to the youth of a country. This occasion observed by 18 countries, on many dates throughout the year.
International Dogs Day (26/08) is also celebrated this month, which means… Pet affiliate programs with high payouts are back!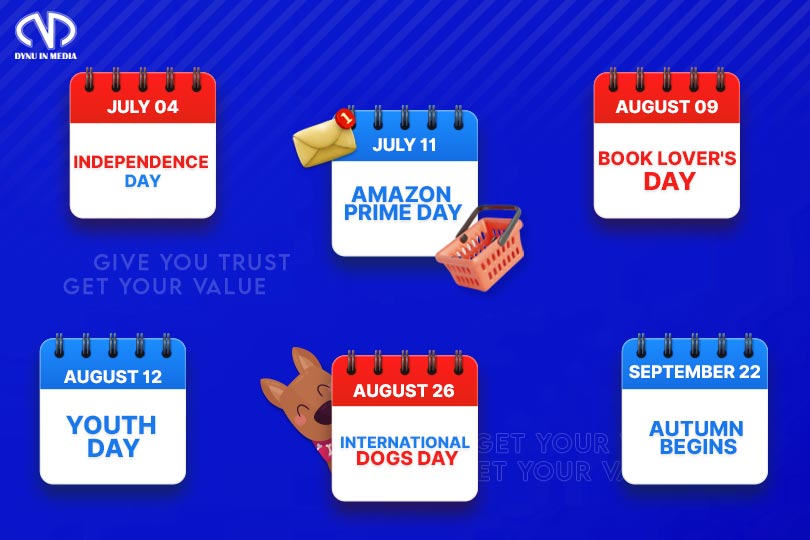 September – Back to school time!
Autumn begins (22/09), children return to school. Education offers are more common and traffic is gonna increasing. So get ready to promote backpacks, books, etc.
Let the fall color begins in October
October comes, it's time to run costumes, makeup, and scary offers. Why? Since Halloween (31/10) IS COMMING! It's the day people around the world dressed in costumes and lit bonfires to ward off spirits, so be sure you promote various types of offers in this niche (don't forget to include horror books, movies, or horror game as well.)
Besides this worldwide celebration, October is also a time of Chinese National Day (01/10).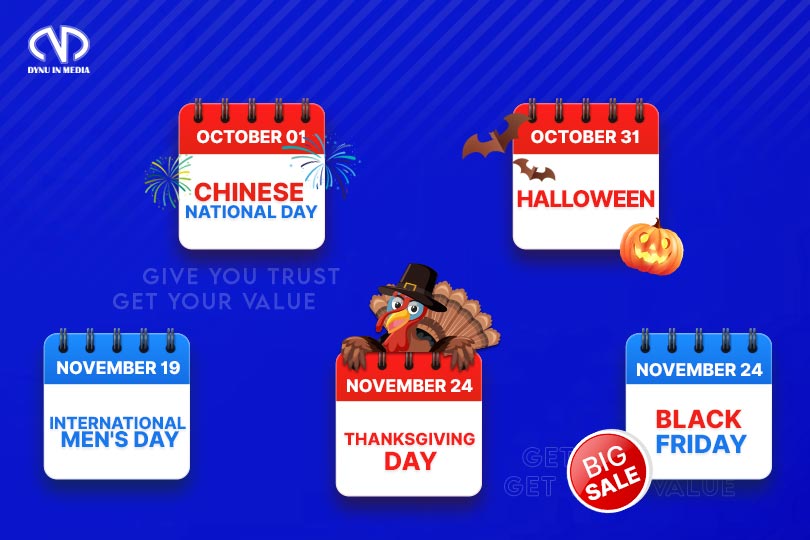 Affiliate marketing dates in November
Remember to prepare plans soon for this month, since… The holiday season is just around the corner! As the peak time, November's converging major holidays:
International Men's Day (19/11)
Thanksgiving Day (24/11)
Black Friday (24/11)
Cyber Monday (27/11)
Many of them will do their holiday shopping, so try to take advantage of this as much as possible!
December – End of the year!
The year passes too quickly, Winter begins, Christmas Eve (24/12) and New Year's Eve (31/12) are the two last holidays of the year. Fashion and makeup are the-hidden-pearls offers right at this moment. It's time to prepare a short summary of everything you've done this year.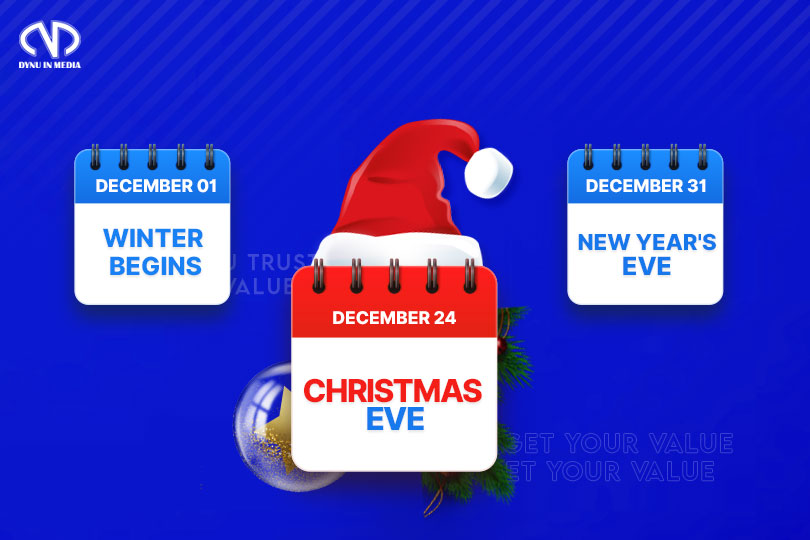 Whether you're an affiliate, a business owner, or simply looking to break out into the affiliate field, adapting to seasonal trends and getting into events where you can absorb more knowledge and networking is the best way to start successful campaigns. Hope you enjoy this article about the most important dates in 2023 for affiliate marketing with full of beans! If you love this, come back with Dynu In Media regularly to come up with exciting posts!